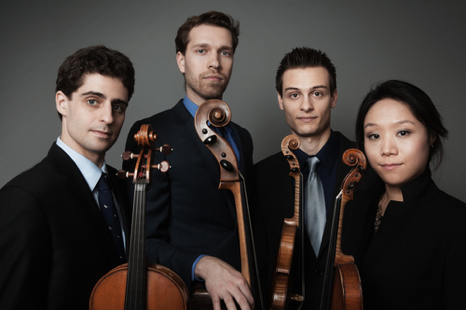 Tesla. You know the name from the car. But in the world of classical music, Tesla is a String Quartet. And not just any string quartet, a world-renowned string quartet.
The quartet takes its name after electrical engineer and physicist Nikola Tesla, who talked about experimentally harnessing and transmitting the earth's natural forces as history. "That's what we try to do with music," said founding member Ross Snyder.
Snyder was so inspired by (Tesla) and his ideas about connecting communities together, he created and named the New York City-based Tesla Quartet at the Juilliard School. "In terms of wireless communication, he was years ahead of his time. He was so inspirational." Snyder, a violinist, is joined by Edwin Kaplan (viola), Michelle Lee (violin) and Serafim Sigelskiy (cello), a Park University International Center for Music Graduate.
Snyder had read a biography of Tesla (1856-1943) when he invoked his name. For those of us who didn't know, Tesla was a Serbian-American inventor who helped develop alternating-current electricity (AC). An almost cultish figure, Tesla has gained visibility with the advent of electric vehicles named for him. "It's how Tesla talked about unseen forces, like stars in the firmament," Edwin Kaplan said of the "innovative genius. To connect people through unseen forces. That's what we do."
The group finds their continual inspiration from each other, "You will hear [one of the others playing] and will get so excited because what they are doing is so cool," Kaplan said. "It just makes you want to be even better too." The Tesla Quartet has found other sources of inspiration, through Community involvement and outreach. Both play integral parts of the Tesla Quartet's mission, and the group has brought inspiring music to children's hospitals, soup kitchens, libraries, retirement communities, and schools.
The internationally acclaimed Tesla Quartet, will perform in concert on Saturday, Feb. 10, starting at 7:30 p.m. at the 1900 Building, 1900 Shawnee Mission Parkway, Mission Woods, Kan. The performance is a part of the Park ICM Distinguished Alumni Series and Park ICM 1900 Series. Tickets for the concert are $30 ($15 for students) and can be purchased in advance at http://1900bldg.com/concerts/2018/2/10/tesla-quartet-1 or in person the night of the concert.