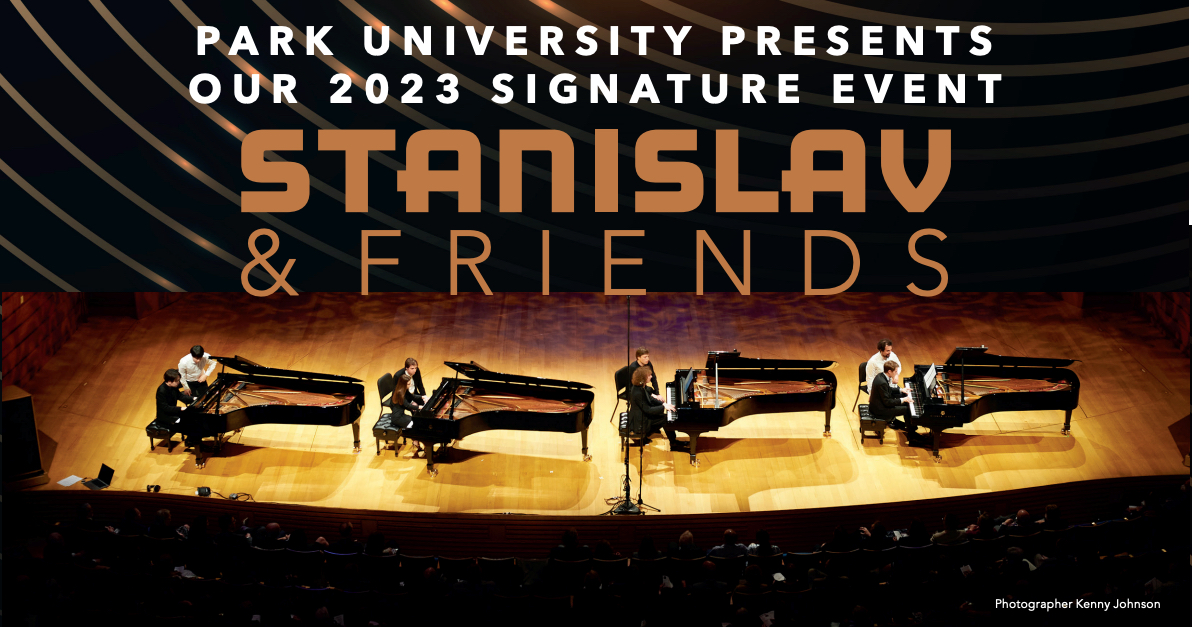 There's near the stage. There's front row.
Then there's rubbing elbows with the stars.
That's the promise of Park University's one-of-a-kind, fourth-annual signature event, Stanislav & Friends.
Held spring 2023 in the Kauffman Center for the Performing Arts, it's a rare opportunity to experience the magnificence of the International Center for Music's award-winning artists. Plus you can have your cake and eat it too with your chance to meet all performers in a dessert reception immediately following the performance. This is truly a concert event you don't want to miss!
STANISLAV & FRIENDS
March 11, 2023
Helzberg Hall
Kauffman Center for the Performing Arts
Debbie and John Starr, Honorary Chairs
"Stanislav and Friends is one of the best concert bargains of the year. Stanislav Ioudenitch himself is a concert hall headliner, and then you get his friends, who are also award-winning, towering talent." – Patrick Neas, Special to the Star
For nearly two decades, under the leadership of 2001 Van Cliburn International Piano Competition Gold Medal Winner Stanislav Ioudenitch, Park University's International Center for Music (ICM) has molded already accomplished musicians into national and international phenoms. Ioudenitch is widely admired and celebrated around the globe and on March 11, 2023, ICM will once again convene Stanislav's friends, family, ICM alumni, and current faculty and students in this annual concert that writer Paul Pattison called, ". . . completely alluring. Bravo to all."
Program
Rachmaninoff, Trio élégiaque No. 1 in G minor
Ben Sayevich, violin; Daniel Veis, cello; Lolita Lisavskaya-Sayevich, piano
Pablo de Sarasate, Navarro for two violins and piano, Op. 33
Ilhom Mukhiddinov, violin; Laurel Gagnon, violin; Lolita Lisovskaya-Sayevich, piano
Debussy, Nocturnes, L91 – Transcribed by Ravel
2. Fêtes
Rimsky-Korsakov, Flight of the Bumblebee
Michael Davidman, piano; Sergey Belyavsky, piano
Carl Maria von Weber, Adagio und Rondo
Dilshod Narzillaev, cello
Lolita Lisavskaya-Sayevich, piano
Amy Beach, Romance for violin and piano Op. 23
Nikolai Meitner, Canzona Matinata (Arr. Kenny Broberg)
Maria Ioudenitch, violin
Kenny Broberg, piano
Mussorgsky, Pictures at an Exhibition
Promenade
Limoges. The Market (the Great News)
Catacombs (Roman Tomb) With the Dead in a Dead  Language
The Hut on fowl's Legs (Baba Yaga)
The Bogatyr Gates (In the Capital in Kiev)
Behzod Abduraimov, piano
Intermission
Johan Strauss Jr., Zigeunerbaron Overture
Tchaikovsky, Concerto No. 1 in B flat minor, Op. 23 
Stanislav Ioudenitch, piano
KC Chamber Orchestra
Andres Franco, conductor
A sponsor reception will take place immediately following the concert on stage in Helzberg Hall. All sponsor levels are included. Valet parking provided for all Sponsors of "Stanislav & Friends." If any seats remain for the concert after patron tickets are distributed, they will be sold on a first come, first served basis at $75 per person and will not include the reception on stage following the concert.
The Stanislav & Friends Benefactor Party will take place on Tuesday, February 21, 2023, at The River Club. Space is limited so reply early to ensure your spot!
Your support of Stanislav & Friends helps ensure that Park University's International Center for Music continues to be a beacon of pride for Kansas City, the nation and the world.
ICM GALA SPONSORS
Grand Underwriter $25,000
• Preferred Concert Seating for 10 in Helzberg Hall
• Cocktail Reception for 10 prior to concert in Brandmeyer Hall
• Dessert Reception for 10 immediately following concert in Brandmeyer Hall
• Complimentary valet parking at Kauffman Center
• Invitation for 6 to Benefactor Party*
• Recognition in Stanislav & Friends printed program, event invitation, website, and annual report
Underwriter $10,000
• Preferred Concert Seating for 8 in Helzberg Hall
• Cocktail Reception for 8 prior to concert in Brandmeyer Hall
• Dessert Reception for 8 immediately following concert in Brandmeyer Hall
• Complimentary valet parking at Kauffman Center
• Invitation for 4 to Benefactor Party*
• Recognition in Stanislav & Friends printed program, event invitation, website and annual report
Major Benefactor $5,000
• Preferred Concert Seating for 6 in Helzberg Hall
• Cocktail Reception for 6 prior to concert in Brandmeyer Hall
• Dessert Reception for 6 immediately following concert in Brandmeyer Hall
• Complimentary valet parking at Kauffman Center • Invitation for 4 to Benefactor Party*
• Recognition in Stanislav & Friends printed program, event invitation, website and annual report
Grand Benefactor $2,500
• Preferred Concert Seating for 4 in Helzberg Hall
• Cocktail Reception for 4 prior to concert in Brandmeyer Hall
• Dessert Reception for 4 immediately following concert in Brandmeyer Hall
• Complimentary valet parking at Kauffman Center
• Invitation for 2 to Benefactor Party*
• Recognition in Stanislav & Friends printed program, event invitation, website and annual report
Benefactor $1,250
• Preferred Concert Seating for 2 in Helzberg Hall
• Cocktail Reception for 2 prior to concert in Brandmeyer Hall
• Dessert Reception for 2 immediately following concert in Brandmeyer Hall
• Complimentary valet parking at Kauffman Center
• Invitation for 2 to Benefactor Party*
• Recognition in Stanislav & Friends printed program, event invitation, website and annual report
Fill out the form at the button above, or DOWNLOAD FORM, print and mail to:
Park University International Center for Music
NW River Park Drive CMB#65
Parkville, Missouri 64152
Fill out the form at the button above, or DOWNLOAD FORM, print and mail to Park University International Center for Music
Questions? Contact:
Lisa Hickok Executive Director, International Center for Music
816-584-6484 (office)
Lisa.Hickok@park.edu