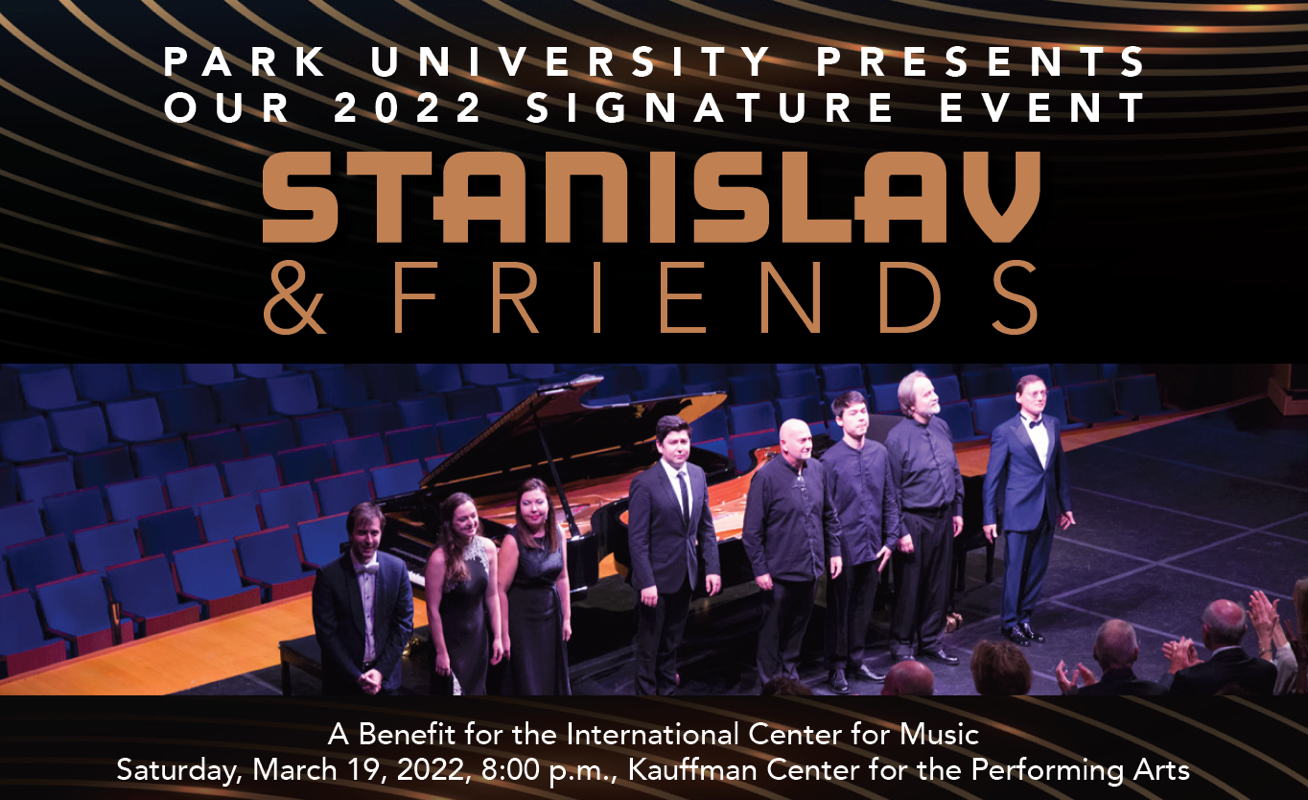 There's near the stage. There's front row.
Then there's rubbing elbows with the stars.
That's the promise of Park University's one-of-a-kind, third-annual event, Stanislav & Friends.
Held in the Kauffman Center for the Performing Arts, it's a rare opportunity to experience the music and magnificence of the International Center for Music's award-winning artists like Behzod Abduraimov, Igor Khukhua, Kenny Broberg, Maria Ioudenitch, and more. Even the grand finale promises to be quite a treat with full orchestra! The featured soloist will be the event's namesake himself, Van Cliburn Gold Medalist  pianist Stanislav Ioudenitch, performing the spectacular Piano Concerto for the Left Hand by Maurice Ravel. Plus you can have your cake and eat it too with your chance to meet all performers in a dessert reception immediately following the performance in Brandmeyer Hall. It is free to all attendees of the concert. This is truly a concert event you don't want to miss!
Event to feature the talents of: Stanislav Ioudenitch, Maria Ioudenitch, Ben Sayevich, Lolita Lisovskaya-Sayevich, Igor Khukhua, Kenneth Broberg, and Behzod Abduraimov. Watch here for more details about the program as it develops!
Program
Kenny Broberg, Piano
Danza Festiva from the Book of Forgotten Melodies, Op 38, No. 3 by Nikolai Medtner (1880-1951)
Kenny Broberg, Piano
Stanislav Ioudenitch, Piano
Suite No. 1 in G Minor (or Fantaisie-tableaux), Op. 5, for 2 Pianos by Sergey Rachmaninov (1873-1943)
Movement III "Tears"
Igor Khukhua, Violin
Recitativo and Scherzo-Caprice, Op.6 by Fritz Kreisler (1875-1962)
Behzod Abduraimov, Piano
Fantasie Nègre No. 1 in E minor by Florence Price (1887-1953)
Maria Ioudenitch, Violin
Stanislav Ioudenitch, Piano
Romance Op. 4, No. 4 (Do not Sing, My Beauty) by Sergey Rachmaninoff (1873-1943)
Danza Espanola No. 1 (Arr. for Violin and Piano by Fritz Kreisler) by Manuel De Falla (1876-1946)
INTERMISSION
Ben Sayevich, Violin
Daniel Veis, Cello
Lolita Lisovskaya-Sayevich, Piano
Piano trio in E minor op. 90 "Dumky" by Antonin Dvorak (1841-1904)
Lento maestoso, Allegro vivace
Allegro
Lento maestoso, Vivace
Anastasia Vortonya, Kyoshiro Hirama, Michael Davidman, Sergey Belyavsky, Piano
Bolero by Maurice Ravel (1875-1937)
INTERMISSION
Stanislav Ioudenitch, Piano
Bruce Sorrell, Conductor, Kansas City Chamber Orchestra
Piano Concerto for the Left-Hand by Maurice Ravel (1875-1937)
Introducing the 2022 Stanislav & Friends Gala Committee:
Left to Right: Cyprienne Simchowitz, Vicki Short, Phyllis Nolan, Kimberlee Ried, Jerry White, Lisa Hickok, Guy Townsend. Not pictured: William Robert (Bob) Bucker, Lisa Browar and Nathan Marticke.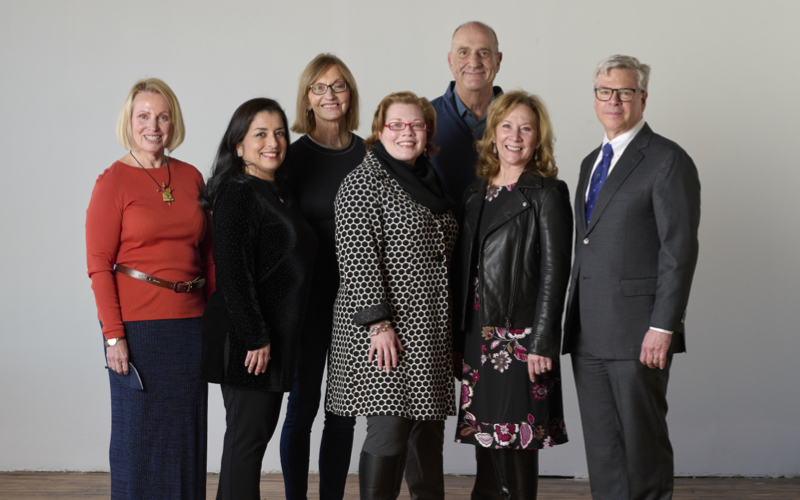 Photo credit Kenny Johnson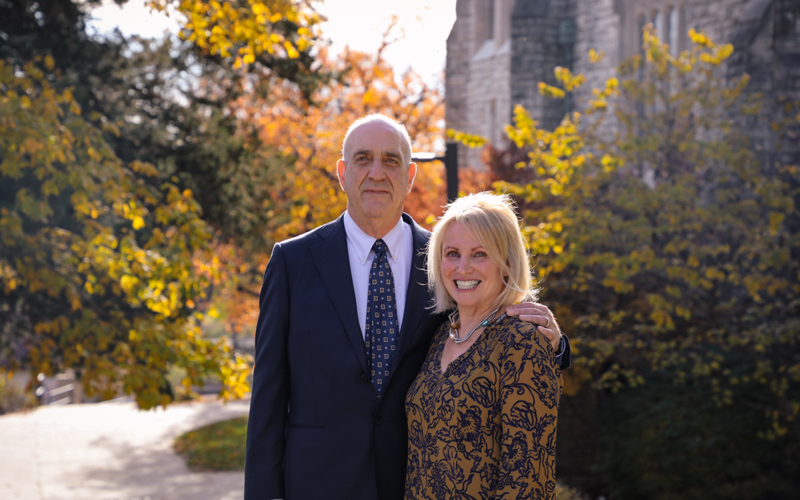 Photo credit Damian Gonzales Photography
Become a Benefactor of Stanislav & Friends
Additional benefits are available for all benefactors of Stanislav & Friends. They include:
A benefactor reception will take place immediately before the concert at 6:00 p.m. on Level 7 of the Kauffman Center for the Performing Arts.
Valet parking provided for all benefactors.
Two nights before on March 17, a special party will take place just for benefactors. Details will be shared as they become available.
Major Sponsor $10,000
Preferred Concert Seating for 8 in Helzberg Hall
Cocktail Reception for 8 prior to concert on Level 7 of Brandmeyer Hall in Kauffman Center
Dessert Reception for 8 immediately following concert in Brandmeyer Hall
Complimentary valet parking at Kauffman Center
Invitation for 8 to Benefactor Party*
Complimentary Patrons Society Membership at Supreme Level**
Recognition in Stanislav & Friends printed program, event invitation, website and annual report
Sponsor $5,000
Preferred Concert Seating for 6 in Helzberg Hall
Cocktail Reception for 6 prior to concert on Level 7 of Brandmeyer Hall in Kauffman Center
Dessert Reception for 6 immediately following concert in Brandmeyer Hall
Complimentary valet parking at Kauffman Center
Invitation for 6 to Benefactor Party*
Complimentary Patrons Society Membership at Extraordinaire Level**
Recognition in Stanislav & Friends printed program, event invitation, website and annual report
Major Benefactor $2,500
Preferred Concert Seating for 4 in Helzberg Hall
Cocktail Reception for 4 prior to concert on Level 7 of Brandmeyer Hall in Kauffman Center
Dessert Reception for 4 immediately following concert in Brandmeyer Hall
Complimentary valet parking at Kauffman Center
Invitation for 4 to Benefactor Party*
Complimentary Patrons Society Membership at Patron Level**
Recognition in Stanislav & Friends printed program, event invitation, website and annual report
Benefactor $1,250
Preferred Concert Seating for 2 in Helzberg Hall
Cocktail Reception for 2 prior to concert on Level 7 of Brandmeyer Hall in Kauffman Center
Dessert Reception for 2 immediately following concert in Brandmeyer Hall
Complimentary valet parking at Kauffman Center
Invitation for 2 to Benefactor Party*
Recognition in Stanislav & Friends printed program, event invitation, website and annual report
*  The Stanislav & Friends Benefactor Party will take place on Thursday, March 17. Location pending.
**The International Center for Music Patrons Society benefits can be found Here"