Saturday, January 25, 2020
7:30 PM
1900 Building, 1900 Shawnee Mission Parkway, Mission Woods, Kansas 66205
Pianist Stanislav Ioudenitch is widely regarded for his strong individuality and musical conviction. His artistry won him the Gold Medal at the 11th Van Cliburn International Piano Competition, where he also took home the Steven De Groote Memorial Award for Best Performance of Chamber Music.
Miriam Fried has been recognized for years as one of the world's preeminent violinists. A consummate musician—equally accomplished as recitalist, concerto soloist or chamber musician—she has been heralded for her "fiery intensity and emotional depth" (Musical America) as well as for her technical mastery.
On January 25, 2020, these masters will create an unforgettable performance in Kansas City's own 1900 Building.
Program
Ludwig van Beethoven (1770 – 1827)
Violin Sonata No.5 in F major, Op.24
1. Allegro
2. Adagio molto espressivo
3. Scherzo: Allegro molto
4. Rondo: Allegro ma non troppo
César Franck (1822 – 1890)
Sonata for Violin and Piano in A major
1. Allegretto ben moderato
2. Allegro
3. Ben moderato – Recitativo – Fantasia
4. Allegretto poco mosso 
Miriam Fried, violin
Stanislav Ioudenitch, piano
Biography
Born in 1971 in Tashkent, Uzbekistan, Ioudenitch has netted prizes at the Busoni, Kapell, Maria Callas, New Orleans competitions, among others. A former student of Dmitri Bashkirov, he also studied with Leon Fleisher, Murray Perahia, Karl Ulrich Schnabel, William Grant Naboré and Rosalyn Tureck at the International Piano Foundation in Como, Italy (the current International Piano Academy Lake Como). He subsequently became the youngest teacher ever invited to give master classes at the Academy.
Ioudenitch has collaborated with James Conlon, James DePreist, Günther Herbig, Asher Fisch, Stefan Sanderling, Michael Stern, Carl St. Clair and Justus Franz, with such orchestras as the Munich Philhamonic, the National Symphony in Washington, D.C., the Rochester Philharmonic, the Honolulu Symphony and the National Philharmonic of Russia. He has also performed with the Takács, Prazák, Borromeo and Accorda quartets and is a founding member of the Park Piano Trio.
He has performed at Carnegie Hall in New York, the Kennedy Center, the Gasteig in Munich, the Conservatorio Verdi in Milan, the International Performing Arts Center in Moscow, Forbidden City Concert Hall in Beijing, the Théâtre du Châtelet in Paris, Bass Hall in Fort Worth, Jordan Hall at the New England Conservatory, Orange County Performing Arts Center in California and the Aspen Music Festival in Colorado.
Ioudenitch's recordings include Stanislav Ioudenitch, Gold Medalist, 11th Van Cliburn International Piano Competition for Harmonia Mundi and Trois Mouvements de Petrouchka produced by Thomas Frost. He also appeared in Playing on the Edge, Peter Rosen's Peabody Award-winning documentary for PBS about 2001 Van Cliburn competition and in the PBS Concerto series. In addition to Lake Como, he has led master classes at the Cliburn-TCU Piano Institute in Fort Worth, Stanford University, Cornell University, the National University in Seoul and Miami's International Institute for Young Musicians.
Recently his passion to teach has found expression in the forming of the International Center for Music and the Youth Conservatory of Music at Park University near Kansas City, where he is Artistic Director and Associate Professor of Music and Piano.
Ioudenitch was educated at the Uspensky School of Music in Tashkent, the Tashkent State Conservatory "M. Ashrafi" (the current Uzkek State Conservatory), the Escuela Superior de Música Reina Sofia in Madrid, the International Piano Foundation in Como, the Cleveland Institute of Music and the University of Missouri-Kansas City. He lives in Overland Park, Kansas with his wife, pianist Tatiana Ioudenitch and their daughter, Maria.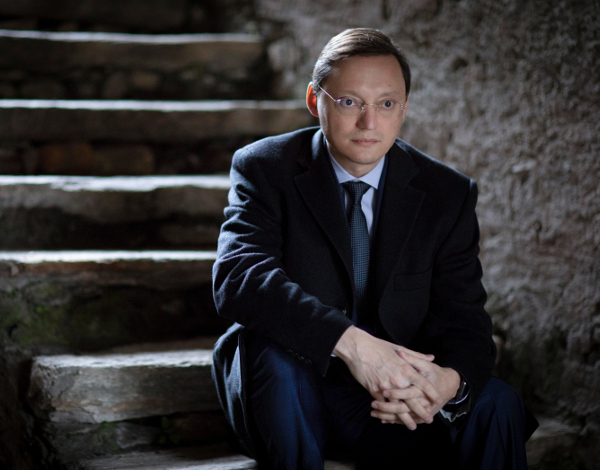 Miriam Fried has been recognized for years as one of the world's preeminent violinists. A consummate musician—equally accomplished as recitalist, concerto soloist or chamber musician—she has been heralded for her "fiery intensity and emotional depth" (Musical America) as well as for her technical mastery. Fried has played with virtually every major orchestra in the United States and Europe and has been a frequent guest with the principal orchestras of Boston, Chicago, Cleveland, New York, Philadelphia, and Pittsburgh, as well as with the Israel Philharmonic, the London Symphony, the Royal Philharmonic, and the Vienna Symphony.
Recital tours have taken her to all of the major music centers in North America and to Brussels, London, Milan, Munich, Rome, Paris, Salzburg, Stockholm, and Zurich.
In recent seasons, her schedule has included orchestral engagements with such prestigious ensembles as the Berlin Philharmonic, the Orchestre de Paris, the Czech Philharmonic, the Los Angeles Philharmonic, the Jerusalem Symphony, the Orquesta Filarmonica de Mexico, the Japan Philharmonic, the Montreal Symphony, the St. Petersburg Philharmonic, the Milwaukee Symphony, and the BBC Philharmonic. She premiered a violin concerto written for her by Donald Erb with the Grand Rapids Symphony and recorded the work for Koss in 1995.
Since 1993, she been chair of the faculty at the Steans Institute for Young Artists at the Ravinia Festival, one of the country's leading summer programs for young musicians. Her involvement there has included regular performances, including recitals and concerts with the Chicago Symphony. Fried's highly praised 1985 New York recitals of the complete Bach Sonatas and Partitas for solo violin were the culmination of three years of international performances. She returned to this music with a recording made in France for the Lyrinx label. She has also made a prize-winning, best-selling recording of the Sibelius Concerto for the Finlandia label with the Helsinki Philharmonic under the direction of Okko Kamu.
Chamber music plays an important role in Fried's musical life. She was first violinist of the Mendelssohn String Quartet until it disbanded after 30 years, and has collaborated with such distinguished artists as Isaac Stern, Pinchas Zukerman, Garrick Ohlsson, Nathaniel Rosen, her son, pianist Jonathan Biss, and her husband, violinist/violist Paul Biss. She has been featured guest artist at Chamber Music East in Boston, the La Jolla Chamber Music Society SummerFest, the Lockenhaus Festival, and the Naantali Festival in Finland.
Miriam Fried's successful solo career was launched in 1968 after she was awarded First Prize in Genoa's Paganini International Competition. Three years later she claimed top honors in the Queen Elisabeth International Competition, where she gained further world attention by becoming the first woman ever to win the prestigious award. Her early childhood included lessons with Alice Fenyves in Tel Aviv, as well as the opportunity to meet and play for the many great violinists who visited Israel, including Isaac Stern, Nathan Milstein, Yehudi Menuhin, Henryk Szeryng, Zino Francescatti, and Erica Morini. She came to the United States as a protégée of Isaac Stern, and continued her studies with Ivan Galamian at the Juilliard School and with Joseph Gingold at Indiana University.