Congratulations to Mansur Kadirov and Dilshod Narzilleav who will both be competing in International competitions this summer!
ICM graduate student Mansur Kadirov has been invited to the Schoenfeld International String Competition in Harbin, China.  Sponsored by the Schoenfeld International Music Society, Mansur was admitted to the live-round stage cello division. The competition takes place from July 18 to July 30, 2018, with the first round of the violin/cello division scheduled for the morning of July 21. Mansur will also be performing for the extraordinary opening gala the evening of July 20 where Maestros Geringas and Kantorow will be featured. The competition's invitation also included a $1000 travel scholarship, "because of the recommendation and your impressive performance…." The Alice and Eleonore Schoenfeld International String Competition for Violin, Cello, and Chamber aims to enrich the culture of music by recognizing and promoting highly gifted young musicians.
Additionally, Mansur and Dilshod Narzilleav, ICM undergraduate student, cello, have been selected to compete in the George Enescu International Competition (violin / cello / piano / composition) which will be held September 1-23, 2108, in Bucharest. In the words of conductor Vladimir Jurowski, Artistic Director, "I would add that music is 30% excellence and professionalism, and 70% message. In today's world, when the geopolitical context is so complex, classical music has the power to unite us by virtue of example. Various nationalities come together to play . . . and this should suspend all conflicts and problems, because unless they do, it is impossible to play together. Music will never forsake you, it will never betray you, because music is harmony and peace."
The George Enescu International Competition is celebrating 60 years of existence. Overall, in the four sections of the competition there are 400 contestants including 126 contestants in the Piano Section, 121 in the Violin Section, 126 in the Cello Section and 27 in Composition. "We are very happy to see a record number of participants . . . we are sure that not just the number of contestants is decisive in this edition, but also their quality as there are contestants who have been awarded important international prizes," said Mihai Constantinescu, Executive Director.
For Park International Center for Music to have two of the 126 Cello contestants is an extraordinary accomplishment. We wish both Mansur and Dilshod good luck!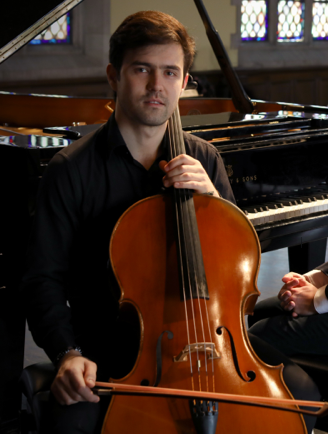 Mansur Kadirov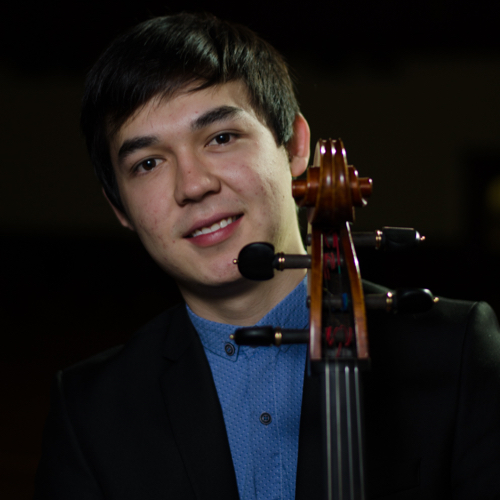 Dilshod Narzilleav