Chung-Hoon Peter Chun – Viola Studio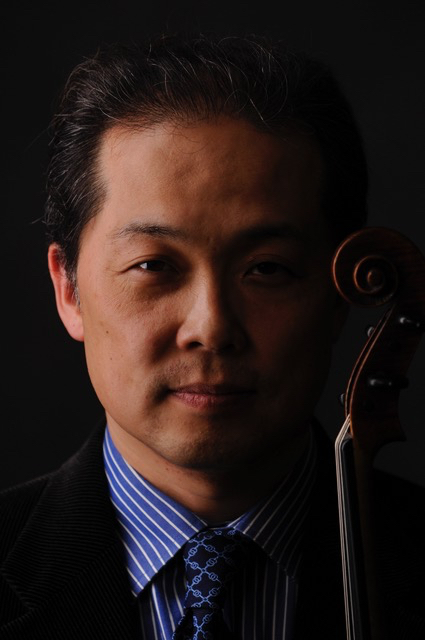 New England Conservatory of Music (Boston, MA)
Walter Trampler, Marcus Thompson, Eric Rosenblith
1974 Otto Erdesz, Tel Aviv, Israel
I am a baseball fanatic—just LOVE the game!
Grateful and blessed to be married to an angel for 22 years and living with 3 beautiful children.
Violist Peter Chun has given numerous recitals and chamber music performances across the U.S., including Boston, St. Louis, and Kansas City, as well as performing internationally in Korea and Japan. 2012 saw him touring as a member of the renowned Borromeo String Quartet, performing at the Busan International Music Festival. Later that year he toured China in a three-city recital series to Shanghai, Beijing and Shenyang, visiting various music schools to perform recitals and teach masterclasses. In 2009, he was invited to perform and present a masterclass at the International Viola Congress, in Stellenbosch, South Africa. Over the years, he has also performed at numerous universities nationally and internationally, such as Penn State University, University of Connecticut, University of Ulsan (Korea), the Conservatory of Music at University of Missouri, Kansas City, and many others. He has appeared as soloist with Lexington Sinfonietta (MA), Lawrence Chamber Orchestra, and the University of Kansas Symphony Orchestra.
Among the distinguished artists Peter has performed with are Shmuel Ashkenasi, Peter Wiley, James Buswell, Frank Almond, Paula Robison, John Gibbons, and the Borromeo String Quartet in America, as well as with European artists such as Diemut Poppen and Daniel Veis. He was the Artistic Director of Kansas City String Quartet Program, where he taught and performed with the faculty quartet. Chamber music festivals at which he has appeared include the Martha's Vineyard Chamber Music Festival and Yellow Barn, and he was a resident artist at International Musical Arts Institute, in Maine, where he performed and taught. He also taught and performed at Sound Encounters, a renowned Suzuki camp in Ottawa, KS. His performances have been broadcast on the Korean Broadcasting System, WGBH radio in Boston, Maine Public Radio and Television, and Kansas Public Radio. Chun has also been featured in a documentary about the Tanglewood Music Center.
Peter Chun is is currently the Adjunct Instructor at Park University. Previously, he taught for 16 years as the Associate Professor of viola at the University of Kansas, a position he was appointed to in 1999, at the age of 28. He was also the violist of Quartet Accorda from 1995 to 2010, a group that was the Quartet-in-Residence at Park University, and gained notoriety with their highly acclaimed performances that were frequently broadcast in Kansas and Missouri.
As a conductor, Chun has made his operatic debút in an acclaimed and highly publicized production of Donizetti's opera L'elisir d'Amore in Seoul's prestigious LG Art Center, as well as a production of Stravinsky's L'Histoire du Soldat at University of Kansas, a performance of complete Mozart violin concertos, and recently Handel's Messiah at the historic Tremont Temple Baptist Church in Boston.
Born in Seoul, Korea, Peter Chun emigrated at age 12 with his family to the U.S. He was trained at the New England Conservatory, where he studied with Walter Trampler, Marcus Thompson, and Eric Rosenblith.