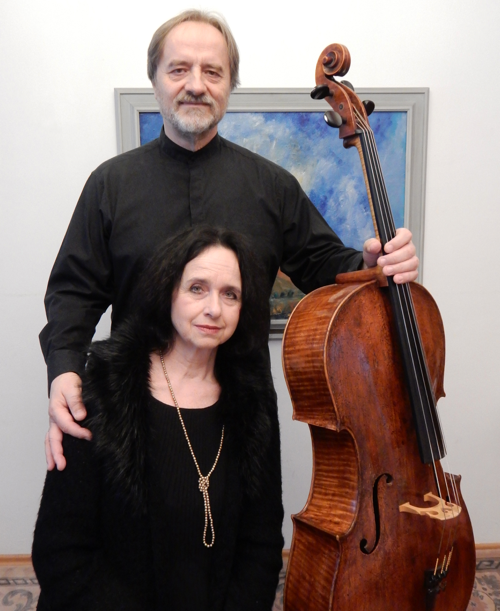 Saturday, April 7, 2018, 7:30 p.m.
Graham Tyler Memorial Chapel, Park University Campus
Daniel Veis has been widely recognized as "the finest Czech cellist" since winning the Silver Medal at the prestigious 1978 Tchaikovsky International Competition in Moscow. Prior to winning the Tchaikovsky, he won the First Prize at the 1976 Prague Spring International Competition. Veis, along with his wife, Helena Veisova, will be presenting two works at the picturesque chapel on the grounds of Park University.
Daniel and Helena's program includes the following:
Ludwig van Beethoven – Sonata in C-major, Op. 102, No. 1
Andante, Allegro vivace
Adagio, Allegro vivace
Ludwig van Beethoven – Sonata in D-major, Op. 102, No. 2
Allegro con brio
Adagio con molto sentimento d'affetto
Allegro fugato
Richard Strauss – Sonata in F-major, Op. 6
Allegro con brio
Andante ma non troppo
Allegro vivo
About the Music:
This Park University ICM Masters in Concert season spotlights chamber works for cello and piano, before and after Brahms' heavy influence on the genre. The two Beethoven late sonatas being performed on this concert are considered a doorstop to Beethoven's late period.
Sonata in C-Major, Op. 102, No. 1 reflects an old form of baroque sonata that we know from Bach, Handel, and Vivaldi. At the same time, it speaks in typical Beethovenian language – thoughtful slow parts in contrast to energetic and dramatic fast movements.
The center point of Sonata in D-major, Op. 102, No. 2 is its breath-taking second (slow) movement in which Beethoven stretches out his hands from musical heaven to future generations. In the final movement, Beethoven turns to a typical baroque fugue, the multiple voiced, complex form of which J.S. Bach was master. Despite the traditional form, the harmonic language used leads us almost to that of Paul Hindemith of the 20th century.
Sonata in F-major, Op. 6 immerses us in the genius of Richard Strauss who wrote this cello sonata at the age of 19! Despite his youth, Strauss created a masterpiece in three movements, in each of which we can easily see the genesis of the familiar melodic and harmonic principals he employed in his later period.
About the Artists:
Daniel Veis started his musical studies in his native Prague, after which he proceeded to the Moscow Conservatory furthering his studies with the famous Natalia Shakhovskaya, graduating with full distinction. Since 1979 he has performed regularly as a soloist with many major orchestras in such respected venues as Avery Fisher Hall NY, Royal Albert Hall London, Orchard Hall Tokyo, Auditori de Barcelona, Auditorio de Madrid, and numerous others. He has worked with world famous conductors, namely, Sir Charles Mackerras, S. Baudo, Y.P. Tortelier, G. Delogu, J.P. Saraste and V. Gergiev. In addition to his solo career he is also a member of the Rosamunde Trio, an ensemble of international repute, together with British pianist Martino Tirimo and violinist Ben Sayevich. He plays a Joseph Cavaleri instrument, Genoa, 1740. Daniel joined the faculty at Park University in 2010.
Helena Veisova started her musical studies at age six and at twelve she performed with her father, the violin virtuoso Vaclav Snitil. Her professional career had its natural origin in the musical environment of her family. She graduated from the Academy of Performing Arts, Prague, where at 14 she studied with the famous Jan Panenka. She subsequently started her permanent co-operation with her former Trio partner and future husband, Daniel Veis. They appeared together in numerous concerts in France, Germany, Austria, Italy, Spain, and Russia among others. Helena has performed on live Radio and TV broadcasts, and has made numerous Radio and CD recordings. According to the prestigious journal The Strad, "Helena is a pianist who has an excellent command, endowed with a supreme musicality and perfect coordination when playing with other musicians."
TICKETS
Concert is free and open to the public.