Saturday, October 21
2:30 p.m.
KC Public Library (Downtown) 14 W. 10th St., Kansas City, MO
The Park Quartet will be performing this Saturday at the KC Public Library. Come by to enjoy these amazing Park ICM students perform works by Debussy and Dvorak: David Horak (Violin I), Mumin Turgunov (Violin II), Christian dos Santos (Viola), and James Farquhar (Cello).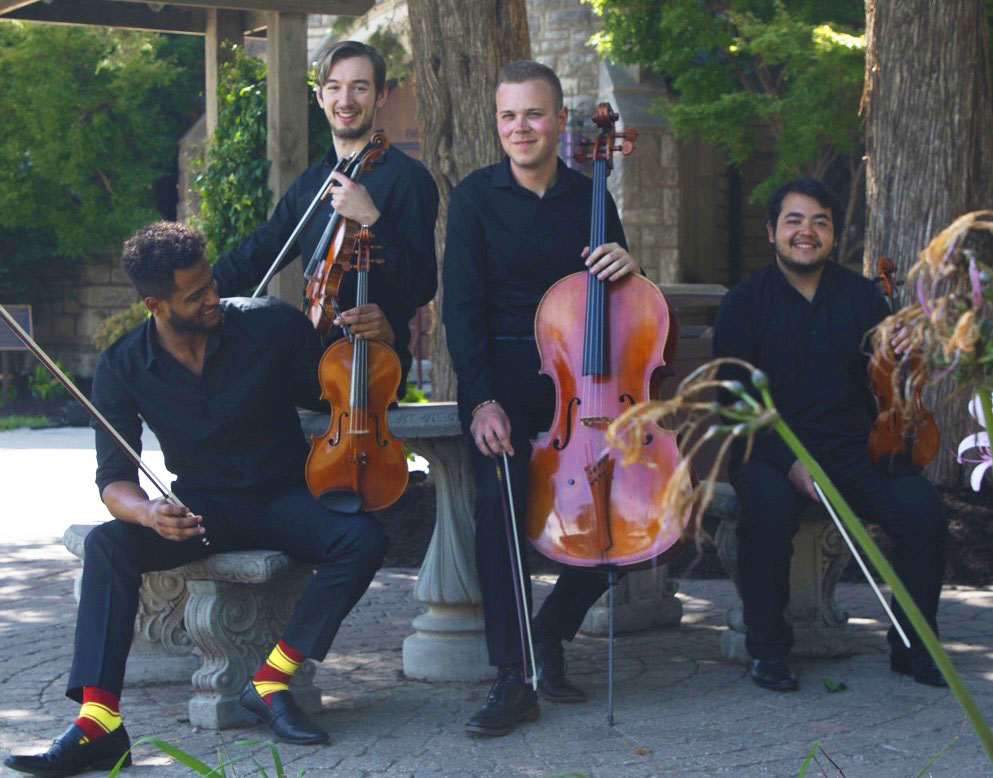 Program
String Quartet in G minor, Op. 10 (1893) by Debussy (1862-1918)
I. Animé et très décidé
II. Assez vif et bien rythmé
String Quartet No. 12, Op. 96 (1893) by Dvorak (1841-1904)
I. Allegro ma non troppo
II. Lento
IV. Finale. Vivace ma non troppo
David Horak
David Horak, a native of Vermont, enjoys playing and listening to a wide variety of music. He regularly returns to Vermont to play with the Dartmouth (College) Symphony, where he was a member from 2013-2018. In December 2021, he joined the Upper Valley Baroque Orchestra (NH) and performed in their inaugural concert. As a member of the Opera North (NH) orchestra since 2016, he has performed many operas including La Boheme, Tosca, Tales of Hoffmann, Barber of Seville, and MacBeth. In the summer of 2019, David soloed with Caitlin McKechney, founder of Opera Cowgirls, in an Opera North performance, and later that year with musicians from the Bar-D Wranglers at a private event in New Mexico. During the first months of the pandemic, David performed outside at senior homes, on a hilltop in rural Vermont, and in a neighbor's barnyard. David is a first-year graduate student at Park University, studying the violin with Ben Sayevich.
David has participated in summer festivals, including the National Youth Orchestra (USA), Decoda/Skidmore Chamber Music Festival, Boston University Tanglewood Institute, Kinhaven Music School, and Apple Hill Center for Chamber Music.
As a soloist on both violin and piano, David has collaborated with the Windham Orchestra (VT), University of Vermont Orchestra, and the Burlington (VT) Chamber Orchestra. He has played in masterclasses for Miriam Fried, Shmuel Ashkenasi, Bayla Keyes, Soovin Kim, and the Danish and Shanghai String Quartets. Before beginning his studies at Park University, David studied the violin with Magdalena Richter and the piano with Victoria Dobrushina. David enjoys cooking, table tennis, and riding motorcycles.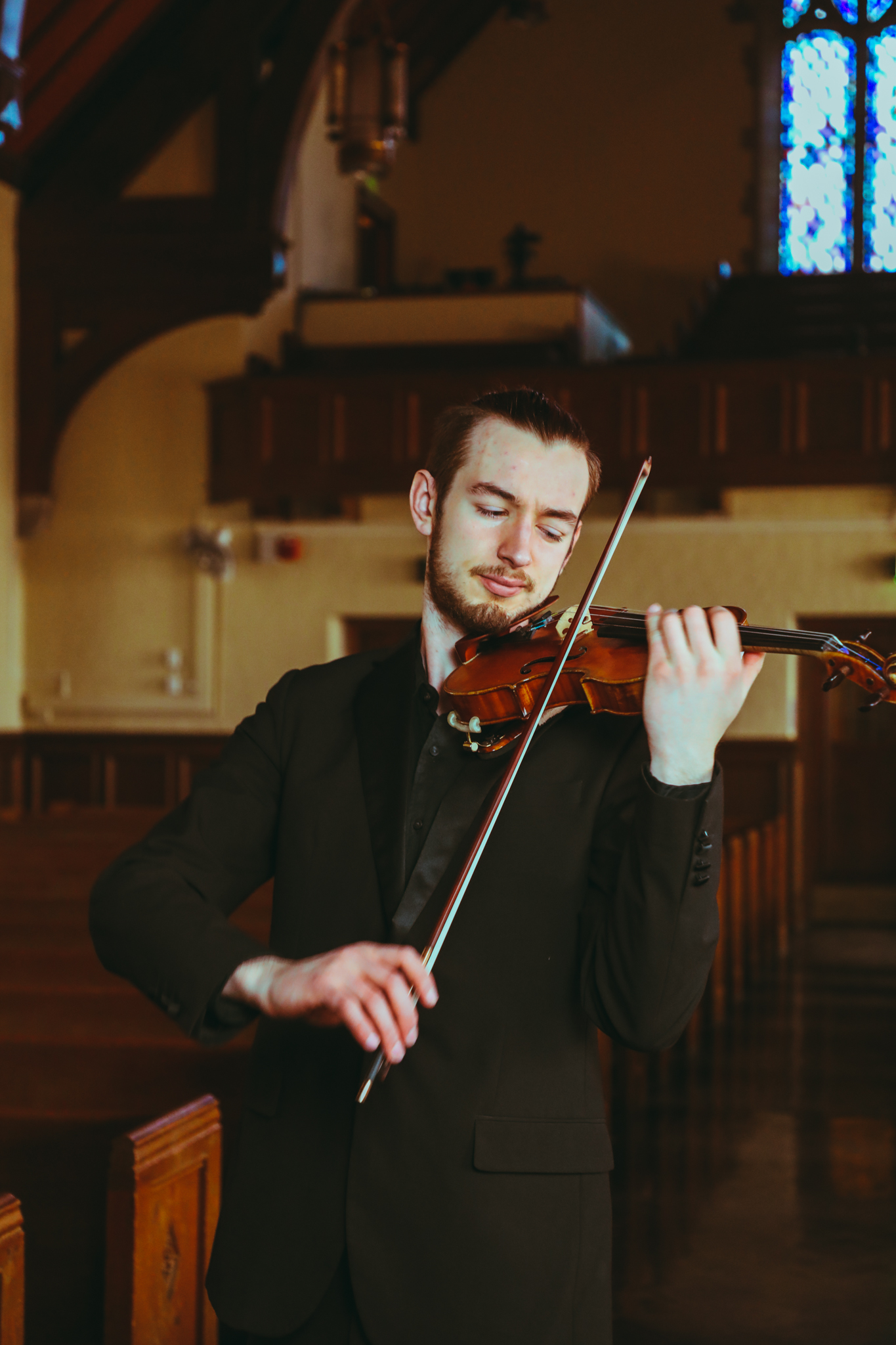 Muminjon Turgunov
Muminjon Turgunov is a student of Ben Sayevich currently working on his Bachelor's Degree in Violin Performance. Prior coming to the United States in 2019 he studied for 11 years at the Glier School of Music in Tashkent, Uzbekistan, with such renowned teachers as Nikitin Yaroslav and Mashkura Kasimovna. In 2018 started working as a concertmaster of "Consonanza" Chamber Orchestra at the Tashkent and Uzbekistan Diocese. In the same year was awarder Diploma for the Best Musician of the Season "Spring 2018". In 2019 Muminjon participated in the Republican Competition of Uzbekistan and won 2nd prize. In 2020 Muminjon Turgunov was privileged to work as a full time violinist in the "State Symphony Orchestra". He has a passion for playing violin solo repertoire, but greatly enjoys playing in chamber ensembles and orchestras.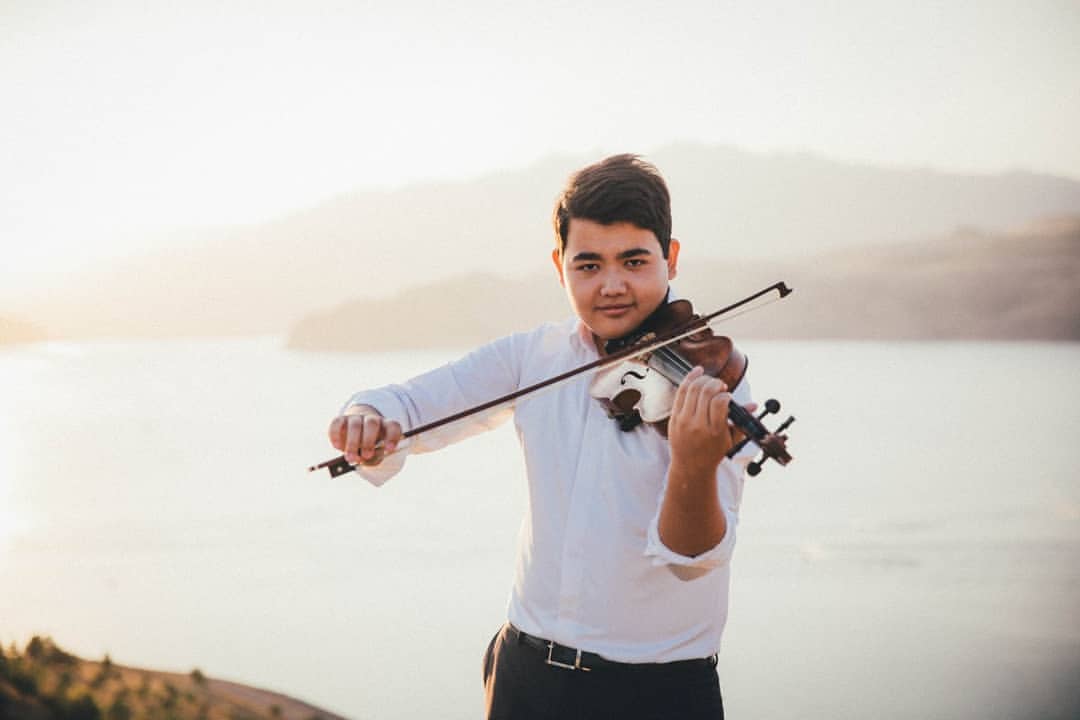 Christian Santos
Christian Santos started his journey playing the Viola in 2012 in Sao Paulo, Brazil, at the age of 13. He studied at the Sao Paulo State Music School with violists Mariana Costa Gomes and Silvio Catto before becoming a student of Peter Chun at the International Center for Music at Park University. Christian has performed with several orchestras such as the Brazilian National Symphony Orchestra, Bauru Symphony Orchestra, Lins Youth Symphony Orchestra, and the exceptional Sao Paulo State Youth Orchestra, with which he recorded CDs with masterpieces such as Mahler's 5th Symphony, Bartok's Miraculous Mandarin, Kodaly's Dances of Galanta, Claudio Santoro's 9th Symphony, to name a few. In these orchestras he performed with prestigious conductors such as Giancarlo Guerrero, Marin Alsop, Michael Tilson Thomas, Neil Thompson, Claudio Cruz, Marcelo Leningher, Michal Klauza, Bruno Mantovani, and others.
When it comes to chamber music, Christian had amazing experiences in the Pianosofia (directed by the pianist Cristian Budu), Martinez Quartet, and Sao Paulo State Youth Orchestra String Quartet. He has had opportunities to work with other musicians such as Christoph Hartmann (Berlin Phil), Jon Thorne (London Phil), Shmuel Ashkenasi (Curtis), Ben Sayevich (Park University), Daniel Veis (Park University), the Modigliani Quartet members, etc. Currently, Christian is the violist of the Park Quartet at the International Center for Music and Viola Principle of the ICM Chamber Orchestra.
In music festivals, solo masterclasses, and international activities, Christian worked with artists such as Hsin Yun-Huang (Juilliard), Ruth Killius, Tim Deighton (Penn State), Hong Mei-Xiao (University of Arizona), Rafael Altino (Carl Nielsen Academy)  Antal Zalai, Asbjørn Nørgaard (Danish Quartet), Agata Szymczewska (13th Wieniawski Winner), Antonio Meneses, to name a few. He also worked as guest and side-by-side performer for the New World Symphony, Youth Orchestra of Americas, and Boston Youth Symphony.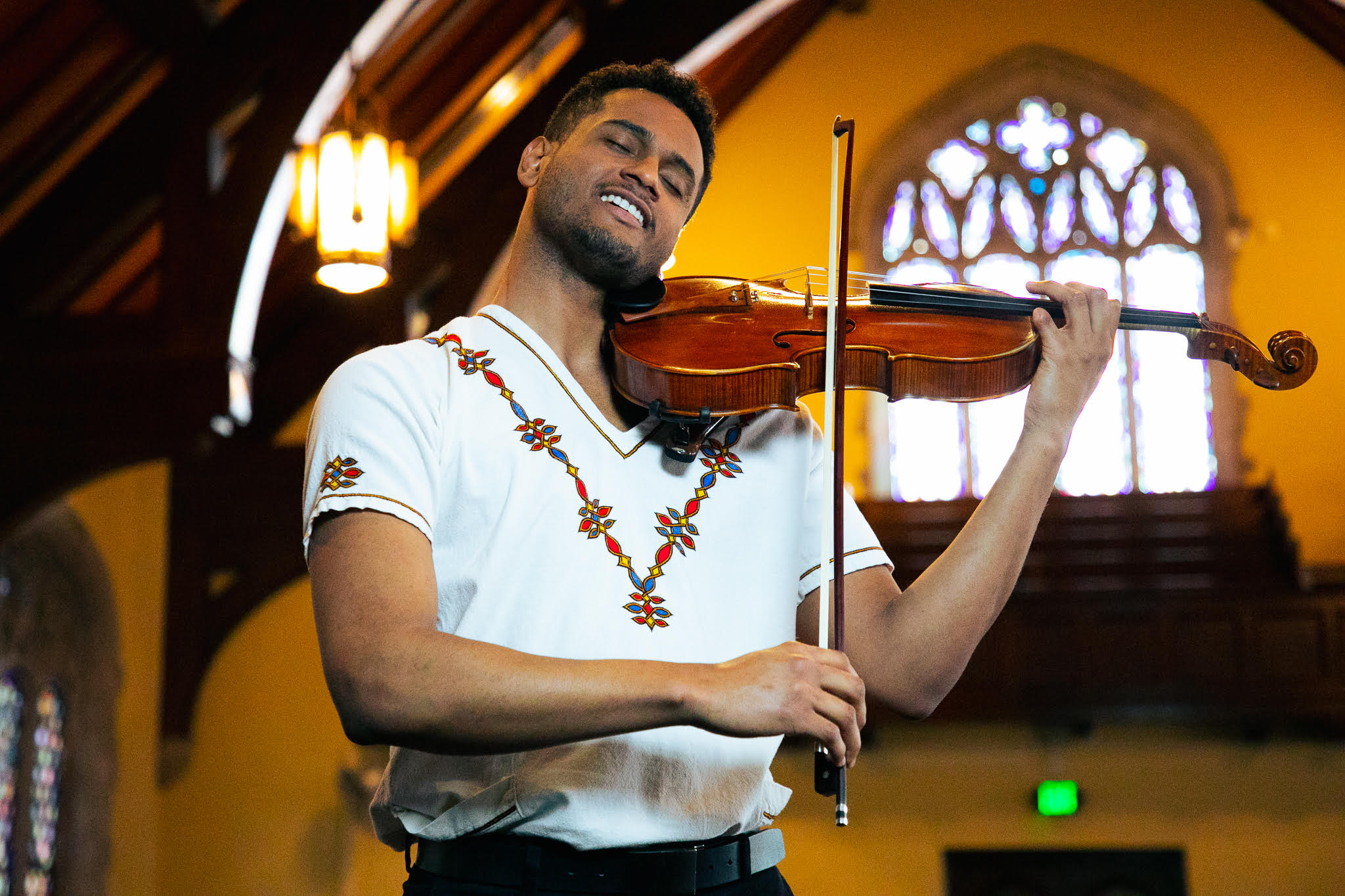 James Farquhar
James Farquhar is currently a student of Daniel Veis, pursuing a Master's Degree in Cello Performance from Park University's International Center for Music. He is formerly a student of Kurt Baldwin of the Arianna String Quartet at the University of Missouri – St. Louis. Under Baldwin's instruction, James attained 2019-20 UMSL Artist of the Year with the Rococo Variations by Tchaikovsky. In Spring of 2022, he was also named Odyssey Chamber Music's Performance Fellow, with a culminating solo recital, in collaboration with pianist Peter Miyamoto (University of Missouri's professor for piano). During his time pursuing his undergraduate degree, James organized numerous community recitals around St. Louis and Kansas City.
​He has received invaluable instruction from the likes of the Arianna String Quartet, the Brooklyn Rider String Quartet, the Harlem String Quartet, the Jupiter String Quartet, the Rolston String Quartet, Dennis Parker, Scott Lee, Jackie Lee, Frank Huang, and Shmuel Ashkenazy, among numerous others. James has also participated in various chamber music festivals including the Arianna Chamber Music Festival, Madeline Island Chamber Music Festival, Heartland Chamber Music Festival (as a festival scholar from the 2017-2022 seasons), and Chamber Music in the Mountains (Mt. Lemmon, Arizona).
​James is a Cello Instructor for String Sprouts KC, a nonprofit that is specifically designed for underserved children ages 3 – 8, and is a free music education program created to support school readiness. He is also a Teaching Artist for Harmony Project KC, a nonprofit that provides year round music education for underserved students from the diverse Historic Northeast Community of Kansas City, Missouri. James also aspires to organize grant-funded outreach concerts for underserved elementary schools, hospitals and nursing home communities.
James performs on a 19th Century composite cello generously on loan from the Rachel Barton Pine Foundation.