Thursday, February 3rd, 2022
7:30 p.m.
1900 Building, 1900 Shawnee Mission Parkway, Mission Woods, Kansas 66205
String Studios Recital in Collaboration with Lolita Lisovskaya-Sayevich, piano (Director Collaborative Piano)
Park ICM's concert season will continue with an award-winning roster of string musicians including but not limited to violinists Igor Khukhua, Orin Laursen, Ilkhom Mukhiddinov, and others, in the string studios of violinist Ben Sayevich, cellist Daniel Veis and violist Peter Chun.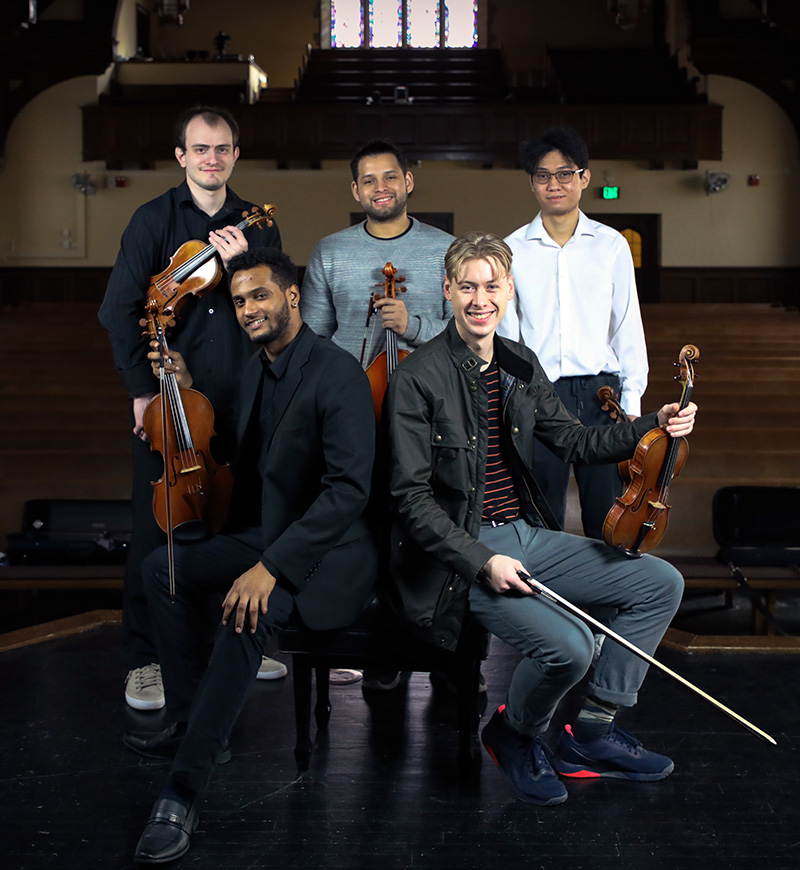 Program
Victor Diaz, viola (Graduate Certificate in Viola)
Romanze, Op.85 by Max Bruch (1838-1920)
Orin Laursen, violin (Artist Diploma)
Violin Sonata in A major, D 574 by Franz Schubert (1797-1828)
Allegro Moderato
Sonata No. 5 in G Major by Eugène Ysaÿe (1858-1931)
Danse rustique
David Horak, violin (Graduate Certificate in Violin)
In the Style of Albeniz by Rodion Shchedrin (1932)
  Meditation from Thais by Jules Massenet (1842-1912)
Diyorbek Nortojiev, cello (Bachelors in Music performance)
Sonata for cello and piano op.5 no.2 in G minor by L. van Beethoven (1770-1827)
1. Mov. Adagio sostenuto ed espressivo, Allegro molto piu tosto presto
 INTERMISSION
Christian dos Santos, viola (Bachelors in Music Performance)
Sonata for Viola and Piano by Rebecca Clarke (1886-1979)
1. Mov. Impetuoso
Ilkhom Muhiddinov, violin (Bachelors in Music Performance)
Violin Concerto No. 1, Op. 6 by Niccolo Paganini (1782-1840)
Allegro maestoso – Tempo giusto
Igor Khukhua, violin (Masters in Music)
Theme original varié, Op.15 by Henryk Wieniawski (1835-1880)
Victor Diaz
Victor began his musical training in Bogotá, Colombia at the National Colombia Conservatory and he completed his undergraduate studies with professor Benny Kim at UMKC. He believes that completing his graduate studies with Professor Ben Sayevich at Park ICM is a great honor.
He was a winner of The Young Performer Competition from the Colombian Republic Bank. He has traveled and played around the globe with the sponsorship of organizations such as the Colombian Youth Philharmonic, Orchestra of the Americas, and Sphinx Organization. Victor has been part of educational programs such as the Mahler Chamber Orchestra Academy, Allegro Vivo Festival in Austria, and the National Alliance of Audition Support training program. he has been part of orchestras such as Bogota Symphony Foundation, Topeka Symphony, Wichita Symphony, Saint Joseph Symphony.  Currently, he is a teaching artist at Harmony Project KC and a private instructor in the KC metro area. Victor believes in the great positive impact of music on people's lives. He is constantly attending training from the Suzuki Association of the Americas and other Teaching Artists institutes so he keeps refining his teaching philosophy for a more meaningful impact on his students.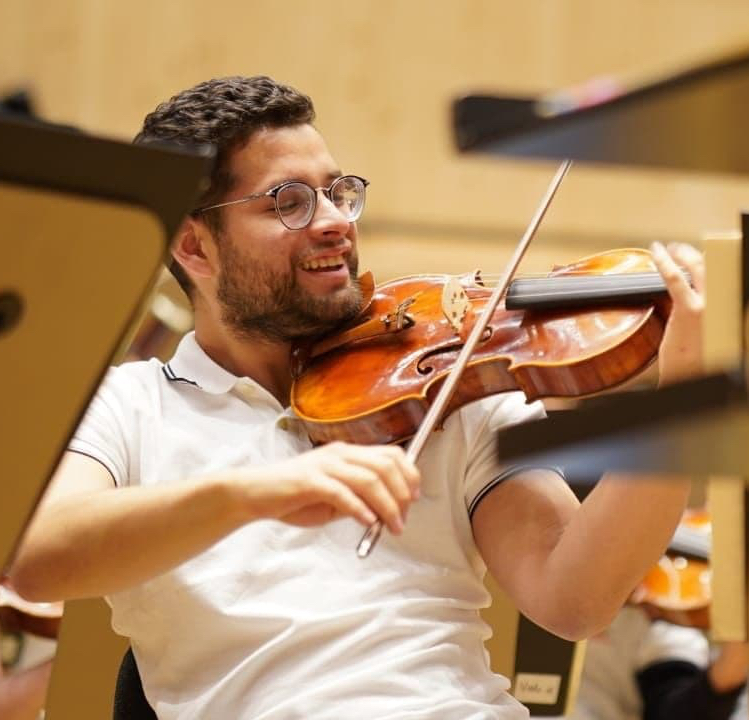 Orin Laursen
Described as possessing "dazzl[ing] virtuosity" (Toronto Concert Reviews) and "deep understanding and artistry" (CVNC) violinist Orin Laursen is an active soloist and chamber musician. He has collaborated with artists including Trevor Pinnock, Robert McDonald, Paula Robison, Richard Lester, Misha Amory, Steven Dann, Hsin-Yun Huang, the Borromeo String Quartet, and conductor Gábor Takács-Nagy.
Orin has appeared on stages worldwide, including Wigmore Hall in London, Jordan Hall and the Gardner Museum in Boston, Koerner Hall in Toronto, and the Kauffman Center in Kansas City, and has appeared as a soloist with the Sendai Philharmonic Orchestra, the Royal Conservatory Orchestra, and the Saint Petersburg Symphony Orchestra.
A dedicated chamber musician, Orin has coached extensively under eminent collaborative artists Martin Lovett, Robert Mann, David Waterman, and Joel Krosnick, as well as members of the Juilliard, Belcea, Tokyo, Artis, and Brentano Quartets. He also continues to attend seminars at Prussia Cove in Cornwall, where he has mentored with violinist Andr s Keller and with cellist Steven Isserlis. A strong advocate of contemporary music, Orin has worked with such eminent composers as Harrison Birtwistle, Terry Riley, Unsuk Chin, Christian Wolff, Jan Radzynski, and John Zorn.
Originally from Durham, North Carolina, Orin currently is pursuing his Artist Diploma at the Park International Center for Music where he studies with Ben Sayevich.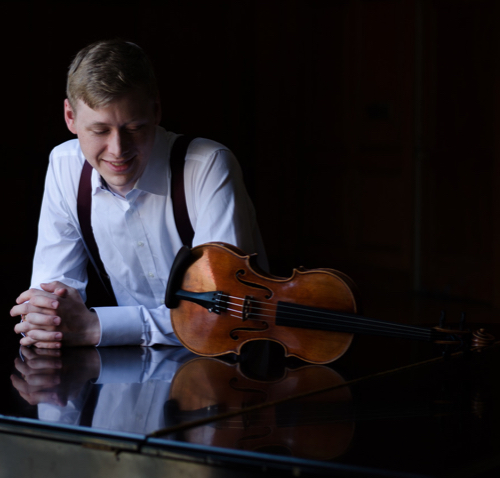 David Horak
David Horak, a native of Vermont, enjoys playing and listening to a wide variety of music. He regularly returns to Vermont to play with the Dartmouth (College) Symphony, where he was a member from 2013-2018. In December 2021, he joined the Upper Valley Baroque Orchestra (NH) and performed in their inaugural concert. As a member of the Opera North (NH) orchestra since 2016, he has performed many operas including La Boheme, Tosca, Tales of Hoffmann, Barber of Seville, and MacBeth. In the summer of 2019, David soloed with Caitlin McKechney, founder of Opera Cowgirls, in an Opera North performance, and later that year with musicians from the Bar-D Wranglers at a private event in New Mexico. During the first months of the pandemic, David performed outside at senior homes, on a hilltop in rural Vermont, and in a neighbor's barnyard. David is a first-year graduate student at Park University, studying the violin with Ben Sayevich.
David has participated in summer festivals, including the National Youth Orchestra (USA), Decoda/Skidmore Chamber Music Festival, Boston University Tanglewood Institute, Kinhaven Music School, and Apple Hill Center for Chamber Music.
As a soloist on both violin and piano, David has collaborated with the Windham Orchestra (VT), University of Vermont Orchestra, and the Burlington (VT) Chamber Orchestra. He has played in masterclasses for Miriam Fried, Shmuel Ashkenasi, Bayla Keyes, Soovin Kim, and the Danish and Shanghai String Quartets. Before beginning his studies at Park University, David studied the violin with Magdalena Richter and the piano with Victoria Dobrushina. David enjoys cooking, table tennis, and riding motorcycles.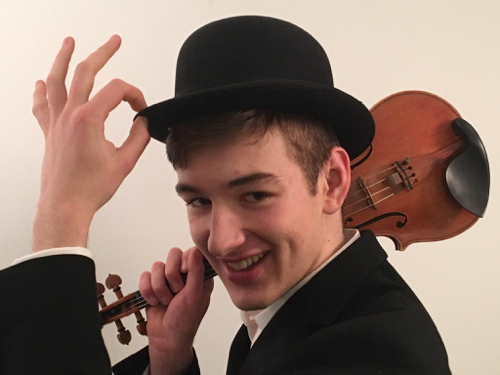 Diyorbek Nortojiev
Diyorbek Nortojiev is a student of Daniel Veis currently working on his Bachelor's Degree in Cello Performance. Prior to coming to the United States in 2019 he studied for 11 years at the Glier School of Music in Tashkent, Uzbekistan with such renowned teachers as Dadabaeva Nigora and Jakhangir Ibragimov. In 2018 Diyorbek participated at the IV S. Knushevitsky International Cello Competition in Saratov, Russia. That same year he received the 1st prize at the II "Istedod" Internatonal Music Competition in Tashkent, Uzbekistan. In 2017 Diyorbek participated and took the 3rd prize at the A. Jubanov International Competition in Almaty, Kazakhstan. In summer of that year, he participated at the X P. Tchaikovsky Youth International Music Competition. Diyorbek has actively participated in masterclasses with such famous musicians like Na Mula and Suren Bagratuni. He has a passion for playing cello solo repertoire, but also greatly enjoys playing in chamber ensembles and orchestras.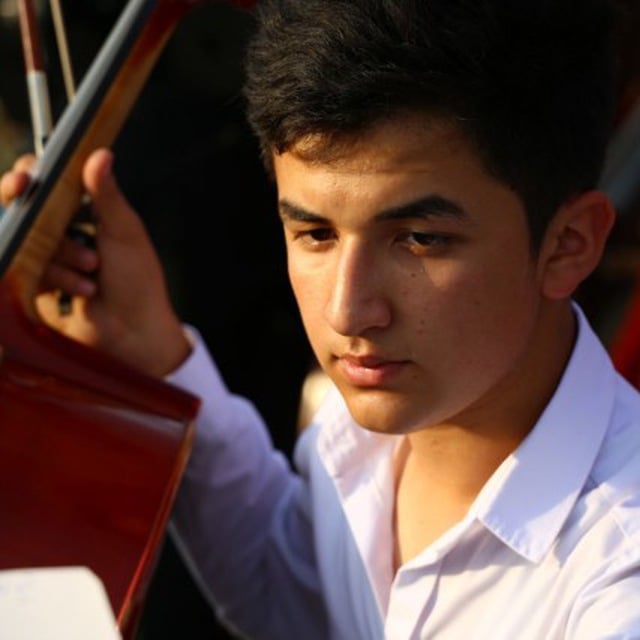 Christian Santos
Christian Santos started his journey playing the Viola in 2012, when he was 13 years old, in São Paulo, Brazil. His alma mater was the São Paulo State Music School where he studied with Mariana Costa Gomes and Silvio Catto. Now Christian is a student of Peter Chun at the International Center for Music at Park University. He performed with several orchestras in the São Paulo State, such as Bauru Municipal Symphonic Orchestra and its Chamber Orchestra, Lins Youth Symphony Orchestra, Brazilian National Symphony Orchestra, and others. During his time in the City of Sao
Paulo, in addition to having his main role as a violist in the Sao Paulo State Youth Orchestra, Christian participated in chamber music projects such as Pianosofia, founded by the pianist Cristian Budu, violist of the Martinez Quartet, and the String Quartet of the Sao Paulo State Youth Orchestra. In music festivals, masterclasses, and international activities, Christian worked alongside exceptional artists such as Hsin Yun-Huang, Asbjørn Nørgaard, Tim Deighton, Ruth Killius, Antonio Meneses, Christian Tetzlaff, Antal Zalai, Christoph Hartman, Giancarlo Guerrero, Michael T. Thomas, Benjamin Zander, Claudio Cruz, Marin Alsop, among others. He also performed as guest and side-by-side with Youth Orchestra of Americas, Boston Youth Symphony, and New World Symphony. Alongside the Sao Paulo State Youth Orchestra, he has recorded CDs with masterpieces such as the 5th Mahler Symphony, Bartok's Miraculous Mandarin, Kodaly's Dances of Galanta, Claudio Santoro 9th Symphony, to name a few.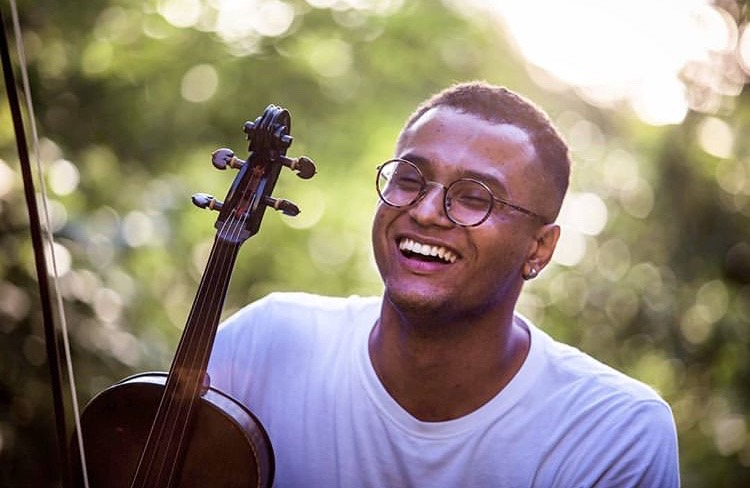 Ilkhom Mukhiddinov
Born in 2001 in Tashkent in a family of musicians, Ilkhom Muhiddinov started his first year of studies in Republican Specialized Musical Academic school. In 2007 at Lyceum, named after V.A.Uspensky, he was almost immediately noticed as a talented, goal-seeking and hardworking student. Having the above mentioned qualities coupled with great music talent he managed to reach excellent results at an early age. It can be proven by his numerous victories in international competitions such as the 2018 – International competition ''Iste'dod'' Uzbekistan – 2rd degree; 2016 – online competition ''Le Grang Bal De Paris'' – 1st prize; 2016 – online competition ''e Muse'' – 3rd prize; 2012 – 10th International independent music competition ''Individualis''. Currently, Ilkhom is pursuing a Bachelor in Violin Music Performance under professor Ben Sayevich at the International Center for Music at Park University.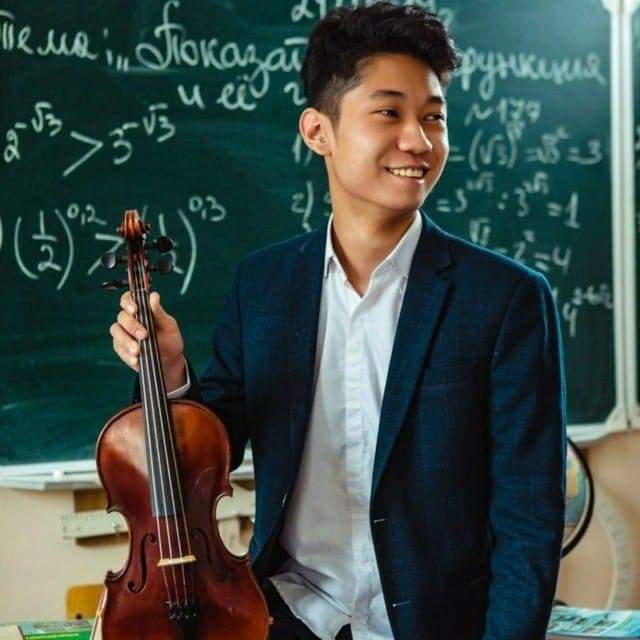 Igor Khukhua
The Russian born violinist Igor Khukhua has been recognized internationally for performances of charismatic temperament, bright musical expression and sparkling technique. He has won international acclaim as an outstanding young soloist, recitalist and chamber musician having already achieved top prizes in numerous international violin competitions.
Igor was awarded the Excellence Prize by the President of the Russian Federation Vladimir Putin. He is the 3rd Prize Winner of the Elmar Oliveira International Violin Competition in 2019, First Prize Winnerat the Naftzger Artists Competition in Wichita, KS in 2018, 2nd Prize Winner at the Hudson Valley Philharmonic String Competition in New York in 2017, participant of the XV International Tchaikovsky Competition in 2015, Second Prize Winner at the 2nd Russian National Music Competition in Moscow, Russia in 2014, Grand Prix Winner at the 4th International Violin Competition in Astana, Kazakhstan in 2012.
Igor Khukhua was born in Siberia in 1992 and started play violin at the age of 4. Since 2011-2016 studied at the Moscow State Conservatory (BM, MM) under Professor Eduard Grach and has been an artist with the Moscovia Orchestra (Artistic Director – Eduard Grach). This one of the unique and distinguished young collective in Russia. Being a part of this ensemble he played the String Sextet Souvenir de Florence by P. Tchaikovsky, String Octet op. 20 by Mendelssohn and String Sextets by J. Brahms.
Also during study he had a work experience in Russian National Orchestra (Artistic Director – Michail Pletnev ) and Moscow Philarmonic Orchestra (Artistic Director – Yuri Simonov). In 2016 he successfully won competition and was employed in the Saint Petersburg Philarmonic Orchestra (Artistic Director – Yuri Temirkanov), but has refused the offer and has left for study to the USA
Since 2016 studies in the International Center of Music of Park University (Parkville, Missouri) under professor Ben Sayevich (Artist Diploma in Violin Performance). Starting from 2019 has been employed as the Adjunct Teacher at ICM at Park University. During his study in the US he had a work experience in Kansas City Symphony Orchestra.
In addition to his formal studies, he has taken part in master classes with international artists such as Zakhar Bron, Ivry Gitlis, Shmuel Ashkenasi, Daniel Veis, Mauricio Fuks, Pavel Vernikov, Vadim Gluzman, Ilya Gringolts, Ani Schnarch and Irena Muresanu. He also was a part of prestigious The Keshet Eilon International String Mastercourse in Israel.
Igor Khukhua has performed as a soloist and chamber musician in the the Great Hall of Moscow State Conservatory, Moscow International Music House, Tchaikovsky Moscow Concert Hall (Russia), Ríos Reyna Hall (Israel), Kauffman Center for the Performing Arts and the Folly Theater Hall in Kansas-city (US).
His repertoire includes violin concertos with orchestra by P. Tchaikovsky, J. Sibelius, J. Brahms, S. Prokofiev, A. Glazunov, N, Paganini, L. van Beethoven, F. Mendelssohn.
Igor Khukhua has presented numerous solo recitals and has played as a soloist with orchestras in Russia, Israel, Croatia, Poland, German, France, United Kingdom and United States.