Saturday, October 8
7:30 p.m.
1900 Building, 1900 Shawnee Mission Parkway, Mission Woods, Kansas 66205
Pianist Ilya Shmukler, finalist and recipient of the award for the "Best Performance of a Mozart Concerto" in the 2022 Cliburn Competition, will present a recital in Kansas City's 1900 building.
See Also
'I love it so much': Kansas Citian from Russia basks in glow of Cliburn piano honors
After being a finalist in the 16th Van Cliburn International Piano Competition on June 19th and winning the award for Best Performance of a Mozart Concerto, Park International Center for Music​ graduate student, Ilya Shmukler​, spoke with The Kansas City Star​ writer Patrick Neas​. Read the story here (KC Star Subscription Required)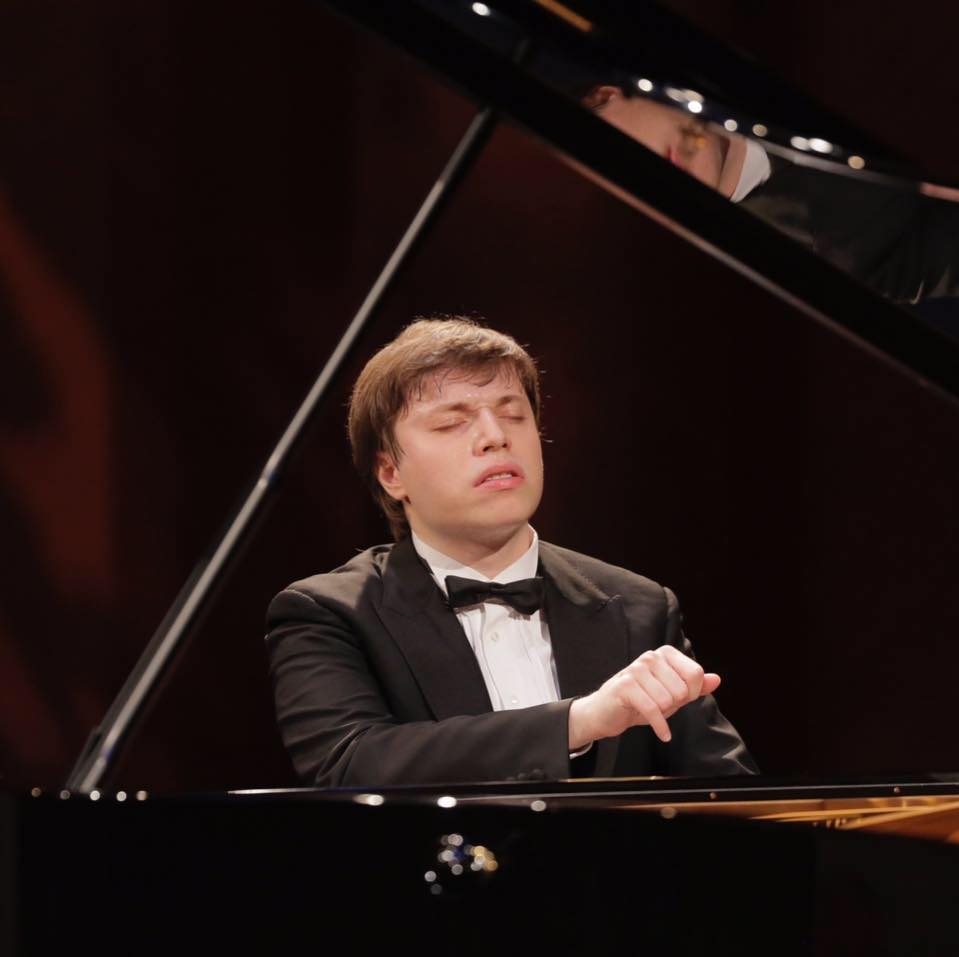 Program
Toccata, Adagio and Fugue in C major, BWV 564
by Johann Sebastian Bach (1685-1750)
Ferruccio Busoni (1866-1924)
I. Preludio, quasi improvvisando. Tempo moderato
II. Intermezzo. Adagio
III. Fuga. Moderatamente scherzando, un poco umoristico 
Variations and Fugue on a Theme by Händel in B-flat major, Op. 24
by Johannes Brahms (1833-1897)
Intermission 
"Images", book I, L. 110
by Claude Debussy (1862-1918)
I. "Reflets dans l`eau"
II. "Hommage à Rameau"
III. "Mouvement" 
"Pictures at an Exhibition"
by Modest Mussorgsky (1839-1881)
 "Promenade"
"The Gnome"
"Promenade"
"The Old Castle"
"Promenade"
"Tuileries (Children's Quarrel after Games)"
"Bydlo" ("Cattle")
"Promenade"
"Ballet of Unhatched Chicks"
"Samuel" Goldenberg and "Schmuÿle"
"Promenade"
"Limoges. The Market (The Great News)"
"Catacombs (Roman Tomb)"
"With the Dead in a Dead Language"
"The Hut on Hen's Legs (Baba Yaga)"
"The Great Gate of Kiev"
Biography
When he was 3 years old, Moscow native Ilya Shmukler's mother found him jumping on the bed and beautifully singing Robertino Loreti's "Jamaica;" she immediately recognized his musical talent and started him in lessons. It was important to his non-musician parents that he be raised as a well-rounded person, so his early years were also spent with school, table tennis, and ballroom dancing. But at 10, he says his life changed after applying for and winning his first music competition and attending the subsequent international summer academy: "There I discovered a true musical life, and I fell in love with it, inspiring me to commit my life to music."
He performed his first recital at age 12, and made his orchestral debut at 14. He has since made solo appearances in Europe and North America, and has performed with the Mariinsky Theatre, Fort Worth Symphony, Sendai Philharmonic, Bayer Symphoniker, Tambov Symphonic, and New Music Orchestras, among others.
Ilya is a laureate of many international piano competitions, taking top prizes at the New York Virtuoso, Lewisville Lake Symphony, Artist Presentation Society (St. Louis), Shigeru Kawai (Tokyo), Sсriabin–Rachmaninov (Bulgaria), and Rachmaninov (St. Petersburg) Competitions. He was a quarterfinalist in the 2017 Van Cliburn International Piano Competition, and achieved the milestone of his career as a Finalist in the 2022 Cliburn Competition. In addition, he received the award for the "Best Performance of a Mozart Concerto" in the 2022 Cliburn Competition. In 2021, he won the Carnegie Weill Recital Hall Debut Audition and will make his New York debut at the venerated venue on December 13, 2022.
He completed his master's degree with honors at the Moscow Tchaikovsky Conservatory in 2021, under the guidance of Elena Kuznetsova and Sergey Kuznetsov. Presently, he studies with Stanislav Ioudenitch at the International Center for Music at Park University in Parkville, Missouri.