Virtual Concert Broadcast from the Leedy-Voulkos Art Center
Friday, March 5th, 2021, 7:30 p.m.
Jason Pollen is an internationally acclaimed artist, designer and educator. He has been an iconic Kansas City visual artist since he joined our community in 1983 as professor in the Fiber Department at the Kansas City Art Institute. It is a true pleasure for Park ICM to perform amongst the amazing work of Jason in one of the iconic galleries of the Crossroads, the Leedy-Voulkos Art Center.
No ticket required. Program to be entirely virtual. No in person audience available.
Program
Camille Saint-Saëns : Havanaise
Orin Laursen, violin with Lolita Lisovskaya—Sayevich, piano
R. Wagner – F. Liszt  –  Overture to "Tannhäuser" S. 442
Ilya Shmukler, piano
Fritz Kreisler : Praeludium and Allegro
Ilkhom Mukhiddinov, violin with Lolita Lisovskaya-Sayevich, piano
Fritz Kreisler : Liebesfreud
P.I. Tchaikovsky : Melody
Nikolo Paganini : Caprice No: 18
Igor Khukhua, violin with Evangeliya Delizonas-Khukhua, piano
Sergei Rachmaninoff : Moments Musicaux Op 16, No. 3. Andante cantabile, B minor, No. 4. Presto, E minor
Sergei Taneyev : Prelude and Fugue Op.29
Anastasia Vorotnaya, piano
Orin Laursen
Described as possessing "dazzl[ing] virtuosity" (Toronto Concert Reviews) and "deep understanding and artistry" (CVNC) violinist Orin Laursen is an active soloist and chamber musician. He has collaborated with artists including Trevor Pinnock, Robert McDonald, Paula Robison, Richard Lester, Misha Amory, Steven Dann, Hsin-Yun Huang, the Borromeo String Quartet, and conductor Gábor Takács-Nagy.
Orin has appeared on stages worldwide, including Wigmore Hall in London, Jordan Hall and the Gardner Museum in Boston, Koerner Hall in Toronto, and the Kauffman Center in Kansas City, and has appeared as a soloist with the Sendai Philharmonic Orchestra, the Royal Conservatory Orchestra, and the Saint Petersburg Symphony Orchestra.
A dedicated chamber musician, Orin has coached extensively under eminent collaborative artists Martin Lovett, Robert Mann, David Waterman, and Joel Krosnick, as well as members of the Juilliard, Belcea, Tokyo, Artis, and Brentano Quartets. He also continues to attend seminars at Prussia Cove in Cornwall, where he has mentored with violinist András Keller and with cellist Steven Isserlis.
A strong advocate of contemporary music, Orin has worked with such eminent composers as Harrison Birtwistle, Terry Riley, Unsuk Chin, Christian Wolff, Jan Radzynski, and John Zorn.
Originally from Durham, North Carolina, Orin currently is pursuing his Artist Diploma at the Park International Center for Music where he studies with Ben Sayevich.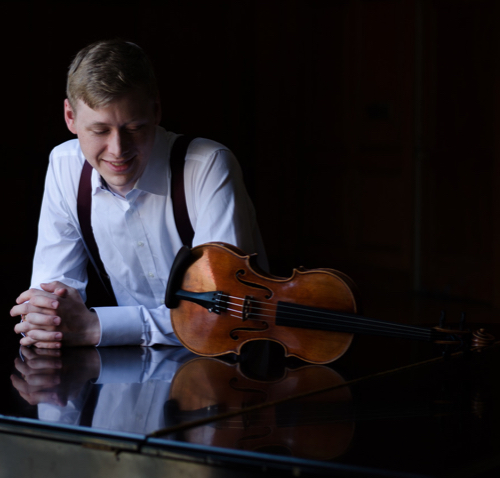 Ilya Shmukler
Ilya Shmukler started his musical education in Moscow at the age of 5. Currently he studies at International Center for Music at Park University (Parkville, the USA) with Professor Stanislav Ioudenitch as well as at Tchaikovsky Moscow State Conservatory with Professor Elena Kuznetsova and Associate Professor Sergey Kuznetsov.
Ilya Shmukler is award winner of a number piano competitions such as: IV International Festival-Competition "Musica Classica" (Ruza, Russia, 2009) – Grand Prix; Festival "Origin" (Moscow, Russia, 2009) – Grand Prix; 46th International Radio Competition for Young Musicians "Concertina Praga" (Prague, Czech Republic, 2012) – Winner Diploma; V International Rachmaninov Music Competition (St. Petersburg, Russia, 2012) – 2nd Prize; I International Competition "Sсriabin – Rachmaninov" (Sofia, Bulgaria, 2012) – Grand Prix; the 3rd Shigeru Kawai International Piano Competition (Tokyo, Japan, 2019) – 1st Prize and Audience Award; the New York Virtuoso International Competition (New York City, the USA, 2021) – 1st Prize.
As a participant of projects of International Charitable Fund "New Names" he was involved in number of festivals such as "Crescendo", "Stars on the Baikal". The name of Ilya Shmukler is listed in the "Golden Book – the names of the young talents".
Ilya Shmukler repeatedly played in the leading Concert Halls in Russia, Japan, the USA, Austria, the Netherlands, Italy, Spain, Bulgaria, Germany, Lithuania, Moldova, Kazakhstan.
Ilya Shmukler played with several orchestras, among them with the Mariinsky Theatre Symphony Orchestra (Russia) and Bayer-Symphoniker Orchestra (Germany). He recorded for the CD, TV, and radio programs such as "Radio of Russia". In 2017 he was broadcasted by "Medici.tv".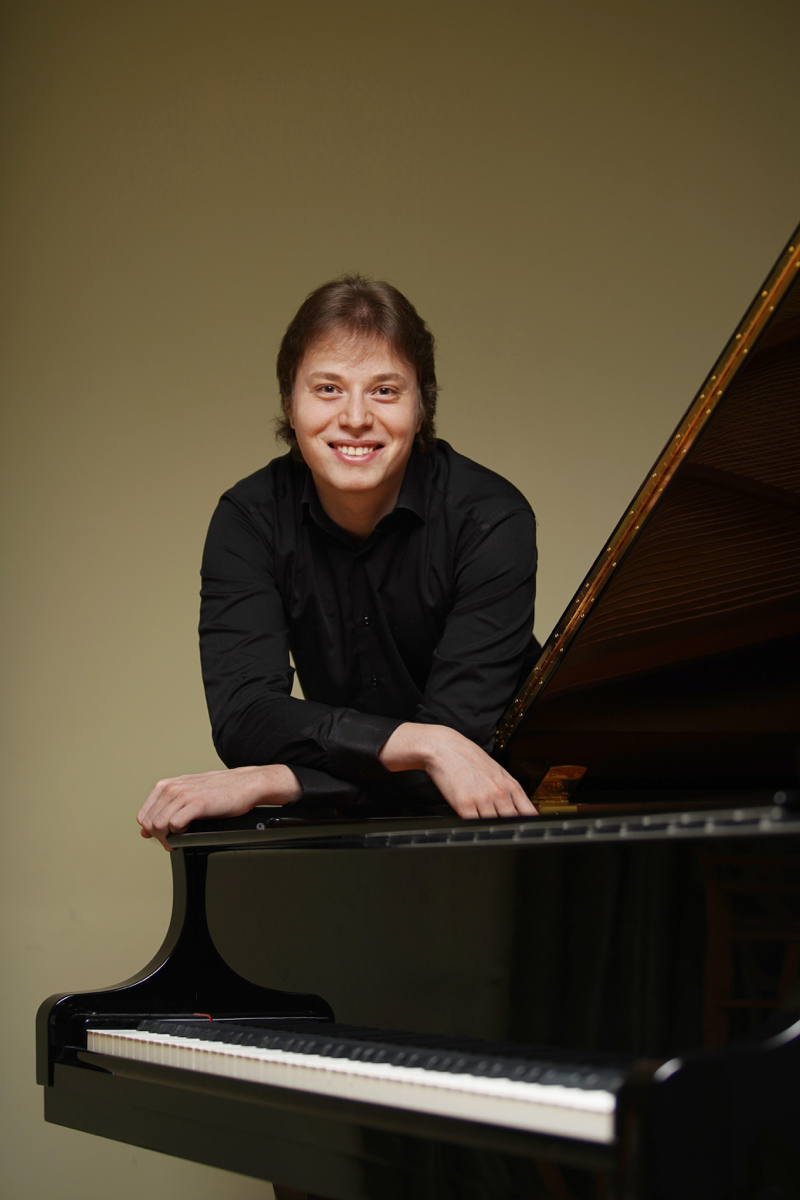 Ilkhom Mukhiddinov
Born in Tashkent, Uzbekistan to a family of musicians, Ilkhom Mukhiddinov, began his violin studies at the Republican Specialized Academic School of Music and then studied at the Lyceum named after V.A. Uspensky at the age of six. Ilkhom was almost immediately noticed as a talented, goal-seeking and hardworking student. He began bringing home prizes at age 11 with the 10th International Independent Music Competition "Individualis" at which he was awarded first prize. At age 15, he was again awarded a first prize at the "Le Grang Bal de Paris" and a third prize at the "e Muse." At age 17, Ilkhom was awarded a second prize at the international competition ''Iste'dod'' in Uzbekistan. After coming to the United States in 2019, Ilkhom received the Sue Strickler and Kansas City Musical Club Scholarship in 2020. Currently Ilkhom is pursuing his bachelor in Violin Performance under Professor Ben Sayevich at the International Center for Music at Park University.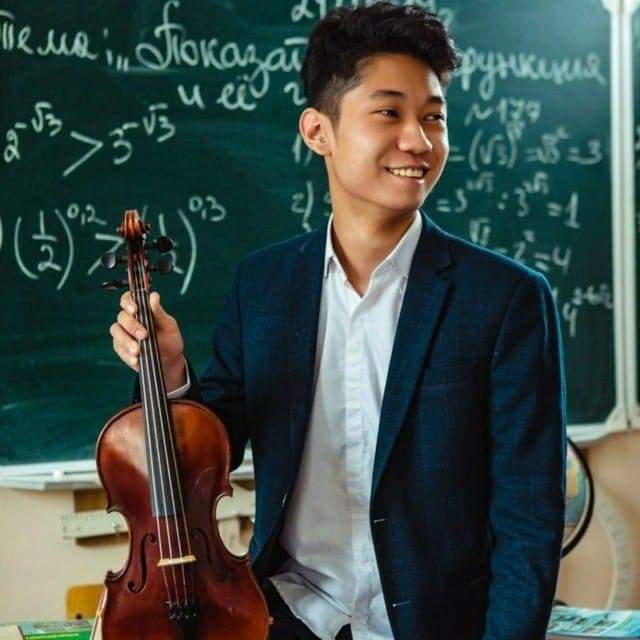 Igor Khukhua
The Russian born violinist Igor Khukhua has been recognized internationally for performances of charismatic temperament, bright musical expression and sparkling technique. He has won international acclaim as an outstanding young soloist, recitalist and chamber musician having already achieved top prizes in numerous international violin competitions.
Igor was awarded the Excellence Prize by the President of the Russian Federation Vladimir Putin. He is the 3rd Prize Winner of the Elmar Oliveira International Violin Competition in 2019, First Prize Winnerat the Naftzger Artists Competition in Wichita, KS in 2018, 2nd Prize Winner at the Hudson Valley Philharmonic String Competition in New York in 2017, participant of the XV International Tchaikovsky Competition in 2015, Second Prize Winner at the 2nd Russian National Music Competition in Moscow, Russia in 2014, Grand Prix Winner at the 4th International Violin Competition in Astana, Kazakhstan in 2012.
Igor Khukhua was born in Siberia in 1992 and started play violin at the age of 4. Since 2011-2016 studied at the Moscow State Conservatory (BM, MM) under Professor Eduard Grach and has been an artist with the Moscovia Orchestra (Artistic Director – Eduard Grach). This one of the unique and distinguished young collective in Russia. Being a part of this ensemble he played the String Sextet Souvenir de Florence by P. Tchaikovsky, String Octet op. 20 by Mendelssohn and String Sextets by J. Brahms.
Also during study he had a work experience in Russian National Orchestra (Artistic Director – Michail Pletnev ) and Moscow Philarmonic Orchestra (Artistic Director – Yuri Simonov). In 2016 he successfully won competition and was employed in the Saint Petersburg Philarmonic Orchestra (Artistic Director – Yuri Temirkanov), but has refused the offer and has left for study to the USA
Since 2016 studies in the International Center of Music of Park University (Parkville, Missouri) under professor Ben Sayevich (Artist Diploma in Violin Performance). Starting from 2019 has been employed as the Adjunct Teacher at ICM at Park University. During his study in the US he had a work experience in Kansas City Symphony Orchestra.
In addition to his formal studies, he has taken part in master classes with international artists such as Zakhar Bron, Ivry Gitlis, Shmuel Ashkenasi, Daniel Veis, Mauricio Fuks, Pavel Vernikov, Vadim Gluzman, Ilya Gringolts, Ani Schnarch and Irena Muresanu. He also was a part of prestigious The Keshet Eilon International String Mastercourse in Israel.
Igor Khukhua has performed as a soloist and chamber musician in the the Great Hall of Moscow State Conservatory, Moscow International Music House, Tchaikovsky Moscow Concert Hall (Russia), Ríos Reyna Hall (Israel), Kauffman Center for the Performing Arts and the Folly Theater Hall in Kansas-city (US).
His repertoire includes violin concertos with orchestra by P. Tchaikovsky, J. Sibelius, J. Brahms, S. Prokofiev, A. Glazunov, N, Paganini, L. van Beethoven, F. Mendelssohn.
Igor Khukhus has presented numerous solo recitals and has played as a soloist with orchestras in Russia, Israel, Croatia, Poland, German, France, United Kingdom and United States.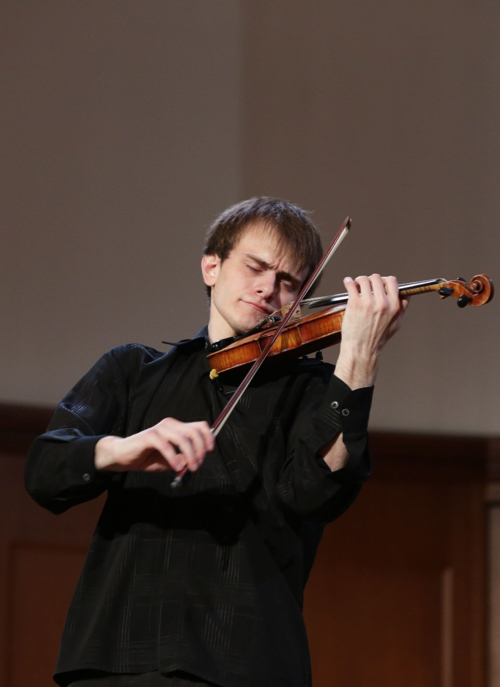 Evangeliya Delizonas-Khukhua
Born in a family of musicians in 1992, Evangeliya Delizonas-Khukhua discovered piano at the early age of three. She gave her first concert with chamber orchestra when she was five. In 1998, she entered the Moscow Central Music School of the Moscow State Tchaikovsky Conservatory as a student of Professor Tamara Koloss. She has been performing in the best venues in Moscow, including all the halls of Moscow Conservatory, Moscow International Performing Arts Center, Tchaikovsky Concert Hall at the Moscow Philharmonic, Armory Chamber of Kremlin, The Pushkin State Museum of Fine Arts, Moscow State University, and Beethoven Concert Hall in the Bolshoi Theatre.
Since 2010 Evangeliya has studied at the Moscow State Tchaikovsky Conservatory with Professor Ludmila Roschina, where she has finished her Bachelor's and Master's Degree in Piano Performance. In 2017 she got her two-year postgraduate doctoral-level degree which is equivalent to American Doctor in Arts. After that she got Full Tuition Scholarship at the International Center for Music at Park University, Missouri and in 2020 pursued Artist Diploma in Piano Performance under Van Cliburn Gold Medalist Stanislav Ioudenitch.
Evangeliya is Semi-Finalist with Honorable Mention of the NTD International Piano Competition in New-York in 2019, participant of the Los-Angeles International Piano Competition in 2018, Rose Award Scholarship Winner of Kansas City Alumnae Chapter Sigma Alpha Iota Competition in 2018, Kansas City Musical Club Sholarship Winner in 2018, 3rd Prize Winner of the 22rd International Piano Ennio Porrino in Cagliari, Italy in 2013, 2nd Prize Winner of the International Piano Competition for Young Musicians in Enschede, Netherlands in 2006, the laureate of International Programme UNESCO "Young Virtuoso of XXI Century".
As a collaborative pianist she was taking a part in international competitions such as II Russian National Competition in Moscow, XV Tchaikovsky Violin International Competition, Hudson Valley Competition, Frances Walton Competition, Elmar Oliveira International Violin Competition, Naumburg International Violin Competition, Young Artists National Competition in New York.
Evangeliya has been playing in prestigious venues for classical music performances such as Alfred Cortot Hall and Hall Theatre du Chatelet in Paris, Hall of the palace the UN in Geneva, Enschede's Musical Center in Netherlands, Italian Conservatorio di Musica "Giovanni Pierluigi da Palestrina" in Cagliari, Latvian Academy of Music in Riga, Lithuanian National Philharmonic Society in Vilnius, Austrian Russian Culture Institute in Vienna, Athens Conservatoire in Greece, The Embassy of Russian Federation in Tokyo, The Embassy of Russian Federation in Washington, D.C., Baruch Performing Arts Center in New York, Zipper Hall of the Colburn School in Los-Angeles, Amarnick-Goldstein Concert Hall in Boca Raton (FL), Historical Raymond Theatre (WA).
Other career highlights include appearance live on the Kansas Public Radio and on Seattle's Classical music radio station, Classical KING-FM 98.1. Evangeliya was a member of jury of the Musica Piano Competition in 2019.
She has been employed as collaborative pianist at the Moscow State Bolshoi Ballet Academy of Choreography and as accompanist at the Vocal Department of the Moscow State Tchaikovsky Conservatory. Currently she is working as a Piano Teacher at the Kansas City School of Music.
She speaks Russian (native), and is fluent in English, German and Greek.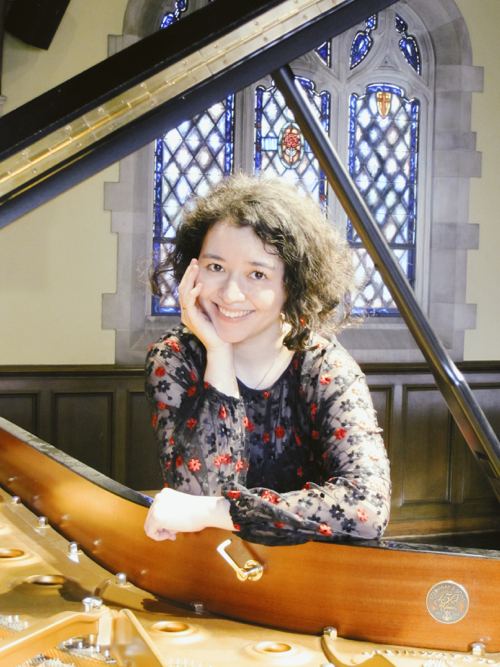 Anastasia Vorotnaya
Anastasia Vorotnaya was born in 1995 in Togliatty, Russia. When she was six years old, she started to study in Togliatty's Musical academy. During this period, Anastasia had participated and took first prizes in regional and international piano competitions:
2002 year – first prize at regional competition "Assembly of arts – 2002"
2003 year – first prize at the competition "Talents of new century" (Moscow)
2004 year – Grand Prix at the competition of a name of Muravieva (Samara)
In 2004 year Anastasia started her studying at the Central Music School of the Moscow State Conservatory under Vasily Ermakov. During this period she took first prizes in many international competitions such as:
2006 year – Grand Prix at the competition "Mozart – child prodigy"
2007 year – first prize at the competition "Young pianists" (the fourth International competition of the Central Music School)
2008 year – first prize at the competition "Bradshaw & Buono International Piano Competition" (USA)
2010 year – Grand Prix at the international competition "Concertino – Praga"
In June 2010 she released her first CD by Concertino Praga Radio.
Anastasia played in such halls as: "Carnegie Hall" New York, "Musikverein" Vienna, "Auditorio Nacional" Madrid, "Rudolfinum" Prague, Grand and Small halls of the Moscow State Conservatory, hall of the Armoury Museum of Moscow Kremlin, Chamber and Svetlanovskiy halls of Moscow international house of music, Tchaikovsky hall, state central concert hall "Russia", Kuskovo estate, Arkhangelskoe estate, concert hall of Pavel Slobodkin, A.S.Pushkin museum and others.
Anastasia is a member of The Vladimir Spivakov International Charity Foundation and "New Names" International Charity Foundation. She had recital concerts in different Russian cities such as: Vladimir, Murom, Naberezhnye Chelny, Volgograd, Ekaterinburg, Tver, Pskov, Saratov, Yaroslavl, Orenburg, Izhevsk etc.
Anastasia took part in international tours to such countries as: Japan, Denmark, Germany, Belgium, USA, Austria, Spain, Georgia, Azerbaijan, Latvia and others.
Since 2012 until 2019 Anastasia was a student of Escuela Superior de música Reina Sofía under Professor Dmitri Bashkirov.
In 2014 Anastasia won Yamaha Piano scholarship.
Since 2016 Anastasia is a student of Lake Como International Piano Academy.
In 2017 Anastasia won Yamaha Music Europe Scholarship.
In November 2017 she performed Beethoven piano concerto n.3 with orchestra under baton of Andras Schiff.
In June 2018 Anastasia won the Public Prize at the international piano competition "Jeudis du Piano"
In August 2018 Anastasia won the First Prize at the international piano competition "Gegen den Strom"
In February 2019 Anastasia won the Second Prize at the international piano competition "Juries in Competition"
Since 2019 Anastasia is a student at Park University under Professor Stanislav Ioudenitch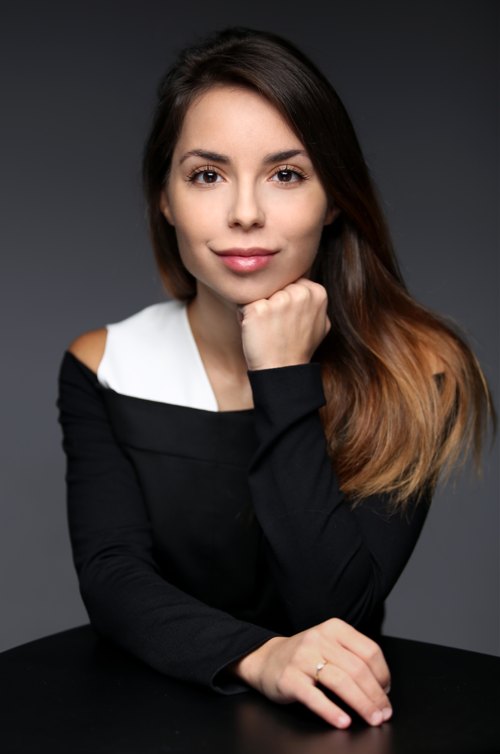 Lolita Lisovskaya-Sayevich
For information on Park's Director of  Collaborative Piano, Lolita Lisovskaya-Sayevich, click here.