Thursday, January 19, 2023
7:30 p.m.
1900 Building, 1900 Shawnee Mission Parkway, Mission Woods, Kansas 66205
Park ICM's concert season will continue with a marvelous roster of string musicians all from the studios of violinist Ben Sayevich, cellist Daniel Veis and violist Peter Chun. Plus meet the performers and faculty in a champagne reception immediately following!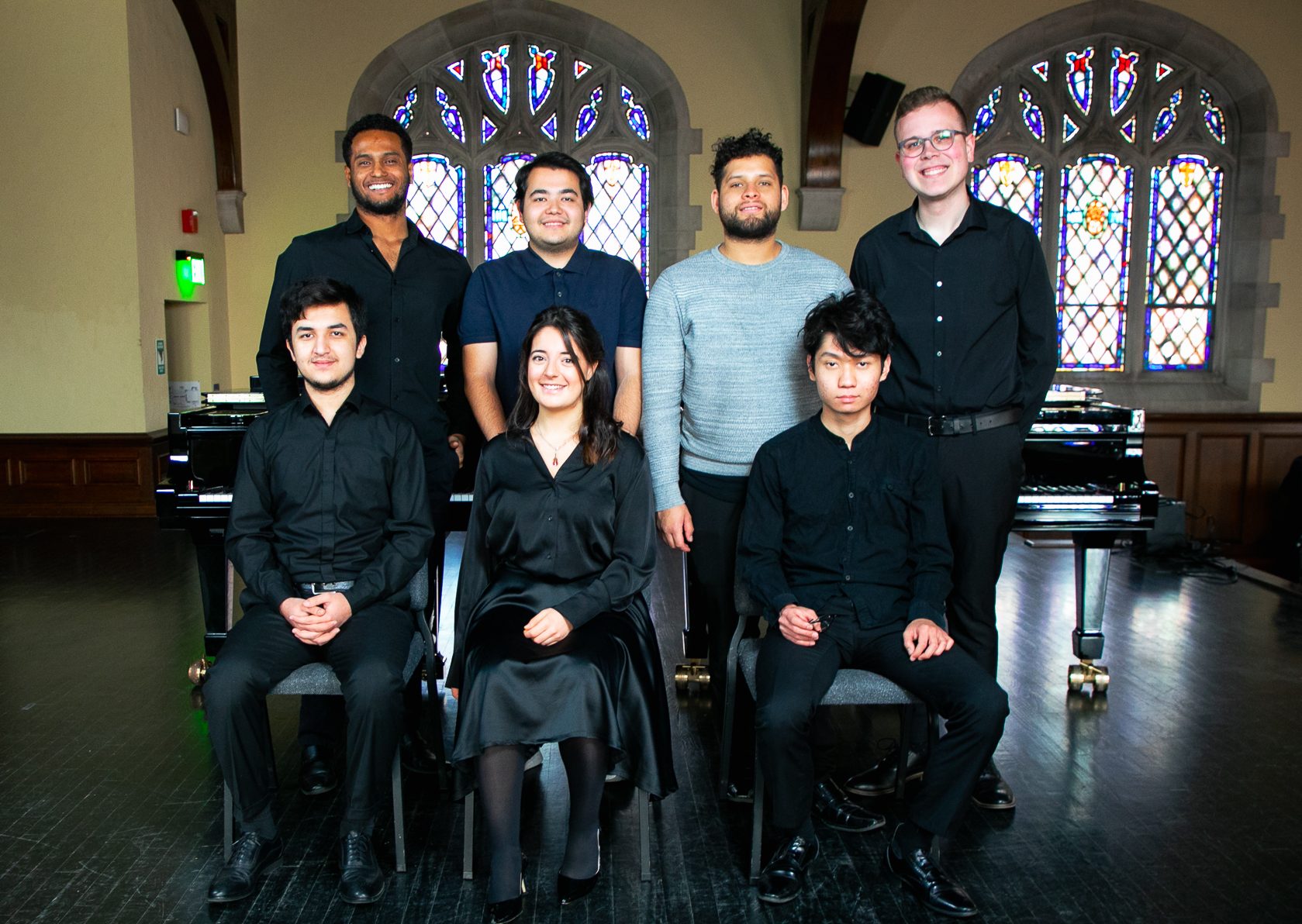 Program
Note that there is no Intermission. Post-Concert Champagne will take place immediately following the concert in the Fountain Room. All ticket buyers invited to meet the performers and ICM faculty and staff.
Adagio and Allegro op. 70 by Robert Schumann (1840-1856)
Diyorbek Nortojiev, cello (Bachelors in Music Performance)
Lolita Lisovskaya-Sayevich, Director of Collaborative Piano
Cantabile Op. 17 by Niccolò Paganini (1782-1840)
Alice Palese, Violin (Graduate Certificate in Music Performance)
Lolita Lisovskaya-Sayevich, Director of Collaborative Piano
Viola Concerto by William Walton (1929-1961)
I Andante comodo 
Victor Diaz, Viola (Graduate Certificate in Music Performance)
Lolita Lisovskaya-Sayevich, Director of Collaborative Piano
Souvenir d'un lieu cher, Op.42 by Pyotr Tchaikovsky (1840-1893)
Melodie (No. 3)
Scherzo-Tarantelle, Op. 16 by Henri Wieniawski (1835-1880)
Ilkhom Muhiddinov, violin (Bachelors in Music Performance)
Lolita Lisovskaya-Sayevich, Director of Collaborative Piano
String Quartet No. 2, Op. 13 by Felix Mendelssohn (1809-1847)
I Adagio – Allegro vivace
II Adagio non lento
III Intermezzo: Allegretto con moto – Allegro di molto
Presto– Adagio non lento
David Horak, violin (Graduate Certificate in Music Performance)
Mumin Turgunov, violin (Bachelor in Music Performance)
Christian Dos Santos, viola (Bachelor in Music Performance)
James Farquhar, cello (Master in Music Performance)
Lolita Lisovskaya-Sayevich, Director of Collaborative Piano
Lisovskaya-Sayevich has presented numerous solo recitals and has played as a soloist with orchestras in Austria, France, Japan, Spain, Germany, Hungary, Italy and Russia. She has participated in many music festivals, including the Bashmet Festival in Tours, France, "Wave 2000" in Japan, International Musical Arts Institute in Maine (USA), Killington Music Festival in Vermont (USA), "Ars Longa" and "Primavera Classica" in Moscow. She collaborated with such renowned musicians as Daniel Muller-Shott, Shmuel Ashkenazy, members of the Boston Symphony Orchestra and many others. She now performs extensively in chamber music ensembles.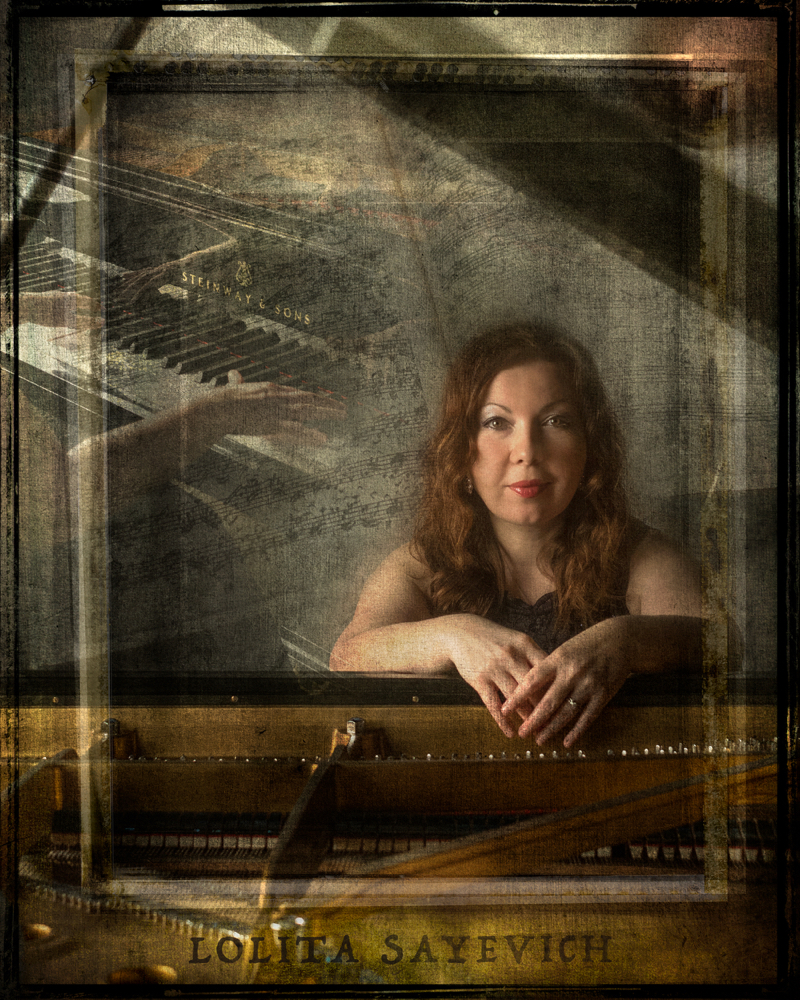 Diyorbek Nortojiev
Diyorbek Nortojiev is a student of Daniel Veis currently working on his Bachelor's Degree in Cello Performance. Prior to coming to the United States in 2019 he studied for 11 years at the Glier School of Music in Tashkent, Uzbekistan with such renowned teachers as Dadabaeva Nigora and Jakhangir Ibragimov. In 2018 Diyorbek participated at the IV S. Knushevitsky International Cello Competition in Saratov, Russia. That same year he received the 1st prize at the II "Istedod" Internatonal Music Competition in Tashkent, Uzbekistan. In 2017 Diyorbek participated and took the 3rd prize at the A. Jubanov International Competition in Almaty, Kazakhstan. In summer of that year, he participated at the X P. Tchaikovsky Youth International Music Competition. Diyorbek has actively participated in masterclasses with such famous musicians like Na Mula and Suren Bagratuni. He has a passion for playing cello solo repertoire, but also greatly enjoys playing in chamber ensembles and orchestras.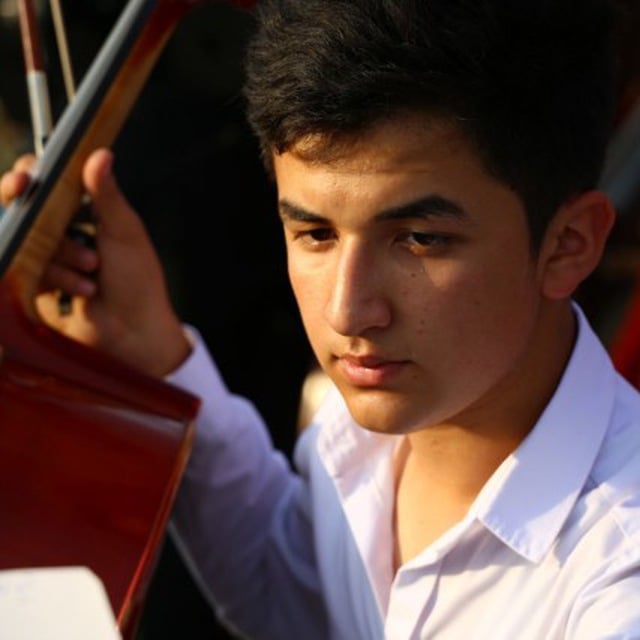 Alice Palese
Italian violinist Alice Palese was born in 2000 and graduated in violin in 2019 with top grades at the Istituto Superiore di Studi Musicali Luigi Boccherini in Lucca under the tutelage of Alberto Bologni. She then attended a post-graduate course with Mario Hossen at the New Bulgarian University of Sofia and in 2022 she obtained a second master cum laude ad honorem and certification of merit at the ISSM L. Boccherini.
She is a laureate of several competitions including Riviera della Versilia, Città Piove di Sacco Competition, Clara Wieck Schumann Association Competition, Ugo Ferrario Competition, Città di Sarzana Competition.
She was also awarded with the 2019 Vittoria Alata prize offered by the FIDAPA association.
She has taken part in masterclasses with important artists such as Maxim Vengerov,  Renaud Capuçon, Oleg Kaskiv, Uto Ughi, Alessandro Cappone, Mark Messenger, Dimitri Berlinsky and, for two consecutive years, has been welcomed at the Rencontres Musicales Internationales at the Menuhin Academy.
At the age of eleven she made her solo debut with the ISSM L. Boccherini orchestra performing the Concerto for two violins in D minor by J. S. Bach, where she was re-invited in 2019. Additionally, while concertmaster of Orchestra Giovanile Toscana, she performed Vivaldi's Four seasons in 2021.
Outside of her native country, Alice has performed in Switzerland, Austria, Bulgaria and the United States. In the 2023/24 season, she has been invited in Romania to perform the Tchaikovsky Violin Concerto.
In 2021, Alice was a member of the Italian Youth Orchestra.
She is currently pursuing a Graduate Certificate at the prestigious International Center for Music of Park University in Kansas City where she studies with Ben Sayevich.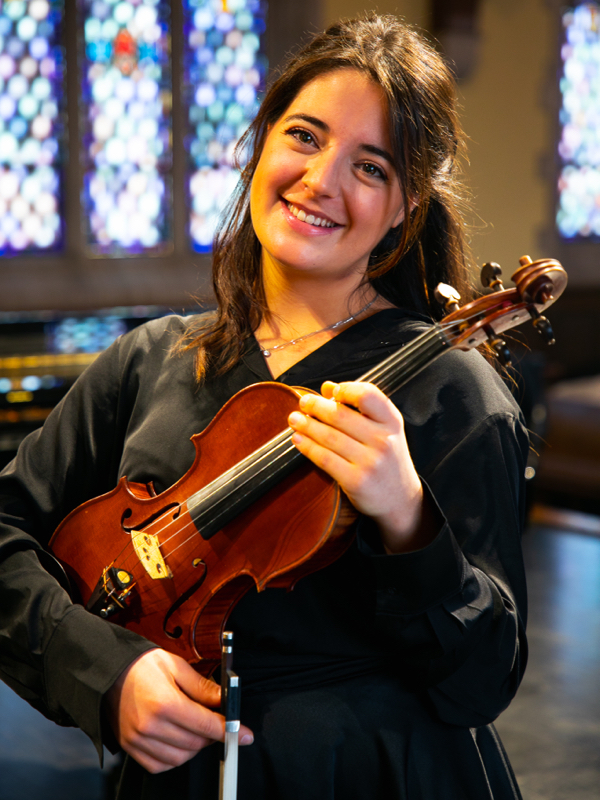 Victor Diaz
Victor began his musical training in Bogotá, Colombia at the National Colombia Conservatory and he completed his undergraduate studies with professor Benny Kim at UMKC. He believes that completing his graduate studies with Professor Ben Sayevich at Park ICM is a great honor.
He was a winner of The Young Performer Competition from the Colombian Republic Bank. He has traveled and played around the globe with the sponsorship of organizations such as the Colombian Youth Philharmonic, Orchestra of the Americas, and Sphinx Organization. Victor has been part of educational programs such as the Mahler Chamber Orchestra Academy, Allegro Vivo Festival in Austria, and the National Alliance of Audition Support training program. he has been part of orchestras such as Bogota Symphony Foundation, Topeka Symphony, Wichita Symphony, Saint Joseph Symphony.  Currently, he is a teaching artist at Harmony Project KC and a private instructor in the KC metro area. Victor believes in the great positive impact of music on people's lives. He is constantly attending training from the Suzuki Association of the Americas and other Teaching Artists institutes so he keeps refining his teaching philosophy for a more meaningful impact on his students.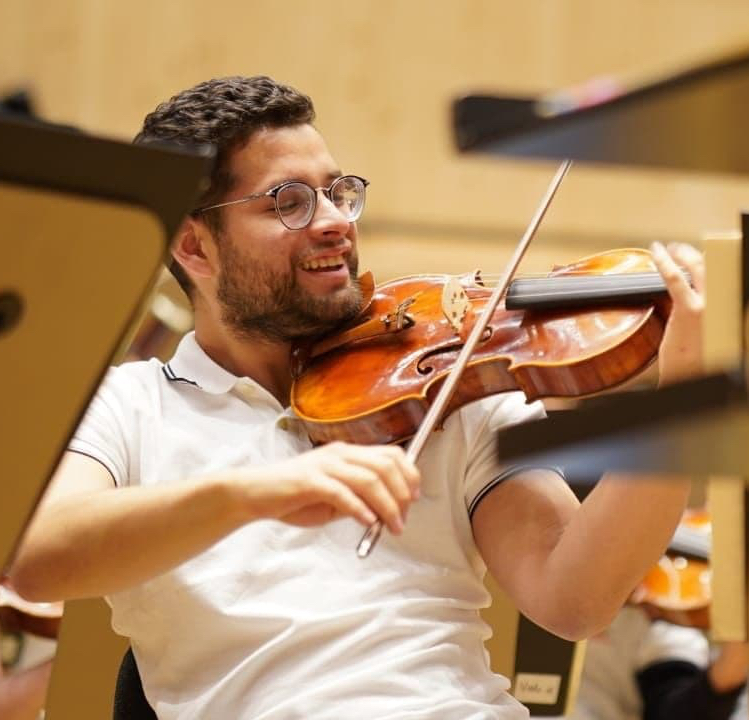 Ilkhom Mukhiddinov
Uzbekistan-born violinist Ilkhom Mukhiddinov has won acclaim for his high professionalism. His extraordinary technical abilities transmit a fresh interpretation of standard and contemporary classical repertoire. Born in Tashkent in 2001 into a family of musicians, Ilkhom started his musical journey in Uspensky Specialized Music Lyceum. Ilkhom made his debut with the Uspensky Symphony Orchestra at the age of 7. He also performed throughout his teenage years with groups such as; the National Symphony Orchestra of Uzbekistan, the Soloists of Uzbekistan Chamber Orchestra, the Turkiston Chamber Orchestra and the Young Talents Chamber Orchestra. Additionally, he has performed with Orchestras in the United States such as the Kansas City Chamber Orchestra, ICM Chamber Orchestra and he is looking forward to the concert engagement with Springfield Symphony in February 2023.
Since 2012, Ilkhom became a multiple prize winner of over 10 competitions and festivals. Some of his recent awards include winning the first prize at Hellam Young Artist Competition, being a finalist and "Jury special mention" at Leonid Kogan international Competition, and winning 1st Prize at Naftzger competition.
Ilkhom has worked with a number of internationally recognized concert artists and pedagogues such as Miriam Fried, Shmuel Ashkenasi, Gil Shaham, Nicholas Kitchen, Ani Kavafian, Mark Kaplan, Danny Phillips, Francesca dePasquale and Jaime Laredo.
Currently Ilkhom is pursuing his Bachelor of Music Performance at the International Center for Music at Park University, where he studies with Ben Sayevich.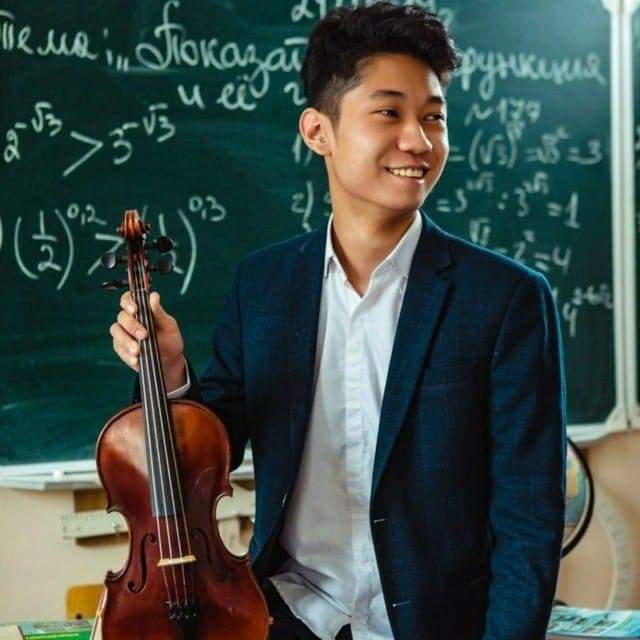 David Horak
David Horak, a native of Vermont, enjoys playing and listening to a wide variety of music. He regularly returns to Vermont to play with the Dartmouth (College) Symphony, where he was a member from 2013-2018. In December 2021, he joined the Upper Valley Baroque Orchestra (NH) and performed in their inaugural concert. As a member of the Opera North (NH) orchestra since 2016, he has performed many operas including La Boheme, Tosca, Tales of Hoffmann, Barber of Seville, and MacBeth. In the summer of 2019, David soloed with Caitlin McKechney, founder of Opera Cowgirls, in an Opera North performance, and later that year with musicians from the Bar-D Wranglers at a private event in New Mexico. During the first months of the pandemic, David performed outside at senior homes, on a hilltop in rural Vermont, and in a neighbor's barnyard. David is a first-year graduate student at Park University, studying the violin with Ben Sayevich.
David has participated in summer festivals, including the National Youth Orchestra (USA), Decoda/Skidmore Chamber Music Festival, Boston University Tanglewood Institute, Kinhaven Music School, and Apple Hill Center for Chamber Music.
As a soloist on both violin and piano, David has collaborated with the Windham Orchestra (VT), University of Vermont Orchestra, and the Burlington (VT) Chamber Orchestra. He has played in masterclasses for Miriam Fried, Shmuel Ashkenasi, Bayla Keyes, Soovin Kim, and the Danish and Shanghai String Quartets. Before beginning his studies at Park University, David studied the violin with Magdalena Richter and the piano with Victoria Dobrushina. David enjoys cooking, table tennis, and riding motorcycles.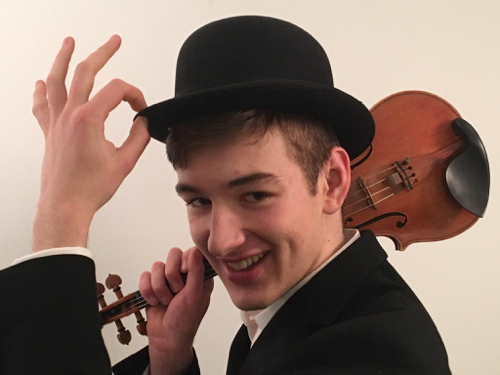 Christian Santos
Christian Santos started his journey playing the Viola in 2012, when he was 13 years old, in São Paulo, Brazil. His alma mater was the São Paulo State Music School where he studied with Mariana Costa Gomes and Silvio Catto. Now Christian is a student of Peter Chun at the International Center for Music at Park University. He performed with several orchestras in the São Paulo State, such as Bauru Municipal Symphonic Orchestra and its Chamber Orchestra, Lins Youth Symphony Orchestra, Brazilian National Symphony Orchestra, and others. During his time in the City of Sao
Paulo, in addition to having his main role as a violist in the Sao Paulo State Youth Orchestra, Christian participated in chamber music projects such as Pianosofia, founded by the pianist Cristian Budu, violist of the Martinez Quartet, and the String Quartet of the Sao Paulo State Youth Orchestra. In music festivals, masterclasses, and international activities, Christian worked alongside exceptional artists such as Hsin Yun-Huang, Asbjørn Nørgaard, Tim Deighton, Ruth Killius, Antonio Meneses, Christian Tetzlaff, Antal Zalai, Christoph Hartman, Giancarlo Guerrero, Michael T. Thomas, Benjamin Zander, Claudio Cruz, Marin Alsop, among others. He also performed as guest and side-by-side with Youth Orchestra of Americas, Boston Youth Symphony, and New World Symphony. Alongside the Sao Paulo State Youth Orchestra, he has recorded CDs with masterpieces such as the 5th Mahler Symphony, Bartok's Miraculous Mandarin, Kodaly's Dances of Galanta, Claudio Santoro 9th Symphony, to name a few.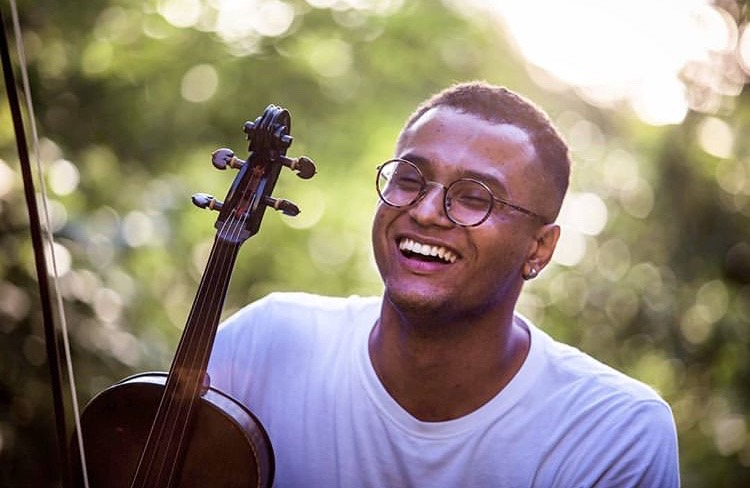 James Farquhar
James Farquhar is formerly a student of Kurt Baldwin of the University of Missouri – St. Louis. Under Baldwin's instruction, James attained 2019-20 UMSL Artist of the Year with the Rococo Variations by Tchaikovsky. During his time in his undergraduate, James also organized numerous Outreach recitals in the communities around St. Louis, Columbia, and Kansas City, sharing his love for music with a variety of communities. He is currently continuing his studies, pursuing a Master's of Music (Cello Performance) from Park University under Prof. Daniel Veis.
James has received invaluable instruction from the likes of the Arianna String Quartet, the Brooklyn Rider String Quartet, the Harlem String Quartet, the Rolston String Quartet, Dennis Parker, Jackie Lee (artistic director of Heartland Chamber Music KC), Lawrence Figg (KC Symphony), and Frank Huang (Concertmaster of the NY Philharmonic), among numerous others. He has also participated in various chamber music festivals including the Arianna Chamber Music Festival, Madeline Island Chamber Music Festival, Heartland Chamber Music Festival (as a festival scholar from the 2017-2021 seasons), and Chamber Music in the Mountains (Mt. Lemmon, Arizona).
His ultimate career goals are to be a concert cellist for a major symphony orchestra, continually give collaborative recitals, and teach privately. He also aspires to organize grant-funded outreach concerts for underserved elementary schools, hospitals and nursing home communities. James also plans to continue teaching as Cello Instructor for String Sprouts KC, a nonprofit that is specifically 'designed for underserved children ages 3 – 8, and is a free music education program created to support school readiness'.