Saturday, October 28, 2023
7:30 p.m.
1900 Building, 1900 Shawnee Mission Parkway, Mission Woods, KS
Park ICM's concert season will continue with a marvelous roster of string musicians all from the studios of violinist Ben Sayevich, cellist Daniel Veis and violist Peter Chun.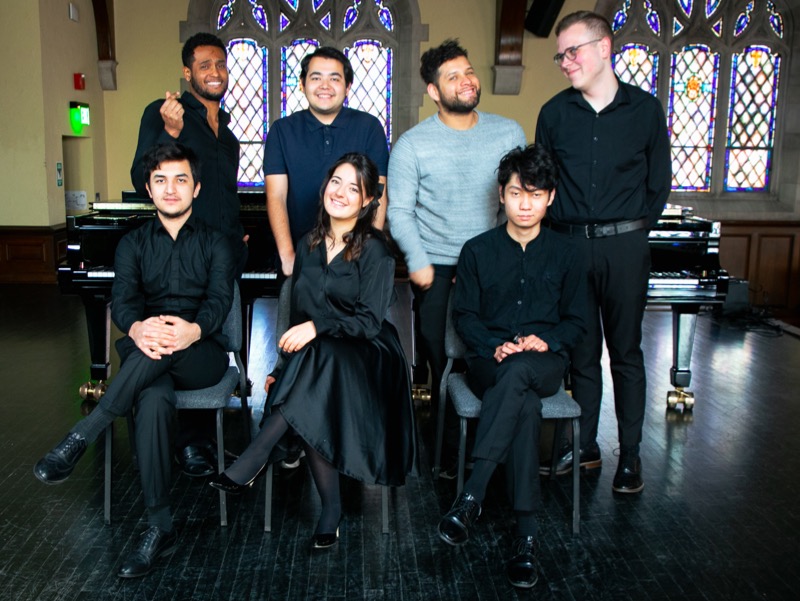 Program
Selections Subject to Change
Le Grand Tango by Astor Piazzolla
Sonata for Cello and Piano No. 2 in D major, Op. 58 by Felix Mendelssohn-Bartholdy
I. Allegro assai vivace
Caprice No. 5, for solo violin by Niccolò Paganini
Variations on a Theme of Corelli by Fritz Kreisler
"Nigun," from Baal Shem, B. 47 by Ernest Bloch
Variations on a Theme from Rossini's Moses in Egypt by Niccolò Paganini
Sonata for Violin and Piano No. 3 in C minor, Op. 45 by Edvard Grieg
II. Allegretto espressivo alla Romanza
Caprice Basque, Op. 24 by Pablo de Sarasate
Élégie, for viola and piano, Op. 30 by Henri Vieuxtemps
Zigeunerweisen, Op. 20 by Pablo de Sarasate
String Quartet in F major, Op. 96 ("American") by Antonín Dvořák
Lolita Lisovskaya-Sayevich, piano
Director of Collaborative Piano
Born into a Tashkent (Uzbekistan) musical family, Lolita Lisovskaya-Sayevich began studying piano at the age of 4. In 1985, she entered the Uspensky Central Music School in Tashkent. In 1993, she started attending a private school for young musicians in Moscow, and that same year received the first prize at the Chopin International Piano Competition in Göttingen, Germany. She entered the Tchaikovsky Special Music School in 1995, and two years later was accepted to the Tchaikovsky Moscow Conservatory under the tutelage of Vera Gornostaeva, with whom she continued postgraduate study from 2002 to 2004. Lisovskaya-Sayevich also studied with Stanislav Ioudenitch at Park University.
In 1996, Lisovskaya-Sayevich received the first prize from the Nikolai Rubinstein International Piano Competition, and in 2007 the first prize at the Iowa International Piano Competition. She was awarded scholarships from the Rostropovich Foundation, the Spivakov Foundation and the Nikolai Petrov Foundation. She has also earned the laureate designation from the international program "New Names," and the festival "Virtuoso 2000" in St. Petersburg, Russia. Lisovskaya-Sayevich has recorded at the Hessen Radio Station in Frankfurt, Germany, and at Orfei Radio in Moscow.
Lisovskaya-Sayevich has presented numerous solo recitals and has played as a soloist with orchestras in Austria, France, Japan, Spain, Germany, Hungary, Italy and Russia. She has participated in many music festivals, including the Bashmet Festival in Tours, France, "Wave 2000" in Japan, International Musical Arts Institute in Maine (USA), Killington Music Festival in Vermont (USA), "Ars Longa" and "Primavera Classica" in Moscow. She collaborated with such renowned musicians as Daniel Muller-Shott, Shmuel Ashkenazy, members of the Boston Symphony Orchestra and many others. She now performs extensively in chamber music ensembles.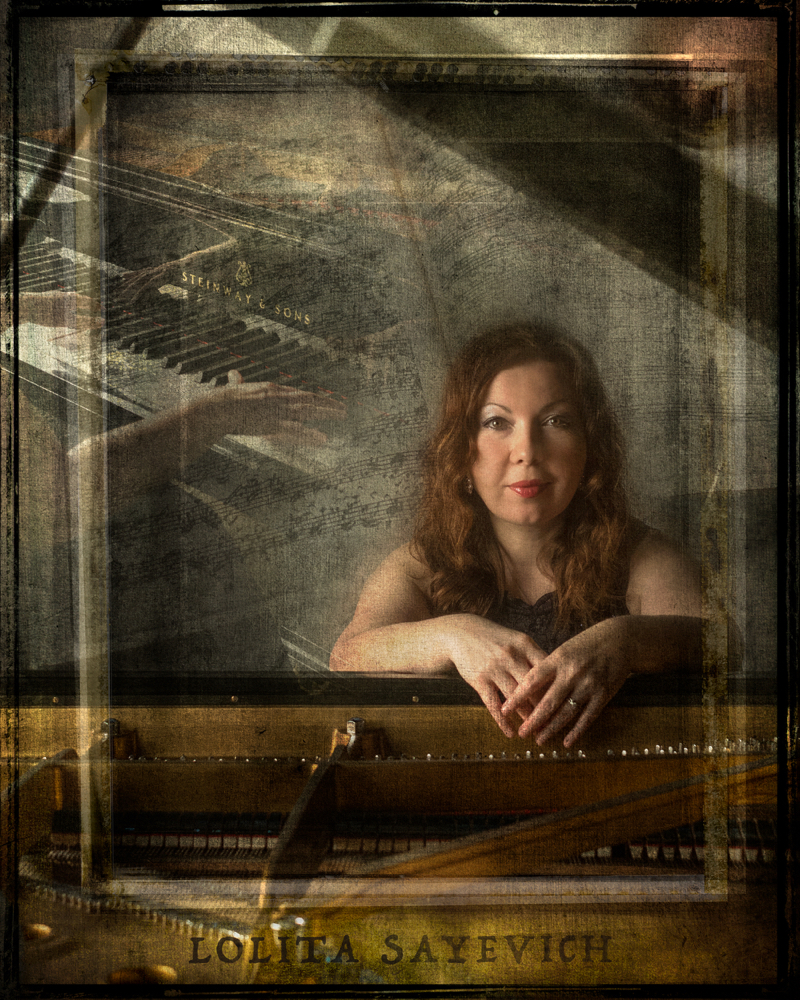 Aviv Daniel, violin
Aviv Daniel is an Israeli violinist, born in 2000 in Jerusalem. He started playing the violin when he was very young. He studied at the Thelma Yellin High School of Arts and then in Buchman Mehta School of Music at Tel Aviv University with Professor Mila Feldman. Currently, Aviv is studying at Park University with Professor Ben Sayevich.
Aviv took part in masterclasses with the teachers and violinists Miriam Fried, Grigory Kalinovsky, Hagai Shaham, Annie Shnarch, Vadim Gluzman, Dora Schwartzberg, Itzhak Rashkovsky, Chaim Taub and Irena Svetlova. He participated in the David Goldman Program for Outstanding Musicians and Jerusalem Music Center Programs such as Huberman Program. Aviv also played as a soloist with Thelma Yellin Symphony Orchestra on tour in January, 2018. Aviv also took part in "Kesher Eilon" summer course in 2019.
In the past, Aviv studied violin with Professor Matvey Liberman (student of David Oistrakh), Emma Elishov, Mira Masin and Ludmila Ozrizky. Aviv plays on a violin loaned by America Israel Cultural Foundation and is a recipient of their scholarships including the Ronen Foundation scholarships since 2015.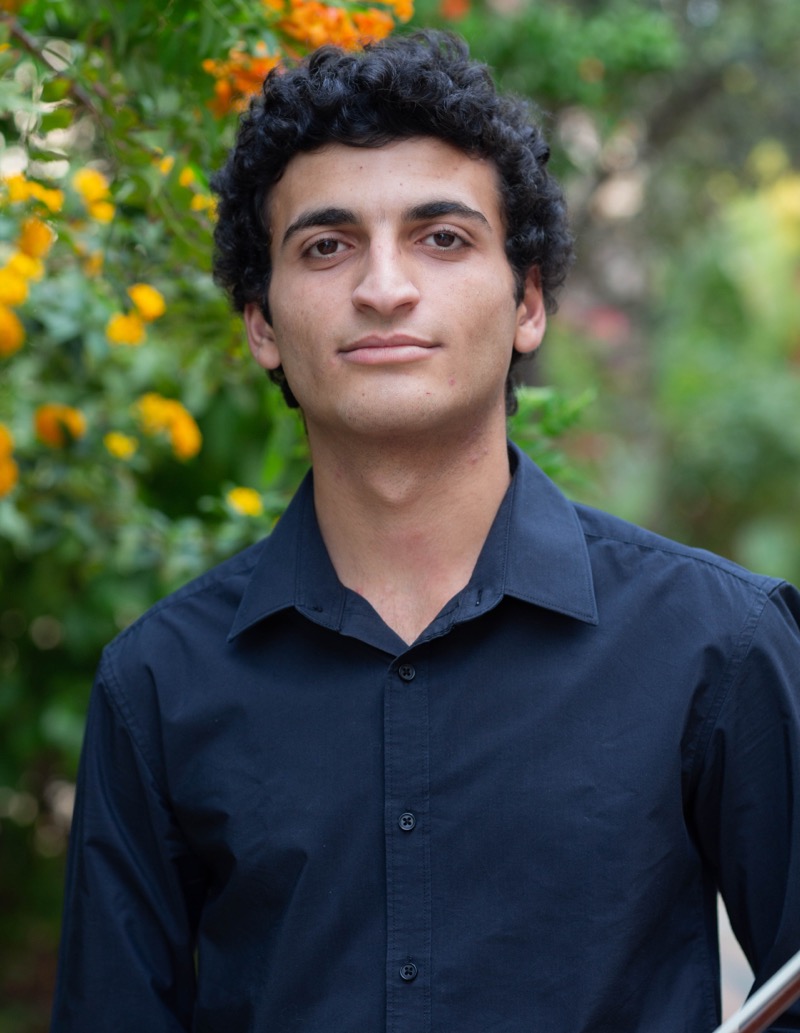 Victor Diaz, violin
Victor began his musical training in Bogotá, Colombia at the National Colombian Conservatory and finished his undergraduate studies at the UMKC Conservatory. He was a four-time winner of The Young Performer Competition from the Colombian Republic Bank. He has traveled the world several times with orchestras and organizations such as the Colombian Youth Philharmonic, Orchestra of the Americas, Sphinx Organization, Mahler Chamber Orchestra Academy, and Allegro Vivo Music Festival in Austria. Currently, Victor is completing his graduate studies at Park ICM, and subs for the KC Symphony, teaches privately and for nonprofits such as String Sprouts and Base Academy of Music. Victor is developing outreach performances in Kansas City that include Latin American repertoire for the viola. When he is not performing or teaching, Victor spends time with his loved ones and takes long walks with his Dog: Maureen.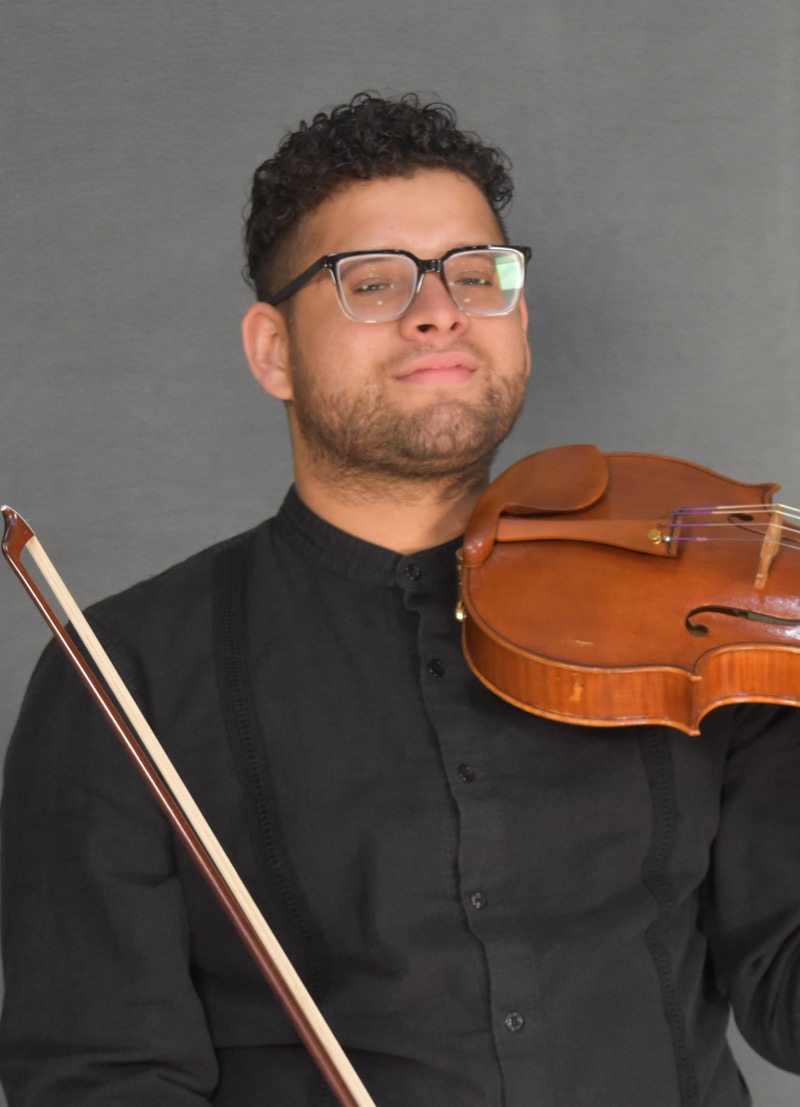 Christian Santos, viola
Christian Santos started his journey playing the Viola in 2012, when he was 13 years old, in São Paulo, Brazil. His alma mater was the São Paulo State Music School where he studied with Mariana Costa Gomes and Silvio Catto. Now Christian is a student of Peter Chun at the International Center for Music at Park University. He performed with several orchestras in the São Paulo State, such as Bauru Municipal Symphonic Orchestra and its Chamber Orchestra, Lins Youth Symphony Orchestra, Brazilian National Symphony Orchestra, and others. During his time in the City of Sao
Paulo, in addition to having his main role as a violist in the Sao Paulo State Youth Orchestra, Christian participated in chamber music projects such as Pianosofia, founded by the pianist Cristian Budu, violist of the Martinez Quartet, and the String Quartet of the Sao Paulo State Youth Orchestra. In music festivals, masterclasses, and international activities, Christian worked alongside exceptional artists such as Hsin Yun-Huang, Asbjørn Nørgaard, Tim Deighton, Ruth Killius, Antonio Meneses, Christian Tetzlaff, Antal Zalai, Christoph Hartman, Giancarlo Guerrero, Michael T. Thomas, Benjamin Zander, Claudio Cruz, Marin Alsop, among others. He also performed as guest and side-by-side with Youth Orchestra of Americas, Boston Youth Symphony, and New World Symphony. Alongside the Sao Paulo State Youth Orchestra, he has recorded CDs with masterpieces such as the 5th Mahler Symphony, Bartok's Miraculous Mandarin, Kodaly's Dances of Galanta, Claudio Santoro 9th Symphony, to name a few.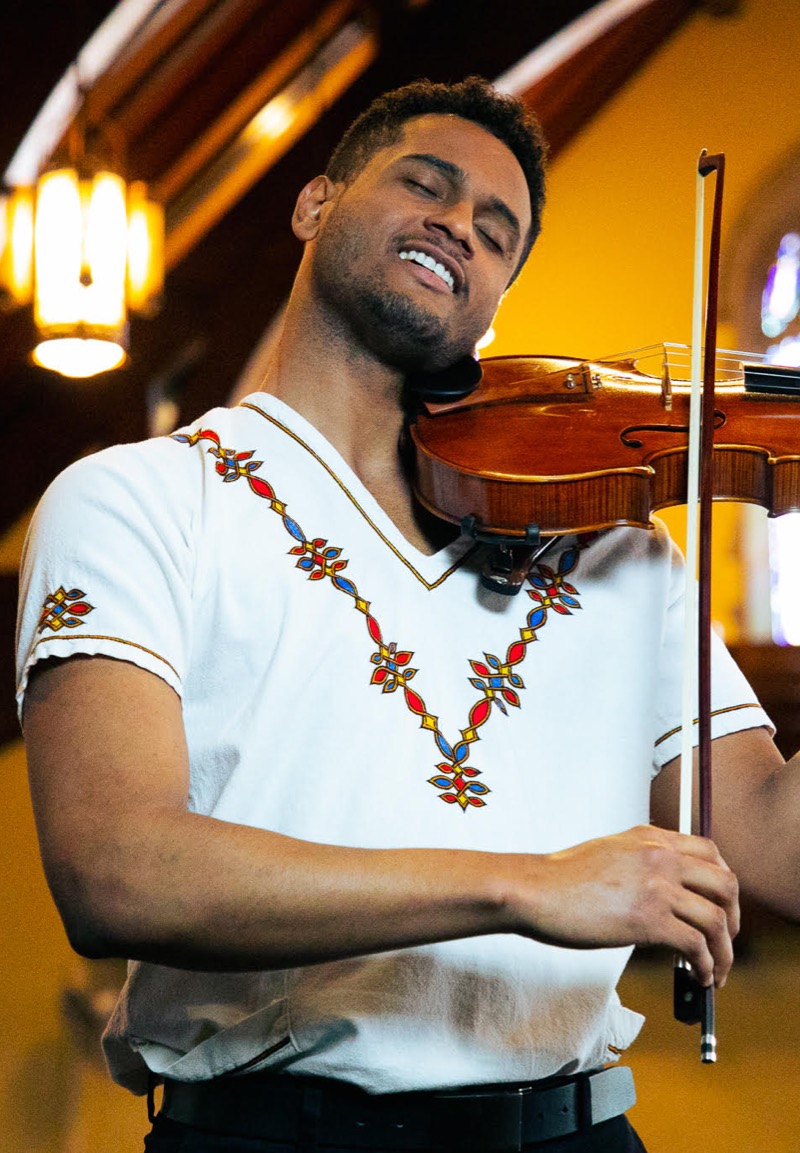 James Farquhar, cello
James Farquhar is currently a student of Daniel Veis, pursuing a master's degree in Cello Performance from Park University's International Center for Music. He is formerly a student of Kurt Baldwin of the Arianna String Quartet at the University of Missouri – St. Louis. Under Baldwin's instruction, James attained 2019-20 UMSL Artist of the Year with the Rococo Variations by Tchaikovsky. In spring of 2022, he was also named Odyssey Chamber Music's Performance Fellow, with a culminating solo recital, in collaboration with pianist Peter Miyamoto (University of Missouri's professor for piano). During his time pursuing his undergraduate degree, James organized numerous community recitals around St. Louis and Kansas City.
He has received invaluable instruction from the likes of the Arianna String Quartet, the Brooklyn Rider String Quartet, the Harlem String Quartet, the Jupiter String Quartet, the Rolston String Quartet, Dennis Parker, Scott Lee, Jackie Lee, Frank Huang, and Shmuel Ashkenazy, among numerous others. James has also participated in various chamber music festivals including the Arianna Chamber Music Festival, Madeline Island Chamber Music Festival, Heartland Chamber Music Festival (as a festival scholar from the 2017-2022 seasons), and Chamber Music in the Mountains (Mt. Lemmon, Arizona).
James is a cello instructor for String Sprouts KC, a nonprofit that is specifically designed for underserved children ages 3 – 8, and is a free music education program created to support school readiness. He is also a teaching artist for Harmony Project KC, a nonprofit that provides year round music education for underserved students from the diverse Historic Northeast Community of Kansas City, Missouri. James also aspires to organize grant-funded outreach concerts for underserved elementary schools, hospitals and nursing home communities. James performs on a 19th Century composite cello generously on loan from the Rachel Barton Pine Foundation.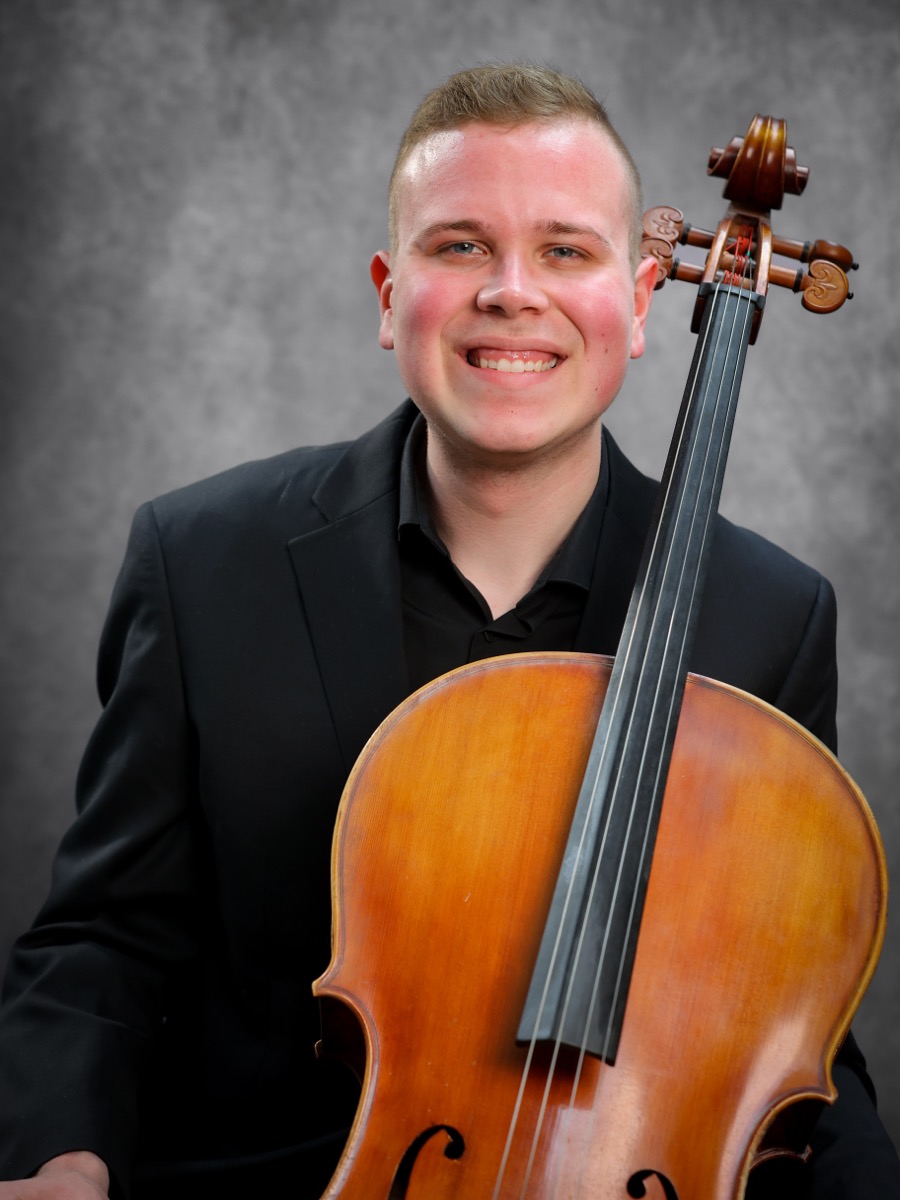 David Horak, violin
David Horak, a native of Vermont, enjoys playing and listening to a wide variety of music. David is a first year Artist Diploma student at Park University's International Center for Music, studying the violin with Ben Sayevich. David is a member of the Park Quartet and is concertmaster of the ICM Orchestra. He regularly returns to Vermont to play with the Dartmouth Symphony, where he was a member from 2013-2018.
David currently substitutes with the Kansas City Symphony and the New World Symphony. Most recently, David began playing as a substitute with the Charlotte Symphony Orchestra for their 2023 summer season. David has participated in numerous summer festivals, including Boston University's Tanglewood Institute, Music Academy of the West, and the National Youth Orchestra (USA). David is also a member of Opera North's Summerfest orchestra.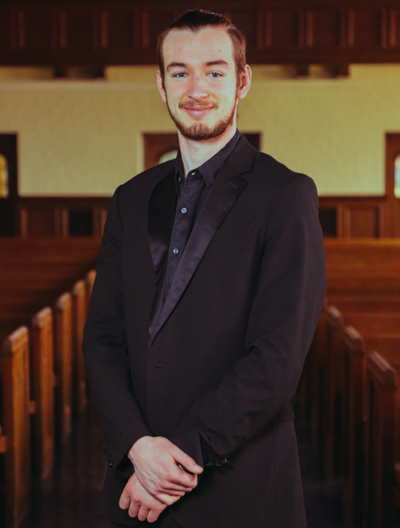 Ilkhom Mukhiddinov, violin
Uzbekistan-born violinist Ilkhom Mukhiddinov has won acclaim for his high professionalism. His extraordinary technical abilities transmit a fresh interpretation of standard and contemporary classical repertoire. Born in Tashkent in 2001 into a family of musicians, Ilkhom started his musical journey in the Uspensky Specialized Music Lyceum. Ilkhom made his debut with the Uspensky Symphony Orchestra at the age of 7. He also performed with groups including; the National Symphony Orchestra of Uzbekistan, the Soloists of Uzbekistan Chamber Orchestra, the Turkestan Chamber Orchestra and the Young Talents Chamber Orchestra. Additionally he has performed with Orchestras in the United States such as the Kansas City Chamber Orchestra, and ICM Chamber Orchestra. He also recently performed with the Springfield Symphony in February.
Since 2012, Ilkhom has been named prize winner of over 10 competitions and festivals. Some of his recent awards include first prize at the Hellam Young Artist Competition, finalist and "Jury special mention" at the Leonid Kogan international Competition, and 1st Prize at the Naftzger competition.
Ilkhom has worked with a number of internationally recognized concert artists and pedagogues such as Miriam Fried, Shmuel Ashkenasi, Gil Shaham, Nicholas Kitchen, Ani Kavafian, Mark Kaplan, Danny Phillips, Francesca dePasquale and Jaime Laredo.
Currently Ilkhom is pursuing his bachelor of music performance at the at Park University's International Center for Music, where he studies with Ben Sayevich.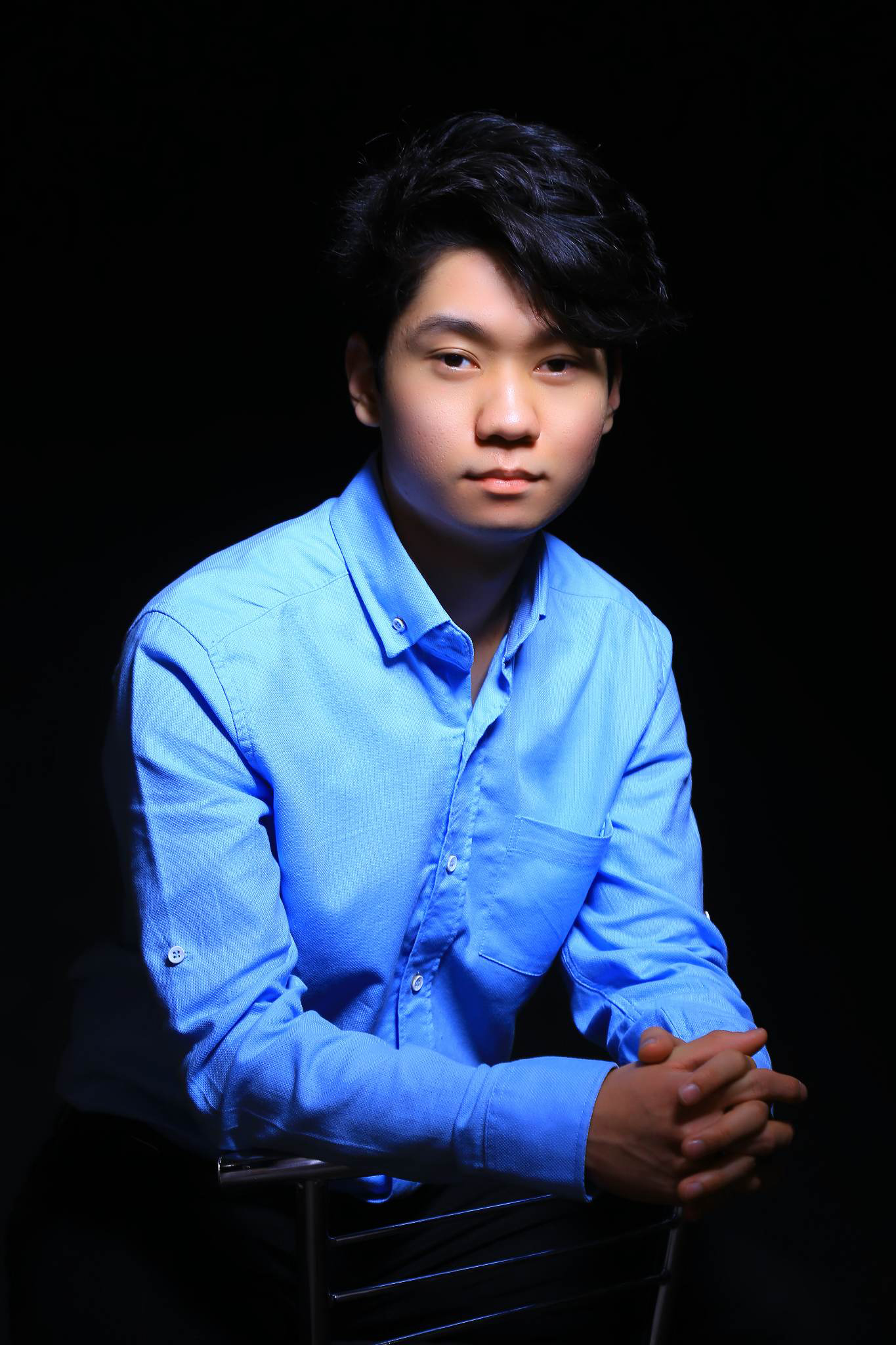 Diyorbek Nortojiev, cello
Diyorbek Nortojiev is a student of Daniel Veis currently working on his bachelor's degree in Cello Performance. Prior to coming to the United States in 2019, he studied for 11 years at the Glier School of Music in Tashkent, Uzbekistan, with such renowned teachers as Dadabaeva Nigora and Jakhangir Ibragimov.
In 2018 Diyorbek participated at the IV S. Knushevitsky International Cello Competition in Saratov, Russia. That same year he received the 1st prize at the II "Istedod" International Music Competition in Tashkent, Uzbekistan. In 2017 Diyorbek took the 3rd prize at the A. Jubanov International Competition in Almaty, Kazakhstan. In summer of that year, he participated at the X P. Tchaikovsky Youth International Music Competition. Diyorbek has actively participated in masterclasses with such famous musicians like Na Mula and Suren Bagratuni. He has a passion for playing cello solo repertoire, but also greatly enjoys playing in chamber ensembles and orchestras.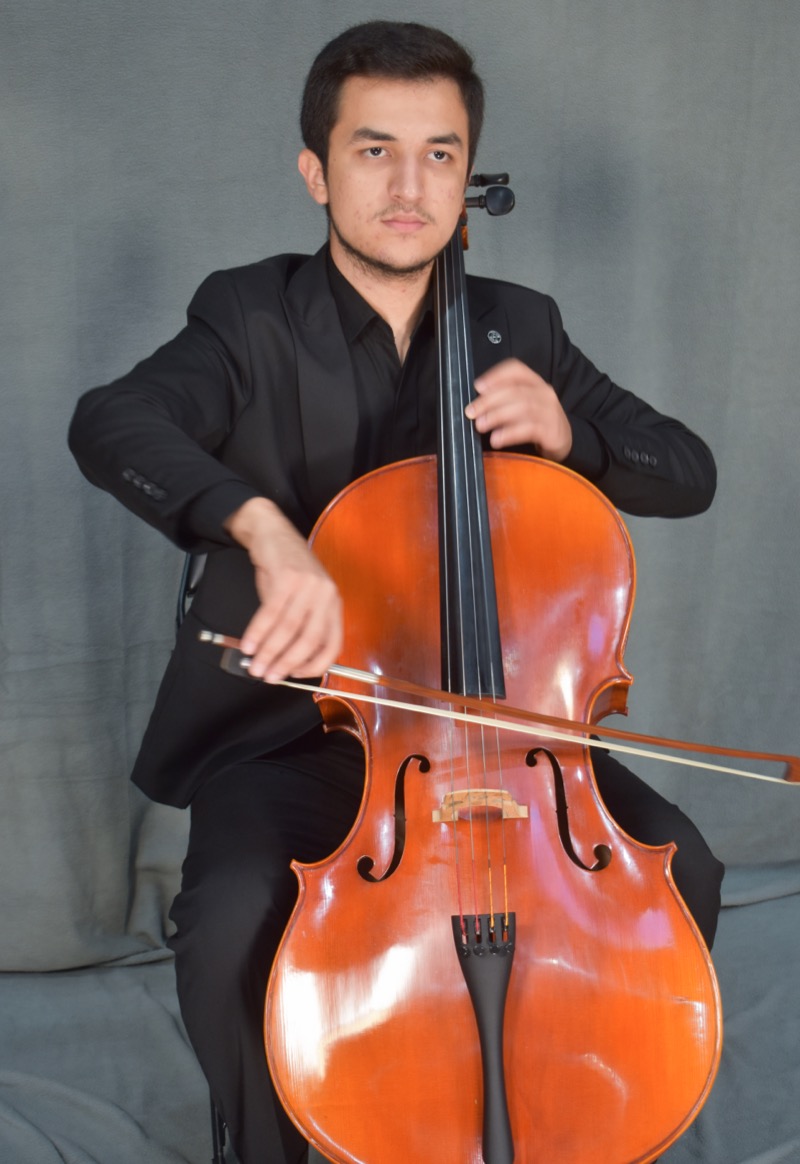 Ilya Shmukler, piano
"His manner of performing music is very natural, spiritual and consistent with the composer's artistic concept. Elegant asymmetrical rhythms, executed accurately and within musical context, lend his artistic language rich emotional color, wholeness and authenticity." These are the words used by the famous Bulgarian journal Art Panorama to describe a 2015 performance by Ilya Shmukler.
Born in Moscow in 1994, Shmukler began his musical education at the age of 5 and immediately revealed himself as an exceptional, creative and enthusiastic young artist. He performed his first solo recital at 12 and made his orchestral debut at 14. Since then, he has appeared with the Mariinsky Theatre Orchestra, Bayer Symphoniker Orchestra, Tambov Symphonic Orchestra and New Music Orchestra.
Shmukler competed in back-to-back Van Cliburn International Piano Competitions in 2017 (prior to becoming a student at Park University in 2019) and 2022. In 2017, Shmukler advanced to the quarterfinals; in 2022, he finished in a tie for 4th place, and was selected as the winner of the "Best Performance of a Mozart Concerto" award.
He won the piano category at the 2022 Artist Presentation Society Competition in St. Louis; first prize at the 2021 New York Virtuoso International Competition; second prize at the 2021 Lewisville (Texas) Lake Symphony International Competition; first prize and the audience award at the 2019 Shigeru Kawai International Piano Competition (Tokyo); and the special prize for best performance at the 2012 Scriabin-Rachmaninoff International Competition (Sofia, Bulgaria). In 2021, Shmukler won the Carnegie Weill Recital Hall Debut Audition and made his New York debut at the venerated venue in December 2022.
Shmukler, who earned a graduate certificate in music performance from Park University's International Center for Music in 2021, is currently pursuing a graduate artist diploma in music performance under Park ICM artistic director and founder Stanislav Ioudenitch. He also earned a master's degree from the Moscow Tchaikovsky Conservatory in 2021.
"This young man is a great talent of a very high degree of expertise and professionalism," Ioudenitch said. "Moreover, he is extremely serious in his attitude toward his work and his career; his capacity for concentration and productive work is of the highest caliber."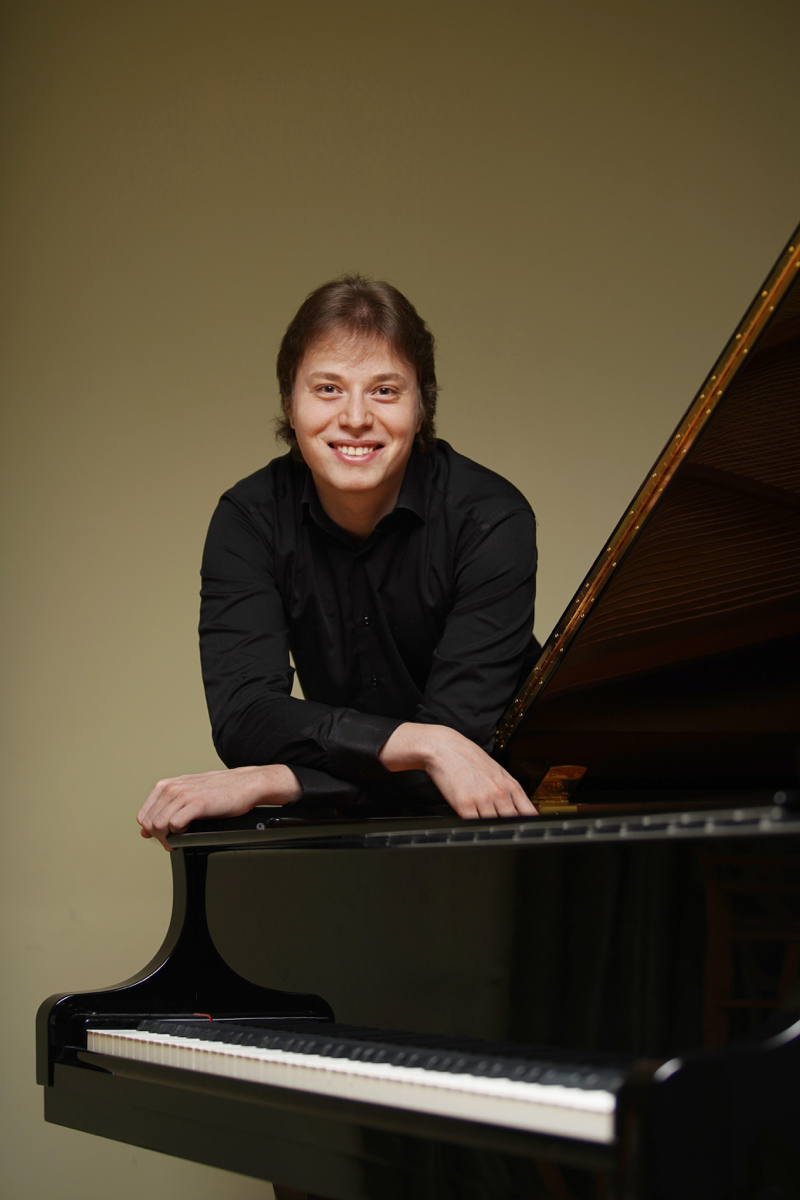 Yin-Shiuan Ting, violin
Born in Kaohsiung, Taiwan, Yin-Shiuan began to play the violin at the age of 7, and her passion for the instrument continued to grow over the years. In her native Taiwan, Yin-Shiuan studied violin with Jung-Shin Fang and Geoffrey Yeh. From 2016 to 2019, Yin-Shiuan was a member of the Kaohsiung Youth Symphony Orchestra. In 2021, she took the 3rd prize at the National Student Music Competition in Kaohsiung. She has participated in masterclasses with famous musicians like Olivier Charlier, Midori Gotō, and Hu Nai-yuan.
Yin-Shiuan is a student of Ben Sayevich currently working on her bachelor's degree in Violin Performance.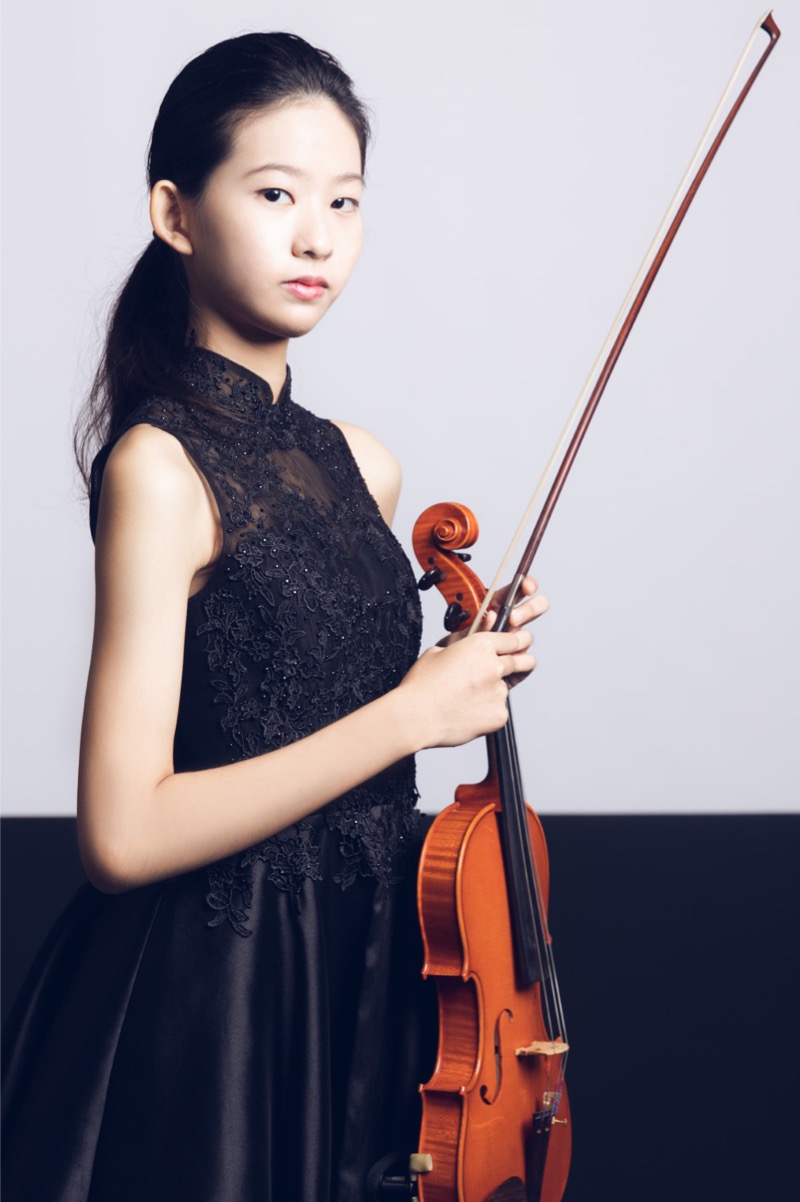 Mumin Turgunov, violin
Muminjon Turgunov is a student of Ben Sayevich currently working on his bachelor's degree in violin performance. Prior to coming to the United States in 2019 he studied for 11 years at the Glier School of Music in Tashkent, Uzbekistan, with such renowned teachers as Nikitin Yaroslav and more. In 2018, he started working as a concertmaster of "Consonanza" Chamber Orchestra at the Tashkent and Uzbekistan Diocese. In the same year was awarded a Diploma for the Best Musician of the Season "Spring 2018".
In 2019 Muminjon participated in the Republican Competition of Uzbekistan and won 2nd prize. In 2020 Muminjon was privileged to work as a full time violinist in the "State Symphony Orchestra." He has a passion for playing violin solo repertoire, but greatly enjoys playing in chamber ensembles and orchestras. Since 2022, Mumin is a substitute violinist in the Kansas City Symphony. In the Summer of 2023 Mumin was privileged to be part of the National Repertory Orchestra under Michael Stern.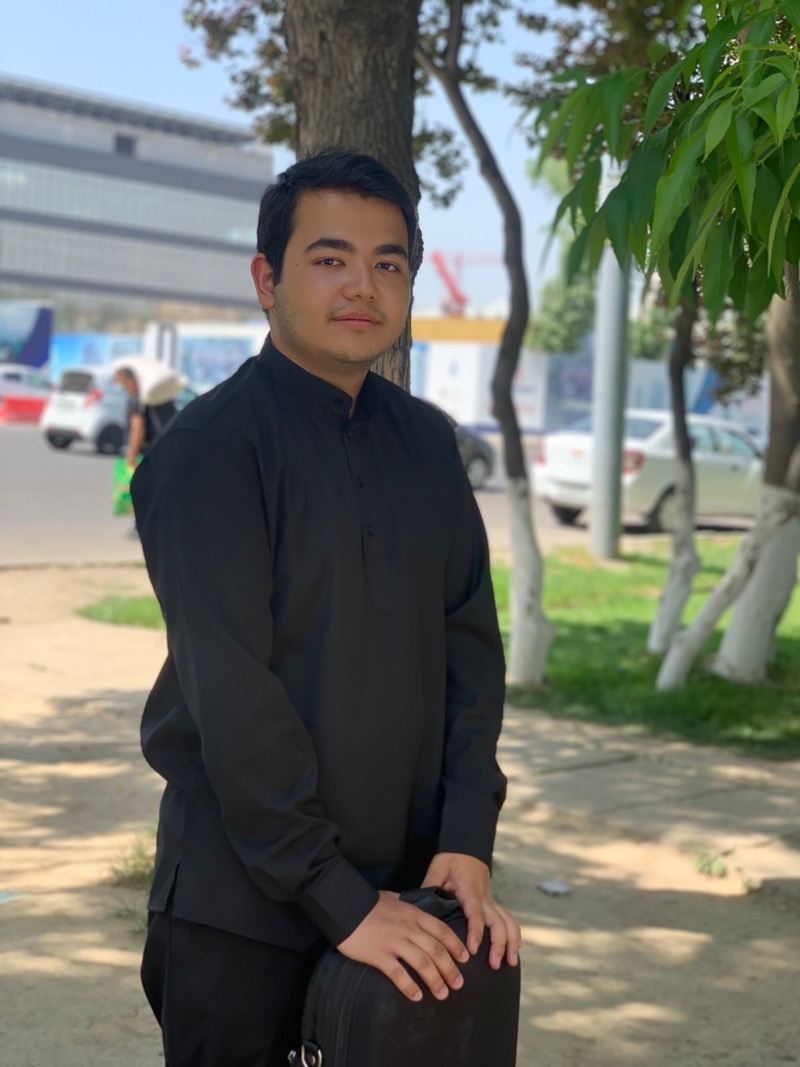 Yuren Zhang, violin
Yuren Zhang, at the young age, was admitted to the Primary School affiliated with the Central Conservatory of Music in 2009. In 2012, he became the only student nationwide to be admitted directly to the Secondary School affiliated to the Central Conservatory of Music. He studied under the guidance of renowned violin educators and performers Professor Wang Hong and Professor Chai Liang. In 2018, he received a full scholarship to pursue his undergraduate and master's degrees in the Mannes with Shmuel Ashkenasi. He received various scholarships, and performed as a soloist and concertmaster with major symphony orchestras around the world, including Germany, China, Belgium, the Netherlands, and the United States.
Zhang has won numerous awards, including first place in the Youth Division of the Hong Kong International Violin Competition and first place in the Stradivarius China Competition preliminary rounds. He has received guidance from masters such as Lewis Kaplan, Nicholas Mann, Kun Hu, Kurt Sassmannshaus, Lucie Robert, and others. He has performed in major concert halls and theaters at home and abroad, such as Lincoln Center, Kennedy Center, West German Radio, National Center for the Performing Arts, Beijing Concert Hall, etc. He has collaborated with outstanding musicians such as Grammy Award winner Jennifer Koh, Grammy-nominated recording artist Ralph Rvans, Lang Lang, Lv Siqing, and Berlin Philharmonic's Principal Violinist Mei di Yang.
Zhang is currently studying with Ben Sayevich while pursuing a master's in violin performance at Park University's International Center for Music.