Celebrate the Seasons
Friday, April 29, 2022
8:00 p.m.
Grace and Holy Trinity Cathedral
415 W 13th St., Kansas City, MO
The KCCO return to one of the most beloved and well-known concertos for violin: The Four Seasons by Antonio Vivaldi, will be a blockbuster season finale for both the Kansas City Chamber Orchestra AND Park University featuring award winning soloists from Park University's International Center for Music! The 4 soloists were all mentored by founding concertmaster Ben Sayevich, and with a different violinist joining the orchestra for each season, the variety of sound will be truly exciting! Featuring violinists Ilkhom Mukhiddinov, Igor Khukhua, David Horak and alumna Laurel Gagnon who is making a special guest appearance. The performance is conducted by Maestro Bruce Sorrell, Music Director of the KC Chamber Orchestra which is celebrating it's 35th season this year.
LAUREL GAGNON
Violinist Laurel Gagnon's interpretations "sing with a naturalness that [is] both disarming and distinctive" (The Straits Times). Performing as a soloist and chamber musician, she has been heralded for her "nimble command, centered double stops and graceful, springy portamento" (Kansas City Star).
Ms. Gagnon was awarded fourth prize at the 2018 Singapore International Violin Competition, and in 2019, was invited to perform in the live rounds of the Queen Elisabeth Competition in Brussels. As a soloist, she has performed at Flagey in Brussels, Singapore's Victoria Concert Hall, the Kauffman Center for the Performing Arts. Gagnon has performed several times on Kansas Public Radio, been featured on Kansas Community Radio,and appeared in performance on KSHB TV's "KC Live" show and Fox4. As a chamber musician, Gagnon has collaborated with Shmuel Ashkenasi and performed in faculty-student chamber recitals.
Ms. Gagnon earned her Bachelor of Arts in Music Performance and her Masters of Music at The International Center for Music at Park University, studying with Ben Sayevich. She is now an Artist Diploma student with Mauricio Fuks at the Jacobs School of Music.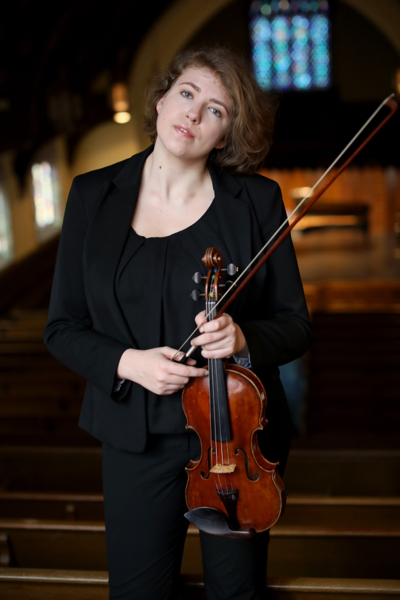 DAVID HORAK
David Horak, a native of Vermont, enjoys playing and listening to a wide variety of music. He regularly returns to Vermont to play with the Dartmouth (College) Symphony, where he was a member from 2013-2018. In December 2021, he joined the Upper Valley Baroque Orchestra (NH) and performed in their inaugural concert. As a member of the Opera North (NH) orchestra since 2016, he has performed many operas including La Boheme, Tosca, Tales of Hoffmann, Barber of Seville, and MacBeth. In the summer of 2019, David soloed with Caitlin McKechney, founder of Opera Cowgirls, in an Opera North performance, and later that year with musicians from the Bar-D Wranglers at a private event in New Mexico. During the first months of the pandemic, David performed outside at senior homes, on a hilltop in rural Vermont, and in a neighbor's barnyard. David is a first-year graduate student at Park University, studying the violin with Ben Sayevich.
David has participated in summer festivals, including the National Youth Orchestra (USA), Decoda/Skidmore Chamber Music Festival, Boston University Tanglewood Institute, Kinhaven Music School, and Apple Hill Center for Chamber Music.
As a soloist on both violin and piano, David has collaborated with the Windham Orchestra (VT), University of Vermont Orchestra, and the Burlington (VT) Chamber Orchestra. He has played in masterclasses for Miriam Fried, Shmuel Ashkenasi, Bayla Keyes, Soovin Kim, and the Danish and Shanghai String Quartets. Before beginning his studies at Park University, David studied the violin with Magdalena Richter and the piano with Victoria Dobrushina. David enjoys cooking, table tennis, and riding motorcycles.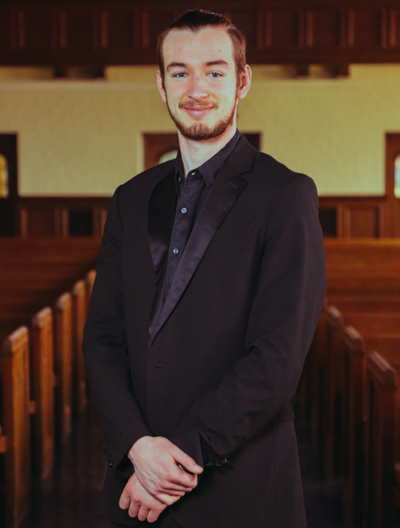 Igor Khukhua
The Russian born violinist Igor Khukhua has been recognized internationally for performances of charismatic temperament, bright musical expression and sparkling technique. He has won international acclaim as an outstanding young soloist, recitalist and chamber musician having already achieved top prizes in numerous international violin competitions.
Igor was awarded the Excellence Prize by the President of the Russian Federation Vladimir Putin. He is the 3rd Prize Winner of the Elmar Oliveira International Violin Competition in 2019, First Prize Winnerat the Naftzger Artists Competition in Wichita, KS in 2018, 2nd Prize Winner at the Hudson Valley Philharmonic String Competition in New York in 2017, participant of the XV International Tchaikovsky Competition in 2015, Second Prize Winner at the 2nd Russian National Music Competition in Moscow, Russia in 2014, Grand Prix Winner at the 4th International Violin Competition in Astana, Kazakhstan in 2012.
Igor Khukhua was born in Siberia in 1992 and started play violin at the age of 4. Since 2011-2016 studied at the Moscow State Conservatory (BM, MM) under Professor Eduard Grach and has been an artist with the Moscovia Orchestra (Artistic Director – Eduard Grach). This one of the unique and distinguished young collective in Russia. Being a part of this ensemble he played the String Sextet Souvenir de Florence by P. Tchaikovsky, String Octet op. 20 by Mendelssohn and String Sextets by J. Brahms.
Also during study he had a work experience in Russian National Orchestra (Artistic Director – Michail Pletnev ) and Moscow Philarmonic Orchestra (Artistic Director – Yuri Simonov). In 2016 he successfully won competition and was employed in the Saint Petersburg Philarmonic Orchestra (Artistic Director – Yuri Temirkanov), but has refused the offer and has left for study to the USA
Since 2016 studies in the International Center of Music of Park University (Parkville, Missouri) under professor Ben Sayevich (Artist Diploma in Violin Performance). Starting from 2019 has been employed as the Adjunct Teacher at ICM at Park University. During his study in the US he had a work experience in Kansas City Symphony Orchestra.
In addition to his formal studies, he has taken part in master classes with international artists such as Zakhar Bron, Ivry Gitlis, Shmuel Ashkenasi, Daniel Veis, Mauricio Fuks, Pavel Vernikov, Vadim Gluzman, Ilya Gringolts, Ani Schnarch and Irena Muresanu. He also was a part of prestigious The Keshet Eilon International String Mastercourse in Israel.
Igor Khukhua has performed as a soloist and chamber musician in the the Great Hall of Moscow State Conservatory, Moscow International Music House, Tchaikovsky Moscow Concert Hall (Russia), Ríos Reyna Hall (Israel), Kauffman Center for the Performing Arts and the Folly Theater Hall in Kansas-city (US).
His repertoire includes violin concertos with orchestra by P. Tchaikovsky, J. Sibelius, J. Brahms, S. Prokofiev, A. Glazunov, N, Paganini, L. van Beethoven, F. Mendelssohn.
Igor Khukhus has presented numerous solo recitals and has played as a soloist with orchestras in Russia, Israel, Croatia, Poland, German, France, United Kingdom and United States.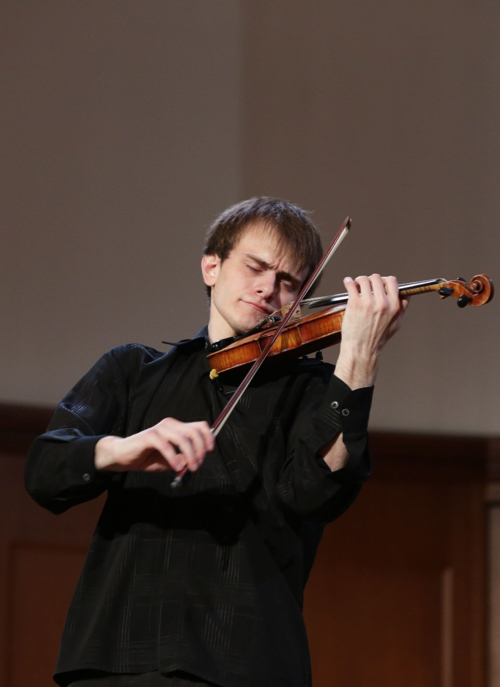 Ilkhom Mukhiddinov
Born in Tashkent, Uzbekistan to a family of musicians, Ilkhom Mukhiddinov, began his violin studies at the Republican Specialized Academic School of Music and then studied at the Lyceum named after V.A. Uspensky at the age of six. Ilkhom was almost immediately noticed as a talented, goal-seeking and hardworking student. He began bringing home prizes at age 11 with the 10th International Independent Music Competition "Individualis" at which he was awarded first prize. At age 15, he was again awarded a first prize at the "Le Grang Bal de Paris" and a third prize at the "e Muse." At age 17, Ilkhom was awarded a second prize at the international competition ''Iste'dod'' in Uzbekistan. After coming to the United States in 2019, Ilkhom received the Sue Strickler and Kansas City Musical Club Scholarship in 2020. Currently Ilkhom is pursuing his bachelor in Violin Performance under Professor Ben Sayevich at the International Center for Music at Park University.