Ilya Shmukler, ICM graduate student in the piano studio of Stanislav Ioudenitch and an artist diploma candidate, has made the list of 30 participants of this summer's Van Cliburn international piano competition in Fort Worth. He and the other 29 competitors were chosen out of 388 applicants.
Widely considered one of the preeminent international music contests, the Van Cliburn International Piano Competition exists to share excellent classical music with the largest international audience possible and to launch the careers of its winners every four years. Building on a rich tradition that began with its 1962 origins in honor of Van Cliburn and his vision for using music to serve audiences and break down boundaries, the Cliburn seeks to achieve the highest artistic standards while utilizing contemporary tools to advance its reach. The world's top 18- to 30-year-old pianists compete for gold in front of a live audience in Fort Worth, Texas, as well as a global online viewership of over 10 million. Park International Center for Music is no stranger to The Cliburn as founder, Stanislav Ioudenitch, won the gold medal in the Eleventh Van Cliburn International Piano Competition, and graduate Kenny Broberg won the silver medal in 2017 and is now touring throughout the world.
Beyond cash prizes, winning a Cliburn medal means comprehensive career management, artistic support, and bolstered publicity efforts for the three years following. The sixteenth edition of the Cliburn Competition will take place June 2-18, 2022, in Fort Worth, Texas at Van Cliburn Concert Hall at TCU (Preliminary and Quarterfinal Rounds) and Bass Performance Hall (Semifinal and Final Rounds).
For additional information and to follow Ilya's progress, please visit https://cliburn.org or follow on our social media channels.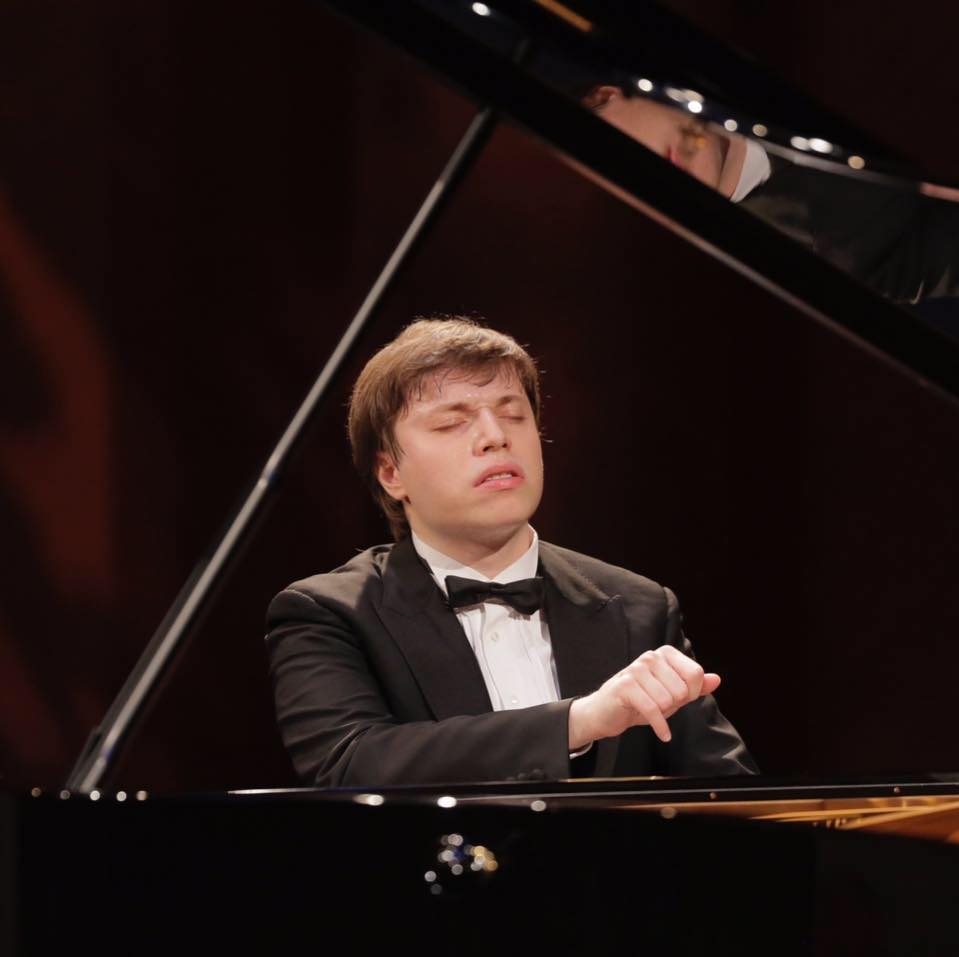 ILYA SHMUKLER
"His manner of performing music is very natural, spiritual, and consistent with the composer's artistic concept. Elegant asymmetrical rhythms, executed accurately and within musical context, lend his artistic language rich emotional color, wholeness and authenticity." These are the words used by the famous Bulgarian journal "Art Panorama" to describe Ilya Shmukler's 2015 performance.
Born in Moscow in 1994, Ilya began his musical education at the age of 5 and immediately revealed himself as an exceptional, creative, and enthusiastic young artist. He performed his first solo recital at 12, and made his orchestral debut at 14. Since then he has appeared with the Mariinsky Theatre Orchestra, Bayer Symphoniker Orchestra, Tambov Symphonic Orchestra, New Music Orchestra, and others.
Ilya finished a Master's degree in piano performance from the prestigious Tchaikovsky Moscow State Conservatory with honors in 2021, under the guidance of Professor Elena Kuznetsova and Associate Professor Sergey Kuznetsov. Presently, Ilya studies with Professor Stanislav Ioudenitch at the International Center for Music at Park University in Parkville, Missouri. Speaking about his student, Professor Ioudenitch pointed out that "this young man is a great talent of a very high degree of expertise and professionalism. Moreover, he is extremely serious in his attitude toward his work and his career; his capacity for concentration and productive work is of the highest caliber."
These words are confirmed by Ilya's top prizes from various international piano competitions, such as: Winner Diploma at the 2022 Artist Presentation Society Competition (Saint Louis, Missouri); 1st Prize at the 2021 New York Virtuoso International Competition (New York City, New York); 2nd Prize at the 2021 Lewisville Lake Symphony International Competition for Piano (Lewisville, Texas); 1st Prize and Audience Award at the 3rd (2019) Shigeru Kawai International Piano Competition (Tokyo, Japan); and Grand Prix at the 2012 International Competition "Sсriabin – Rachmaninov" (Sofia, Bulgaria).
In addition, Ilya was awarded the 2021 Carnegie Weill Recital Hall Debut Audition prize, organized by Creative Classical Concert Management. His New York debut is scheduled on December 13, 2022; Ilya eager awaits the opportunity to entertain his audience with works by various composers from diverse genres.