Given every four years to support an exceptionally gifted young classical pianist, award valued at $200,000 includes recording contract with Steinway & Sons, two years of career advancement and support, performance opportunities, $50,000 cash prize.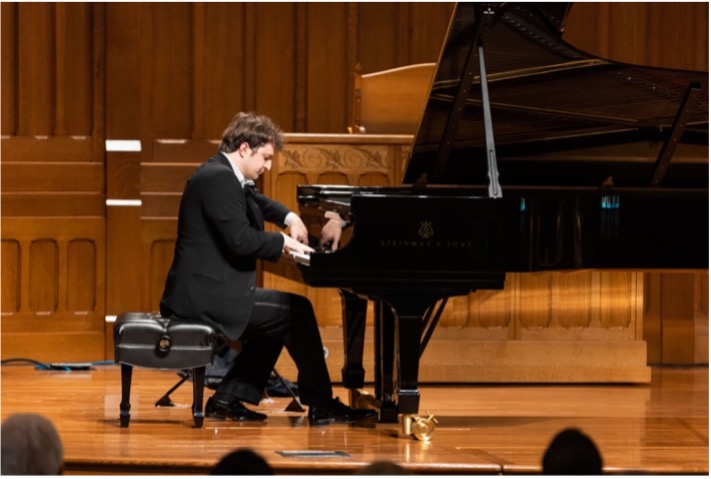 INDIANAPOLIS – Monday, June 28, 2021 – American Pianists Association has named Kenny Broberg the 2021 American Pianists Awards winner, recipient of the Christel DeHaan Classical Fellowship and Artist-in-Residence at the University of Indianapolis on June 27, 2021.
The award is given every four years to a deftly talented pianist identified as a vital young voice in classical music. The prestigious Christel DeHaan Classical Fellowship supports Kenny Broberg as he shapes his career with a prize valued at more than $200,000, which includes $50,000 in cash, a recording contract with Steinway & Sons, two years of professional development and assistance, and performance opportunities worldwide.
All five finalists—Kenny Broberg, Dominic Cheli, Michael Davidman, Sahun Sam Hong and Mackenzie Melemed—were selected via blind audition from more than 40 nominations during the preliminary round in March 2020.
As the COVID-19 pandemic took hold, the competition took a different approach: all five finalists gave non-public performances which were judged via a private streaming link and later streamed to tens of thousands of viewers worldwide. On June 25, 2021 each finalist performed chamber music with the Dover Quartet, on June 26 , 2021 they performed concerti with the Indianapolis Symphony Orchestra under the direction of Gerard Schwarz and on June 27 , 2021 at the finale and awards ceremony they performed short solo works.
"Kenny is a superb artist with an extraordinary concentration when he plays, a full command of all the resources of the piano, and ravishing tone. Hearty congratulations to him!" American Pianists Association President & CEO Joel Harrison
"The Artist-in-Residence program continues to provide unique opportunities that connect our students with the expertise and talent of the American Pianists Association to help them navigate from the classroom to the concert hall" said University of Indianapolis President Robert L. Manuel. "We extend our congratulations to Kenny Broberg on his tremendous achievement and we look forward to welcoming him to campus in the fall.
Kenny Broberg's repertoire included:
Solo recital:
Piano Sonata No. 31 in A♭, Op. 110 – Ludwig van Beethoven
Barcarolle No 9 in A Major, Op. 101 – Gabriel Fauré
Alluvion (world premiere, commissioned with underwriting from The Elizabeth and Michael Sorel Charitable Organization, Inc) – Laura Kaminsky
Piano Sonata in A Minor, Op. 30 – Nikolai Medtner
Piano Sonata No. 5 in F♯ Major, Op. 53 – Alexander Scriabin
Chamber Music concert with Dover Quartet:
First movement from Piano Quintet in F Minor, Op. 34 – Johannes Brahms
Concerto Night:
Variations symphoniques, M. 46 – César Franck
Finale:
From Années de pélerinage (Years of Pilgrimage) – Franz Liszt
Aprés une lecture du Dante: Fantasia quasi Sonata ("Dante Sonate")
The 2021 competition also featured a new commission by Laura Kaminsky called "Alluvion," which was performed by each of the finalists during their solo recitals. Previous commissions include works from Judith Zaimont, Lowell Liebermann, Augusta Read Thomas, Earl Wild, Lisa Bielawa, Missy Mazzoli, Sarah Kirkland Snider and others.
In June of 2020 in response to the dire situation that musicians were (and still are) living in, American Pianists Association awarded all five 2021 finalists a cash prize of $50,000.
About winner
Kenny Broberg (27) is a Minneapolis native who won the silver medal at the 2017 Van Cliburn International Piano Competition and the 2019 bronze medal winner at the International Tchaikovsky Competition, as well as winning prizes at the Hastings, Sydney, Seattle, and New Orleans International Piano Competitions. Kenny has appeared with the Royal Philharmonic, Seattle Symphony, and the Louisiana Philharmonic Orchestras, among others. Recent and upcoming highlights include his debut with the Kansas City Symphony Orchestra, residencies at the Montreal Symphony's Festival Virée Classique, Rye Arts, Methow Chamber, Strings, and Sunriver Music Festivals, recitals in Houston, Denver, Pittsburgh, Los Angeles, and Minneapolis, and in tours of Japan, Australia and Italy. He has been featured on NPR, WQXR, APM's Performance Today, MPR and ABC (Australia) radio. His solo debut album was released in August 2017 on the Decca Gold label. Kenny studied for nine years with Dr. Joseph Zins before entering the University of Houston's Moores School of Music, where he earned a Bachelor of Music degree with Nancy Weems in 2016. He currently resides in Parkville, Missouri, under the guidance of 2001 Cliburn Gold Medalist Stanislav Ioudenitch at Park University.
About the American Pianists Association
The American Pianists Association has been supporting aspiring young artists for over 40 years and has been based in Indianapolis since 1982. It has a professional staff of seven, headed by Dr. Joel M. Harrison. The American Pianists Awards, held for both classical and jazz artists, offer significant opportunities for American pianists, ages 18–30, to advance their careers. Each winner receives a two–year fellowship, valued at over $200,000 including cash awards, fees, publicity and recording opportunities. The organization greatly values the individual artistic sensibilities of each pianist, nurtures such individuality and does not impose any repertoire requirements during the competitions other than those necessary for the different genres. It is the intent of the American Pianists Awards to focus on artistic expression and not on competitive prowess. Further, the organization makes an effort to tailor its career assistance to suit the particular needs of the winner, offering an array of opportunities appropriate to the winner's current career development and status. American Pianists Association strives to be the bridge between professional training and a full–fledged professional career. For more information on the American Pianists Association visit www.americanpianists.org/.