Thursday, January 25, 2024
7:30 p.m.
1900 Building, 1900 Shawnee Mission Parkway, Mission Woods, KS
The three international soloists who formed the Rosamunde Trio, Martino Tirimo, piano, Ben Sayevich, violin, and Daniel Veis, cello, have been performing together since 2002. Park University is pleased to present the Rosamunde Trio in concert at the 1900 Building.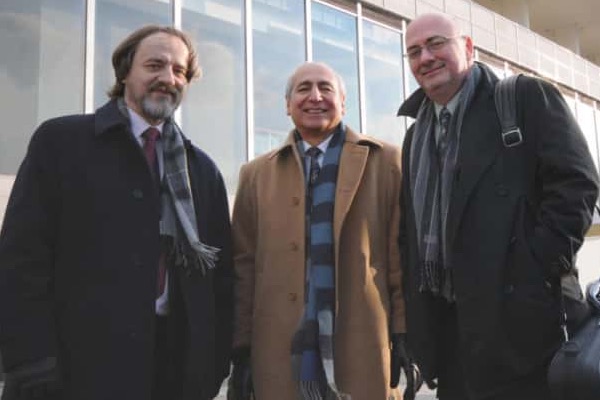 Program
7 Ländlerische Tänze WoO11 by Beethoven
Sonata No.32 in C minor Op.111 by Beethoven
I Maestoso – Allegro con brio ed appassionato
II Arietta: Adagio molto semplice e cantabile
Martino Tirimo, piano
INTERMISSION
Trio No. 1 in G minor for piano, violin, and cello, Op. 15 by Bedřich Smetana
I Moderato Assai
II Allegro, Ma Non Agitato
III Presto
Rosamunde Trio

Ben Sayevich, Violin
Daniel Veis, Cello
Martino Tirimo, Piano
Biography
The three international soloists who formed the Rosamunde Trio have been performing together since 2002, but this only tells half the story. Martino Tirimo first met Daniel Veis in Karlovy Vary back in 1978 when both were soloists at a concert in which Martino performed Beethoven's Concerto No.4 and Daniel the 'Rococo' Variations of Tchaikovsky. By the time the second concert took place, at the Smetana Hall in Prague, the seeds of a long and fruitful friendship were well sown. Since then the two have undertaken many tours, exploring the piano and cello repertoire, and have recorded together Mendelssohn's complete works for Supraphon.
From the early days of their friendship Daniel suggested forming a Trio, an idea to which Martino responded with equal enthusiasm. A search for the 'right' violinist, however, had not brought the desired result. Daniel was already playing Trios with his wife, pianist Helena Snitilova, and his father-in-law, distinguished violinist Vaclav Snitil. Later, in 1985 and mainly due to practical reasons, he founded the Dvorak Trio in Prague and toured and recorded extensively with them for 15 years. The idea of a Trio with Martino seemed truly dead and buried.
Then in early 2001 Daniel met Ben Sayevich in Prague, for some chamber music concerts, and their rapport was instant. Further music making in the USA cemented the relationship and Daniel was soon on the phone to Martino with the news that he 'had found a violinist'! This was some 20 years after the idea was first expressed.
The three musicians first met in London in 2002 and it became abundantly evident from the start that they had much in common, especially in musical ideas and values. It was also clear that all the seeds and capabilities for a top ensemble were there. After substantial preparation periods the Rosamunde Trio's first concerts took place in England in the same year and audience and critical reaction was unanimous: here was a Trio that was totally committed to serving the music and able to offer imaginative and exciting performances that would remain long in the memory. Its three members may be international soloists, but they play as if of one mind.
Thus, in 2002 the Rosamunde Trio was born.