Friday, September 22, 2023
7:30 p.m.
1900 Building, 1900 Shawnee Mission Parkway, Mission Woods, KS
Mikhail Voskresensky, born in Berdiansk, Ukraine, Soviet Union, is a Russian pianist and music pedagogue who left Russia for the United States in 2022 protesting against the Russian invasion of Ukraine. He is known internationally as a pianist in the great Romantic tradition. He graduated from the Moscow Conservatory in 1958, where he studied under the famous pianist Lev Oborin, the winner of the First International Chopin Piano Competition in 1927. Voskresensky was influenced by his teacher's refined taste and romanticism in his deployment of pianistic sonorities. His playing shows a thorough command of contrasting musical colors, never disharmonious, and a legato technique drawing forth a singing voice from the instrument. 
In 1957, Voskresensky took part in the Prague Spring International Music Festival where he performed the European premiere of  Shostakovich's second Piano Concerto in the presence of the composer. In 1966, he was honored with the Merited Artist of Russia award, and, in 1989, that of the People's Artist of Russia. He is a prize-winner of the Schumann International Competition in Berlin (1956), the International Competition in Rio de Janeiro (1957), the George Enescu International Piano Competition in Bucharest (1958) and the Van Cliburn International Piano Competition in Fort Worth (1962).
Park ICM is proud to present Mr. Voskresensky at the 1900 Building to open our 21st Season.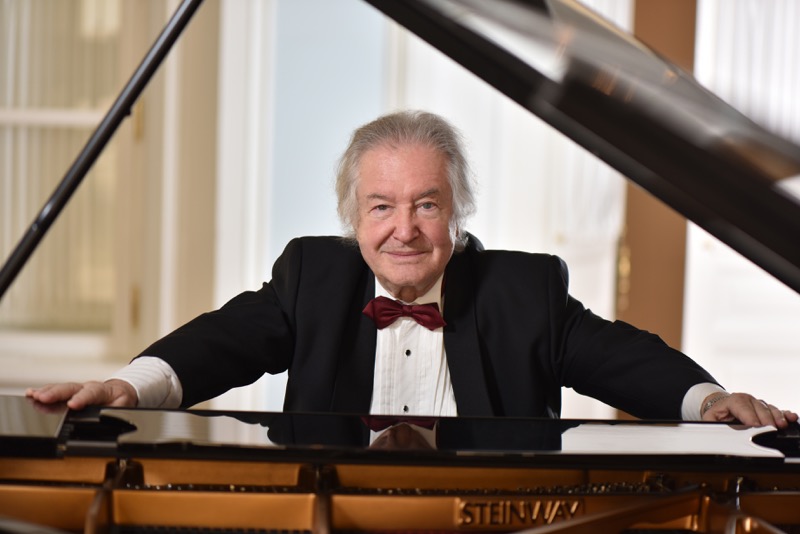 Tune in to Hear a Special Pre-Concert Interview on Classical KC
Pianists Mikhail Voskresensky and Stanislav Ioudenitch join Classical KC's Christy L'Esperance for an extended conversation about Mikhail's life and music ahead of his performance in Kansas City. Listen locally during the 7 a.m. CT Hour on 9/22 at 91.9 FM and 89.3 HD 2 and worldwide at classicalkc.org or by searching Classical KC in most streaming apps such as Apple Music, TuneIn, etc.
Or, enjoy the extended conversation and a written article available on demand HERE
Also Read:
BY PATRICK NEAS SPECIAL TO THE STAR
BY  Kyle Palmer SHAWNEE MISSION POST
Program
The Seasons, Op. 37 by Pyotr Ilyich Tchaikovsky (1840-1893)
January: At the Fireside
February: Carnival
March: Song of the Lark
April: Snowdrop
May: Starlit Nights
June: Barcarolle
July: Song of the Reaper
August: Harvest
September: The Hunt
October: Autumn Song
November: Troika
December: Christmas
INTERMISSION
From: Petite Suite by Alexander Borodin (1833-1887)
In the monastery
Nocturne
The Lark by Glinka-Balakirev (1837-1910)
Fairy-tales of the Old Grandmother op.31 by Sergei Prokofiev (1891-1953)
Sonata No. 5 op. 53 by Alexander Scriabin (1872-1915)
Biography
Mikhail Voskresensky
Mikhail Voskresensky commands an international reputation as a pianist in the great Romantic tradition. He is prizewinner of four international piano competitions (Schumann in Berlin, in Rio de Janeiro, George Enescu in Bucharest, and Van Cliburn in Fort Worth, Texas). In 1966 he was honoured with the Merited Artist of Russia award and in 1989, the People's Artist of Russia. Mikhail Voskresensky has extensive concert experience. He is the only pianist in Russia to perform all of Chopin's piano compositions during one concert season; this in 1982 / 83, in nine recitals in the Maly Hall of the Moscow Conservatoire. In 1957 the young pianist took part in the Prague Spring Festival where he performed European premiere of Shostakovich Second Piano concerto with the presence of Shostakovich himself.
Mikhail Voskresenskys a distinguished professor at the Moscow Conservatory, the chair of the professorship of piano faculty. His pupils have won 126 international prizes including 55 gold medals. Mikhail Voskresensky is President of the Scriabin International Society and Guest Professor in the Toho Gakuen School in Tokyo.
Although Mr. Voskresensky devotes many of his efforts to teaching and giving masterclasses in various countries, he undoubtedly considers his primary purpose to be performing. Voskresensky is an extraordinary and unique musician: when hearing his playing one can feel his sincere and subtle soul-a rare thing, indeed, in our rational times. He recorded more than 50 CD's, including a box with all Mozart Piano Concertos (2013) and a 5CD box (2015) with all Mozart Piano Sonatas