By Chung-Hoon Peter Chun, Adjunct Instructor, Park ICM
What on EARTH is this strange looking creature? How do you say its name? What does the name mean? How does one play it? Why are there so many strings? How come you've never seen it before?
​
These are all very good questions, and questions that I get asked frequently as one whom plays it in public.
​
For one, the images you see here are of my personal viola d'amore, which I have named "Jamila" which means in Arabic "beautiful." Why name an instrument in Arabic? Well, read on and find out!
​
"Viola d'amore," in its literal meaning, is, of course, "viola of love" in Italian. However, when you look at the instrument itself as evidence in an investigation into its etymology, a different tale might be gleaned. It is likely that the instrument has evolved from some sort of middle-eastern instrument, or something from Turkey, or even India, when you look at the resonating (or "sympathetic") strings that are found beneath the bowed strings. The sympathetic strings are not meant to be physically touched by the bow. Rather, they are moved, or vibrated, through the acoustic process. If a pitch is near the pitch of resonating strings that are being vibrated, it also vibrates and does so "sympathetically," thus the term "sympathetic strings."
​
Anyway, the other interpretation of the name is "viola of the Moor(s)." Further evidence which supports that notion: instead of the "f" shape sound holes of the violin family, or even the "C" shape of the gamba family, the ones that belong to the viola d'amore is close to the "flaming sword" symbol of Islam. (Note the photos attached).
The particular instrument that you're seeing in the photograph here is my personal instrument, building in 2015 by Douglas Marples, in Lawrence, Kansas. Even though Doug is a violin and viola maker whom I've come to admire, he's never built a viola d'amore before. How many luthiers out there actually have, right? Well, the answer is, "not many." Nevertheless, my trust in Doug's skills, as well as his knowledge of not only the skill and process of making instruments, but his respect and awareness of history and legacy of the classic masters was high enough that I felt very comfortable asking him to tackle this project.
I've always wanted to perform on viola d'amore but never had the nerve (or time, or money as the excuse in my head went . . . ) to actually set about acquiring an instrument, learn how to play it properly, research the repertoire, etc. In September 2014, I was asked to play Frank Martin's (1890-1974) 12-tone work Sonata da Chiesa (1938). Though I had no instrument and no experience performing on a viola d'amore, nothing was going to stop me from seizing the moment. Thus I decided that this was the time in my life to tackle this long-wished-for project, so I agreed to perform. I figured that having a concert to play in five months' time is a really good way to actually MAKE myself to through with it! It wasn't enough time for Doug to conceive/design and actually build an instrument, so I had to borrow an instrument in the meantime. Mr. Martin Biller, perhaps the world's most prolific builder of the viola d'amore currently, was the angel who provided one for me, and he did it out of the goodness of his heart – to a complete stranger, no less.
The entire process of settling on a design, and coming up with the particulars of various aspects of the instrument that Doug and I felt comfortable to experience with, felt very natural, collaborative and interesting. Heck, it was REALLY FUN! I dare say that Doug and I were on very similar wavelengths.
We decided early on that our favorite "model," with which we felt comfortable enough to try and follow, was an instrument from around 1750 by a Neapolitan maker of Austrian origin named Eberle currently housed at the Royal Academy of Music in London. It is still one of my favorite viola d'amores and can be heard in a wonderful introduction here.
​
One of the more immediate departures from our Eberle model is the head of the instrument. Violas d'amore traditionally feature the head of a cupid and are usually blindfolded, the symbolism being that "love is blind," I suppose. We decided to pay homage towards the "Moor" side of the name and instead decided that an image of a Moorish woman might be more appropriate. There are other departures from the Eberle model, suggested by Doug, that were rather innovative and for which I am grateful. However, they are relatively small, technical, practical and ultimately uninteresting to most of you, so I'll spare the details!
Anyway, I really love this instrument! It sounds great and projects well (for violas d'amore as they do not typically sound "loud" and in general have a more gentle, shimmering, silvery tone). I hope you'll come hear it played on Friday, February 14 th, Valentine's Day. I'll be performing a concerto by Vivaldi, giving the audience the opportunity to hear this rarely played baroque instrument in a live concert. It's a wonderful and unusual way to spend Valentine's Day. Tickets are free and open to the public. Plus we can visit during the dessert reception immediately following! Visit here for more program information.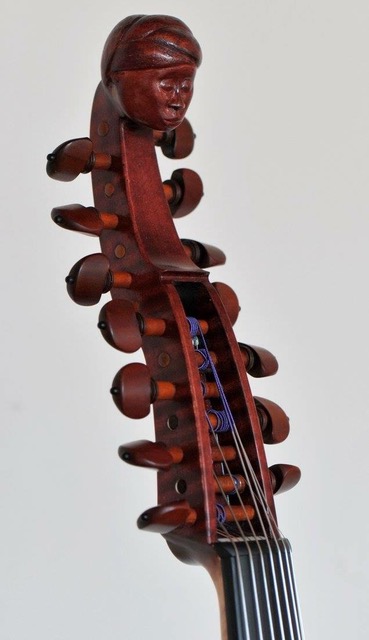 About Chung-Hoon Peter Chun
Peter Chun is the Adjunct Instructor of viola and music theory at Park University.  Before that, he taught for 16 years as the Associate Professor of viola at the University of Kansas, a position he was appointed to in 1999, at the age of 28.  He is a versatile musician who has given numerous recitals and chamber music performances across the U. S., as well as performing internationally in Korea and Japan.  His recent performances with the renowned Borromeo String Quartet in Busan, Korea were critically acclaimed and broadcast on Korean Broadcasting System.  In 2012, he performed a series of recitals and masterclasses in China, visiting universities in Shanghai, Beijing and Shenyang.  Summer of 2009 saw him performing and giving a masterclass at the International Viola Congress, in Stellenbosch, South Africa.  His performances have also been featured at such universities as Penn State University, where he presented an acclaimed performance at the ViolaFest, University of Connecticut, Southern Illinois University, University of Ulsan in Korea, and the Conservatory of Music at University of Missouri, Kansas City.  He has appeared as soloist with Lexington Sinfonietta, the Lawrence Chamber Orchestra, and University of Kansas Symphony Orchestra.  With the latter, he performed "La Llorona," a beautiful, large-scale viola concerto written by Gabriela Frank.
Having served as the Artistic Director of the Kansas City String Quartet Program from 2009 to 2012, Peter Chun has performed and taught at many music festivals and schools, having appeared at Busan International Music Festival (Korea), Killington Music Festival, Martha's Vineyard Chamber Music Festival, Halcyon Music Festival and Yellow Barn Music Festival, as well as the International Musical Arts Institute, in Maine, where he was a resident artist.  In addition, he has taught at the Midwestern Music Camp at KU, and is currently a faculty member of the nationally-recognized Sound Encounters in Ottawa, Kansas.
His other chamber music activities include a tour of Japan as the violist of the New England Chamber Ensemble.  His performances as a member of the Tonos String Quartet resulted in a highly acclaimed Seoul début, as well as being featured in Boston's Celebrity Series through its out-reach program, appearing with the acclaimed musician Rob Kapilow.  Other musicians he has collaborated with include artists such as Peter Wiley, Laurence Lesser, James Buswell, Paula Robison, Diemut Poppen, Hae-Sun Paik, Frank Almond, and the Borromeo String Quartet.  His performances have been broadcast numerous times on the KBS (Korean Broadcasting System) radio and television, WGBH radio in Boston, Maine Public Radio and Television, and Kansas Public Radio.
As the violist of Quartet Accorda—a group that was based in Kansas City—Peter Chun performed extensively in Kansas and Missouri, gaining a wide notoriety in reviews and reputation.  Their performances were consistently acclaimed for its recitals and collaborations with world-renowned musicians, and were frequently broadcast in the region.  Quartet Accorda has been the quartet in residence at IMAI, between 1997-2010, and at Park University in Parkville, Missouri between 2005-2010.
Chun's orchestral activities have included performances at the Tanglewood Music Center (where he was one of the featured members in a documentary on TMC which aired nationally on PBS), the Spoleto Festival in Italy, and the Seoul Festival Orchestra—working extensively with musicians such as Peter Serkin, Seiji Ozawa, Simon Rattle, Myung-Whun Chung, and members of the Juilliard Quartet, among many others.  In addition, he frequently performs with the Kansas City Symphony and Kansas City Chamber Orchestra.
Making his conducting début in 2005, Chun led critically acclaimed and innovative production of Donizetti's opera L'Elisir d'Amore at LG Arts Center in Seoul that were broadcast internationally on the Korean Broadcasting System satellite program, followed by a performance of Stravinsky's L'Histoire du Soldat at University of Kansas, and many other programs, genres and ensembles since then.
Born in Seoul, Korea, Peter Chun emigrated at age 12 with his family to the U.S.  He was trained at the New England Conservatory, where he studied with Walter Trampler, Marcus Thompson, and Eric Rosenblith.