Monday, May 1st
7:00 p.m.
St. James Catholic Church in Liberty, MO. (note location!)
James Farquhar is currently a student of Daniel Veis, pursuing a Master's Degree in Cello Performance from Park University's International Center for Music. He is formerly a student of Kurt Baldwin of the Arianna String Quartet at the University of Missouri – St. Louis. Under Baldwin's instruction, James attained 2019-20 UMSL Artist of the Year with the Rococo Variations by Tchaikovsky. During his time pursuing his undergraduate degree, James also organized numerous community concerts around St. Louis, Columbia, and Kansas City.
He has received invaluable instruction from the likes of the Arianna String Quartet, the Brooklyn Rider String Quartet, the Harlem String Quartet, the Jupiter String Quartet, the Rolston String Quartet, Dennis Parker, Scott Lee, Jackie Lee, Frank Huang, and Shmuel Ashkenazy, amongst numerous others. James has also participated in various chamber music festivals including the Arianna Chamber Music Festival, Madeline Island Chamber Music Festival, Heartland Chamber Music Festival (as a festival scholar from the 2017-2022 seasons), and Chamber Music in the Mountains (Mt. Lemmon, Arizona), to name a few.
James is a Cello Instructor for String Sprouts KC, a nonprofit that is specifically designed for underserved children ages 3 – 8, and is a free music education program created to support school readiness. He is also a Teaching Artist for Harmony Project KC, a nonprofit that provides year round music education for underserved students from the diverse Historic Northeast Community of Kansas City, Missouri. James also aspires to organize grant-funded outreach concerts for underserved elementary schools, hospitals and nursing home communities.
He grew up in a family surrounded by a love of music and the joy it brings to people's lives. At the age of five, James would insist upon sitting at the piano for hours singing hymns with several family members. Inspired by the sound of music, James gained a passion for cello at the age of nine when he heard the main theme from Jaws played on the lowest string. Teachers he was fortunate enough to learn from making his way through young adulthood included the likes of Maria Maxwell, Meghan Weibling, Russ Berlin, Rebecca Berlin Doss, Michelle Davis, Dr. Carrie Turner, Dr. Steve Davis, and Chris Munce, amongst numerous others. He was heavily involved in choral groups and orchestras in his formative years (Kansas City Youth Symphony and Heartland Chamber Music's Virtuosi Chamber Orchestra as well as Sounds of Summit Chamber Choir). In his free time, James enjoys listening to a wide variety of music, road bicycling, gardening, and running. He was born and raised in Lee's Summit, Missouri.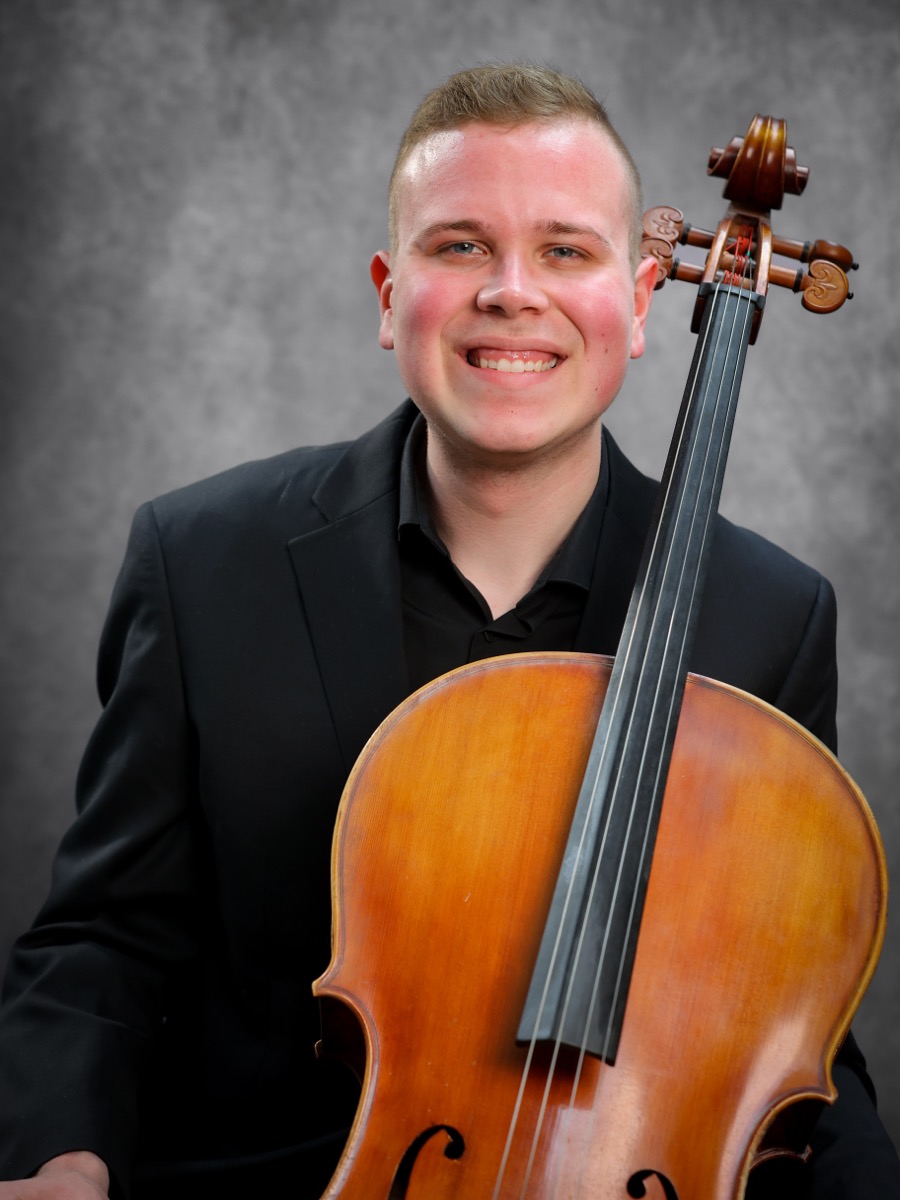 Program
Cello Suite No. 5 in C Minor, BWV (1717-23) by J.S. Bach (1685-1750)
I. Prélude
II. Allemande
III. Courante
IV. Sarabande
V. Gavotte I and II
VI. Gigue
Cello Sonata, Op. 19 (1901) by S. Rachmaninoff (1873-1943)
I. Lento – Allegro moderato
II. Allegro scherzando
III. Andante
IV. Allegro mosso
Lolita Lisovskaya-Sayevich, piano
Intermission
String Quartet No. 19 in C major, K. 465 (1785) by W.A. Mozart (1756-1791)
I. Adagio – Allegro
II. Andante cantabile
III. Menuetto and Trio. Allegro
IV. Allegro
David Horak, violin
Mumin Turgunov, violin
Christian Santos, viola
The Four Seasons of Buenos Aires (1965-70) by A. Piazzolla (1921-92)
Summer
Autumn
Winter
Spring
Alice Palese, violin
Michael Davidman, piano