Dr. Steven McDonald, Conductor
Dec. 3, 2022
Graham Tyler Memorial Chapel, Park University
Offered at the charming Graham Tyler Memorial Chapel at Park University, this delightful concert was added to what has already become one of the best holiday events in the Greater Kansas City area, Christmas on the River. Hosted annually by the Main Street Parkville Association (MSPA) since 1993, Christmas on the River is Parkville's foremost holiday event.
Honored to be included in this wonderful holiday treat with the MSPA, Park ICM's Orchestra created a special evening of music titled, "An Intimate Christmas with Park ICM." Program listed below the video pane.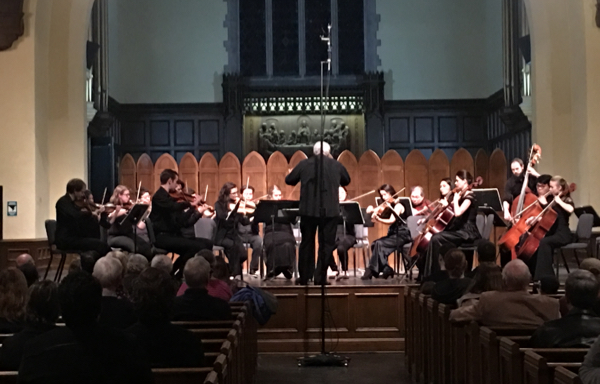 Watch Again
If you have difficulty, you can also view the video by Clicking Here
Program
Overture to "Messiah" by George Frideric Handel
Fantasia on "Greensleeves" by Ralph Vaughan Williams
Christmas Music by Arnold Schoenberg
Noels sur les Instruments by Marc-Antoine Charpentier
Trio for 2 flutes and harp from "L'Enfance du Christ" by Hector Berlioz
Concerto Grosso in G Minor op.6/8, "Christmas" by Arcangelo Corelli
Intermezzo from "A Ceremony of Carols" by Benjamin Britten
Les Patineurs ("Skater's Waltz") by Emile Waldteufel
Concerto in C Major for 2 Trumpets by Antonio Vivaldi