Friday, October 1
8:00 p.m.
Graham Tyler Memorial Chapel at Park University
Park University Orchestra will present its first concert of the new academic year on Friday, October 1 at 8:00 PM.  The program will be under the direction of Maestro Filippo Ciabatti, music director of the Dartmouth Symphony Orchestra. Maestro Ciabatti has extensive experience as a conductor and vocal coach, both in America and in his native Italy, and will be the first of a number of guest conductors for the Park University Orchestra this year.  This program will mark the return of the Orchestra to live, in-person concerts, and will be held in the Graham Tyler Memorial Chapel on the grounds of Park University, Parkville, Missouri.
Maestro Ciabatti has selected three of the most familiar works from the symphonic repertoire for this program.  The "Fingal's Cave" overture of Felix Mendelssohn begins the concert, its mood of brooding melancholy alternating with moments of great tenderness and excitement. Mendelssohn wrote this work to evoke impressions of the coast of Scotland, hence its popular name, the "Hebrides" overture.  Beethoven's Piano Concerto No.3 in C Minor will also be featured, a piece that illustrates the many impressions of conflict that were occurring in Beethoven's Vienna during the Napoleonic wars.  Park University piano student Kyoshiro Hirama will be the piano soloist.  The concert will conclude with Symphony No.38 in D of Mozart.  Nicknamed the "Prague" symphony, this work was written for the composer's return visit to that city where his opera "The Marriage of Figaro" had been enthusiastically received in the previous year.  The symphony will serve as an exciting conclusion to this first Park University Orchestra concert of the new season.
Program
Overture "The Hebrides"
Felix Mendelssohn
Piano Concerto No.3 in C Minor, op.37
Ludwig van Beethoven
Symphony No. 38 in D, "Prague", K.504
Wolfgang Amadeus Mozart
Biography
Filippo Ciabatti
A native of Florence, Italy, Filippo Ciabatti is the Music Director of the Dartmouth Symphony Orchestra, and the Interim Music Director of the Dartmouth's Choral Ensembles. He also contributed to create Dartmouth's Opera Lab. In October 2018, its first production featured Grammy Award winning baritone Daniel Belcher, and soprano Amy Owens.
In 2018 – 2019, he led the Dartmouth Symphony Orchestra in an Italian tour in collaboration with the Orchestra Toscana dei Conservatori in prominent venues and festivals, including the Puccini Days in Lucca. Other highlights of the season include an all-Beethoven concert with Israeli pianist Sally Pinkas, and a collaboration with the NPR show "From The Top", hosted by American pianist Jeremy Denk. In 2020, Mr. Ciabatti conducted the world premiere of a new secular oratorio composed by the renowned jazz composer Taylor Ho Bynum and has collaborated on a project with the Martha Graham Dance Company.
In 2018, he made his debut with the Vermont Symphony Orchestra, that he conducted again in 2019, in an event created in collaboration with the Creative Projects Chair of the VSO, Matt LaRocca. In 2021, Mr. Ciabatti will collaborate for the first time with the Portland Symphony Orchestra, as assistant conductor.
During the summer of 2018, he was invited to be a Conducting Fellow at the Aurora Music Festival in Stockholm, under the direction of Jukka-Pekka Saraste. During the festival, he conducted Hannah Kendall's 2017 composition, "The Spark Catchers", in a concert that also featured legendary cellist Mischa Maisky in the Konserthuset Stockholm.
In 2017 – 2018, Mr. Ciabatti conducted Madama Butterfly at Opera North (NH), Hansel and Gretel and Don Giovanni (directed and featuring American opera star Nathan Gunn) at the Lyric Theatre at Illinois.
In 2016, Mr. Ciabatti conducted Tosca at Opera North (NH), directed by Russell Treyz, and Britten's Midsummer Night's Dream at the Lyric Theatre at Illinois, directed by Christopher Gillett. In 2015, he made his South American debut conducting the Universidad Central Symphony Orchestra in Bogota, Colombia, where he also taught masterclasses in orchestra and Italian opera. With La Nuova Aurora Opera, he conducted full productions of Handel's Rodrigo (2015) and Purcell's King Arthur (2016).
As a pianist and vocal coach in Italy, Mr. Ciabatti worked for the Cherubini Conservatory, Maggio Musicale Fiorentino and Florence Opera Academy. He has played for masterclasses of Renée Fleming, Nathan Gunn, William Matteuzzi, Donald George, and Isabel Leonard. Since 2016, he has been music director and vocal coach of "Scuola Italia per Giovani Cantanti Lirici" in Sant'Angelo in Vado (Italy), and since summer 2019 he has joined the faculty of "Opera Viva!" in Verona as music director and vocal coach. He also recently joined the faculty of Camerata de' Bardi, the Young Artists Program of Teatro Grattacielo in New York City.
Mr. Ciabatti holds degrees in piano, choral conducting, and orchestral conducting from Italy and the United States.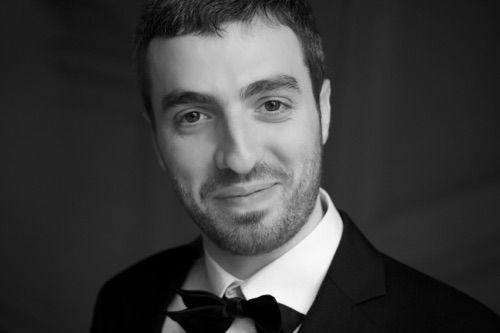 Kyoshiro Hirama
Kyoshiro Hirama was born in 1998, in Osaka, a part of Japan and began his piano studies at the age of four. Hirama garnered attention when he received the 5th prize of the 7th Sendai International Music Competition in Piano Section in 2019. He also won many international and local competition prizes including three category's gold medals at PTNA Piano Competition, the 1st prize at Sakai International Piano Competition, and the 2nd prize and the Public Award at Student Music Competition of Japan. He participated in piano academies actively and they include the Piano Academy Eppan (Italy), the Hamamatsu International Piano Academy (Japan) and the Coimbra World Piano Meeting (Portugal), etc.
Hirama performed extensively at home and abroad, including U.S., Brazil, Uzbekistan and Japan, and he was selected as a Chanel Pygmalion Days 2020 participating artist. He collaborated with Sendai Philharmonic Orchestra, Sao Paulo Youth Symphony Orchestra, National Symphony Orchestra of Uzbekistan and so on. His numerous awards and scholarships include Yamaha Music Scholarships in 2017, 2018, and 2019, Benny and Edith Lee Music Scholarship in 2019-2020, Osaka Governor Awards and the Neyagawa-city Meritorious Service Awards. Currently, he is a graduate student studying piano performance with Stanislav Ioudenitch, the winner of the 11th Van Cliburn International Piano Competition, at the International Center for Music at Park University in Parkville, Missouri.