Friday, March 15, 2024
7:30 p.m.
Graham Tyler Memorial Chapel
Concert is free with reservation. Please indicate for which concert you are reserving seats and how many.
The Orchestra of the International Center for Music at Park University will present its annual spring concert on Friday, March 15th at 7:30 PM.  The program will be under the direction of guest conductor Laura Jackson, Music Director and Conductor of the Reno Philharmonic Association, who is making her return engagement with the ICM Orchestra. Maestra Jackson has selected a program of works for string orchestra featuring music of Sir Edward Elgar, Patrick Harlin and Franz Schubert.
The concert opens with the stirring Introduction and Allegro by Sir Edward Elgar. This unique work, scored for string quartet and string orchestra, explores the many possibilities of sound created by the quartet with the larger group. All the hallmarks of the composer's style are evident in this work, being alternately wistful and dramatic, extrovert and contemplative. Elgar was himself an accomplished violinist, and his string writing bears the hallmark of presenting the players with tremendous challenges, but always with the full knowledge of the instruments' capabilities, making his music equally gratifying to play as to hear. This performance will feature the students of the ICM String Quartet in their first appearance with the orchestra.
A native of Seattle, Patrick Harlin is composer in residence with the Lansing Symphony Orchestra, and his works have been performed by the St. Louis and Kansas City Symphony Orchestras.  His music draws parallels between the sounds of the natural world and those of the concert hall, seeking to bring awareness to the importance of sound in our environment.  His ongoing work titled The Wilderness Anthology is reflective of this approach, and selections from it will be heard in the concert.
At first glance, the music of Schubert and Mahler could not be more different; Schubert the writer of elegant chamber music, piano works, and concise symphonies, and Mahler the man of gigantic symphonic structures using huge musical forces.  It is, however, their mutual love of solo song that binds them together.  Both composers are masters of the form, and both included thematic references to songs in their instrumental literature.  Schubert based his 14th string quartet on his own song "Death and the Maiden", and it was Mahler who later arranged this quartet for larger string orchestra, a work in which both composers seem to meet.  Perhaps it is more accurate to say that Mahler takes his hat off to Schubert in homage for providing such inspiring music for further transcription.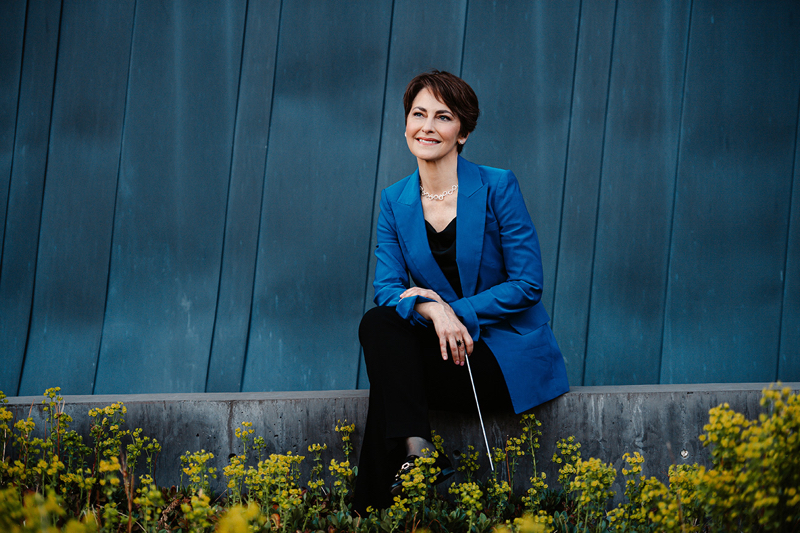 Reservations are recommended. Fill out Form HERE and select this concert then indicate how many will be attending.
Program
Introduction and Allegro for Strings by Edward Elgar
Selections from Wilderness Anthology by Patrick Harlin
Death and the Maiden by Franz Schubert, Arr. Gustav Mahler
Biography
LAURA JACKSON
LAURA JACKSON serves as music director and conductor of Nevada's Reno Philharmonic Orchestra. She wins praise for her passionate artistry, creative leadership, and commitment to community engagement. Laura is known nationally and internationally for both her innovative composer-in-residence projects and vibrant performances of traditional repertoire. She has cemented the Phil's place in the hearts of northern Nevadans while also raising the institution to new musical heights and national visibility.
In addition to concerts with the Reno Phil, Ms. Jackson guest conducts nationally and internationally. She has performed with the symphonies of Alabama, Atlanta, Baltimore, Berkeley, Charlottesville, Detroit, Hartford, Hawaii, Orlando, the Philippines, Phoenix, Richmond, San Antonio, Toledo, Toronto, Windsor, and Winnipeg in addition to concerts with the Philly Pops and L'Orchestre symphonique de Bretagne in France.
Jackson recorded Michael Daugherty's Time Cycle on Naxos with the Bournemouth Symphony in partnership with Marin Alsop, and served as the first American to guest conduct the Algerian National Orchestra in 2013.
Jackson served as the first female assistant conductor of the Atlanta Symphony Orchestra from 2004-7. Prior to her appointment in Atlanta, she studied conducting at the University of Michigan and spent summers as the Seiji Ozawa Conducting Fellow at the Boston Symphony Orchestra's Tanglewood Music Center in 2002 and 2003. Ms. Jackson spent her early childhood in Virginia and Pennsylvania before moving at age 11 to Plattsburgh, NY, where she grew up waterskiing, swimming, and sailing on Lake Champlain. She fell in love with the violin in public school, later attending the North Carolina School for the Arts to finish high school. She pursued an undergraduate degree at Indiana University where she studied both violin and conducting before moving to Boston in 1990 to freelance as a violinist and teach at Phillips Exeter Academy in New Hampshire.