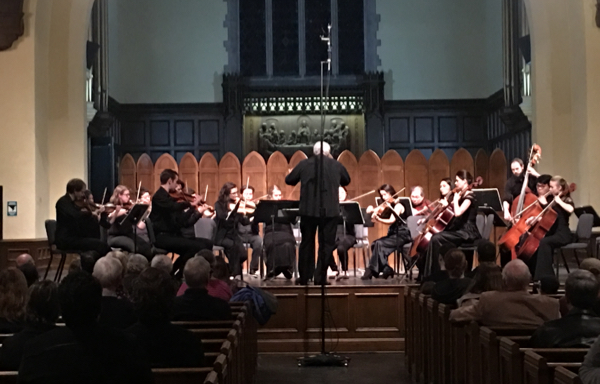 Currently celebrating its 20th Anniversary, the International Center for Music at Park University (Park ICM) started its famed chamber orchestra in 2016. Known for its varied and eclectic programming, this year's concerts have seen some of the largest crowds in years. The season will culminate with two final guest conductors: Laura Jackson, conductor of the Reno Philharmonic Association, on March 31st, and Kansas City favorite Timothy Hankewich, former resident conductor of the Kansas City Symphony on April 28th.
March 31 Concert:
Maestra Jackson has selected a program of works for string orchestra, with music of C.P.E. Bach, Samuel Coleridge-Taylor, Osvaldo Golijov and Joseph Suk being featured.
The concert begins with the Sinfonia in G from the hand of Carl Philipp Emmanuel Bach, perhaps the most well-known of J.S. Bach's musical children. Composed at a time of transition from the highly contrapuntal music of the earlier 18th-century to the emerging Classical style of simpler tunes and less complex accompaniments, Emmanuel Bach's music is an intriguing blend of sudden effects, dramatic changes of mood and dynamics, and sometimes elusive melodies: music that is challenging and exciting for players as well as listeners!
The program will conclude with the Serenade for Strings by the Czech composer Joseph Suk. A violinist as well as composer, Suk studied under Anton Dvorak and absorbed the warm style of his teacher, as well as marrying his daughter. The Serenade joins the great string serenades of Tchaikovsky and Dvorak in embodying a lush Romantic style of string writing, with singing melodies, brilliantly articulated lines, moments of great tenderness, and a tremendous sense of sweep and urgency in the faster movements.
April 28 Concert:
Maestro Hankewich has selected an all-French program, with music of Honegger, Saint-Saëns, Fauré and Milhaud being featured. The Swiss/French composer Arthur Honegger is perhaps best known by two very different works; his symphonic poem Pacific 231, inspired by his great love of trains, and the so-called symphonic psalm King David, a work that propelled the composer to fame in 1921. His Pastorale d'ete will be heard to start the concert and is an evocation of a calm early morning in the Swiss alps.
Camille Saint-Saëns was perhaps the most famous French composer of the Romantic period and included Gabriel Fauré and Maurice Ravel as his pupils. A brilliant pianist as well as composer, he is represented at the concert by his well-known Second Piano Concerto in G Minor, composed in 1868, and performed by Sergey Belyavsky, student of Cliburn gold medalist and ICM Artistic Director, Stanislav Ioudenitch.
Finally, the music of Darius Milhaud is far removed from the particular sound world of Saint-Saëns and Fauré. Strongly influenced by jazz and Brazilian music and counting the Minimalist composers Philip Glass and Steve Reich as his pupils, Milhaud taught for many years at Mills College in California after his family emigrated to America to avoid Nazi persecution. Milhaud is usually defined as a truly "modernist" composer, and the concert will conclude with his Le Boeuf Sur Le Toit (The Ox on the Roof), a breezy romp for chamber orchestra that the
Friday, March 31 and Friday, April 28, both at 7:30 p.m.
Graham Tyler Memorial Chapel at Park University
8700 NW River Park Drive, Parkville, Missouri 64152