Friday, February 17
7:30 p.m.
Graham Tyler Memorial Chapel
Guest Conductor Suzanna Pavlovsky, Founder and Artistic Director of Ensemble Eclectica and Founder and Music Director of the Palmetto Chamber Orchestra, will lead the ICM Orchestra in "romantic" works by Rossini, Korngold, Vivaldi, and Marquez. The concert is free with registration.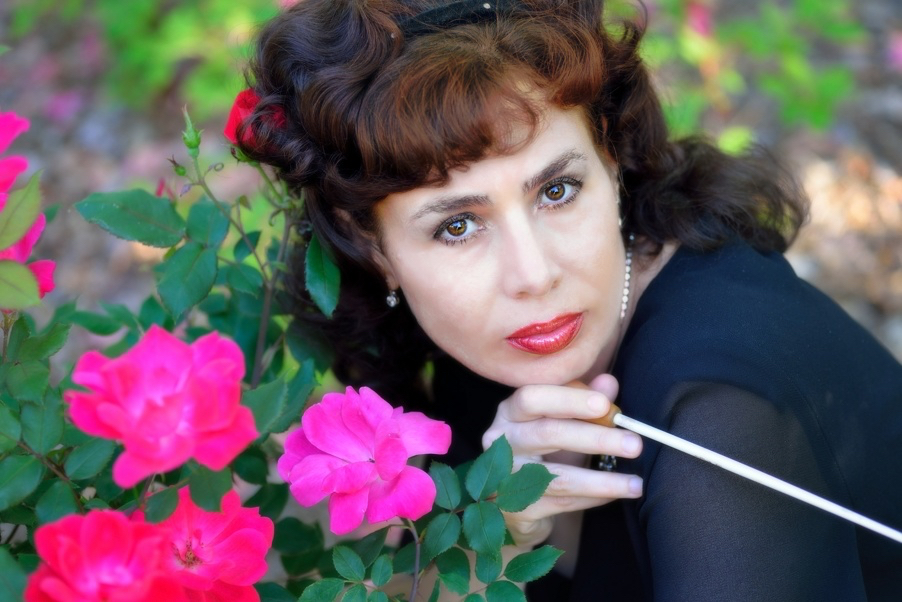 Program
String Sonata No.6 in D Major by Rossini
Three Pieces, op.11 by Korngold
La Follia, op.1/12 by Vivaldi
Danzon No.2 by Marquez
TBD Works by DeFalla, Arakelian, and Ligon
MEET THE MAESTRA
Whether at the podium or in the classroom, Suzanna Pavlovsky's musical expertise and exuberance shine, inform and inspire. In a career that's led from the former USSR to stages in Israel, Canada, and the United States, Dr. Pavlovsky has become a popular guest conductor for a diverse array of orchestras and ensembles, as well as a beloved artistic director for university, community, and professional ensembles in her home state of South Carolina.
Maestra Pavlovsky is the founder, artistic and music director of Columbia, South Carolina's Palmetto Chamber Orchestra, which combines professional string players/educators with talented community members to great acclaim. Her Ensemble Eclectica, a professional group that combines live music with dance, visual art and media to create interdisciplinary magic, has earned kudos both regionally and nationally. With blockbuster programming and nationally-renowned guest artists, both Ensemble Eclectica and the Palmetto Chamber Orchestra have grown into innovative, collaborative institutions offering a full season of classical music to a wide audience in the Carolinas and beyond.
Maestra Pavlovsky's conducting repertoire includes symphonic staples, pops, educational programs, contemporary compositions, and chamber music for various ensembles. And her professional skills include relationship-building and collaboration as well as coaching and education.
Dr. Pavlovsky is former Associate Conductor in Residence of the Etobicoke Philharmonic Orchestra in Toronto, Canada and Associate Conductor of the Lake Murray Symphony Orchestra in Columbia, SC. An Assistant Conductor at Michigan State University, she was also a graduate assistant at the Eastman School of Music, as well as a conducting and teaching assistant at the University of South Carolina.
Academically, Dr. Pavlovsky has a special interest in the harmonic system of Russian composer Alexander Scriabin, and she has transcribed Scriabin's piano cycle Trois Morceaux, Opus 52, for string orchestra. In the classroom, she has taught Conducting, Music Theory, Aural Skills, Piano & Improvisation, and Music Appreciation.
The maestra has been the recipient of numerous honors, awards, and scholarships. She is a two-time winner and scholarship recipient of the America-Israel Cultural Foundation's National Orchestral Conducting Competition in Israel, received the Graduate Teaching Award at the Eastman School of Music, and won both a graduate award at the Michigan State University and a Fellowship in Honor of Teaching Excellence at the University of South Carolina. Additionally, she was presented with the William H. Nolte Teaching Award for Outstanding Teaching by the University of South Carolina in 2010.
A member of the College Music Society, the League of American Orchestras, and the Conductors Guild, Dr. Pavlovsky earned her D.M.A. in Orchestral Conducting from the University of South Carolina; her M.M. in Music Theory from the Eastman School of Music and an M.M. in Orchestral Conducting from Michigan State University. She also holds a B.M. in Orchestral Conducting from Tel Aviv University in
Israel, as well as a B.M of Music Theory & Musicology from the Ashrafi Conservatory of Music in Tashkent, Uzbekistan.
Maestra Pavlovsky has been fortunate to study conducting with internationally-hailed artists including Donald Portnoy, Neil Varon, William Winert, Leon Gregorian, Vag Papian and Tak-Ng Lai. She has participated in master classes and seminars with Peter Jaffe, Maurice Peress, Diane Wittry, Jorge Mester and Paul Vermel, as well as composers Samuel Jones, John Fritz Rogers, and Russell Peck, and immersed herself in The Savvy Musician in Action, an experimental laboratory designed to provide performing artists, educators, and administrators with the skills needed to navigate the 21st century arts world. She lives in Columbia, SC, with her family.
Since claiming victory and a Gold Medal at the Fourth Van Cliburn International Piano Competition in 1973, Vladimir Viardo has earned the esteem of the public and his colleagues alike. Having risen to international prominence, he has distinguished himself with some of the most critically acclaimed performances and recordings of his generation, inspiring many, including Sviatoslav Richter and Alicia de Larrocha, to praise him for his extraordinary musicianship. In the years that followed, Viardo collaborated with the world's leading orchestras, including the Royal Philharmonic, the Moscow Philharmonic, the Leningrad Philharmonic, the Warsaw Philharmonic, the Israel Philharmonic, the Atlanta Symphony, the Prague Philharmonic, and many others.
Like a handful of other celebrated Soviet artists, from Nuryeev to Egorov, Viardo's journey to the west began under an ominous political cloud. No matter that, by the time he was 23, his future was already assured with impeccable credentials, several additional competitions wins- including a top prize at the Concours Marguerite Long-Jacques Thibaud in Paris – and a command of more than 37 concertos, Viardo fell victim to demands of the Soviet authorities. Detained behind the Iron Curtain, Viardo threw himself into his work, only to emerge with even greater determination, now buttressed by exemplary artistic refinement, to bring his art to music lovers everywhere. With the onset of Perestroika, the Soviets at last allowed Viardo to accept engagements in Germany and the United States.
In 1989 the North Texas College of Music appointed Viardo to its distinguished faculty, where he soon established a reputation as an extraordinary coach and teacher. His roster of students includes young artists from Europe, the Americas, South Africa, and Asia, many of them competition winners themselves. Viardo's master classes are much in demand throughout the world , and his philosophy of teaching is detailed in Benjamin Saver's The Most Wanted Piano Teachers in the USA.
After returning to the West, Viardo's international career resumed with several concerts at Carnegie Hall, the Lincoln and Kennedy Centers, Salle Pleyel, and the Concertgebouw. His concert tours have taken him to leading American, Canadian, and European cities, to Asia and South Africa, as well as to Israel and Central and South America, where he has appeared as a soloist with most of the important conductors in the world, not the least of whom are Mehta, Maazel, Davies, Susskind, Shippers, Kondrashin, Spivakov, Giordano, and M. Shostakovich His numerous recordings for Melodia, Pro Arte and Nonesuch have been greeted with unanimous critical acclaim.